The yen was moving higher against the dollar Friday morning following the previous day's big drop after Japan's central bank intervened in currency markets to force the yen lower.
During trading inAsian markets on Wednesday, the U.S. dollar quickly spiked against the yen after the Japanese government intervened in currency markets, reported V. Pahni Kumar for MarketWatch.
The Bank of Japan commented that the move "will contribute to stable price formation in the market." The country's large export industry has been weighed down by the rising strength of the Japanese yen, as accelerating global risk sent investors to safer currency bet.
"The strength of the yen was starting to become an issue for Japanese companies," remarked Stephen Roberts, economist at Nomura Securities, "and I suspect that there will be further rounds at some point." Roberts also points out that the Japanese economy is experiencing a nice boost from reconstruction spending in the recovery after the disasters earlier this year, but "it's not helpful to have the currency quite so strong."

The yen was rising on global risk aversion as markets awaited the U.S. jobs report. There could be further yen intervention if the nonfarm payrolls report disappoints, Reuters reported.
"Dollar/yen is slowly fading but the process of intervention has not stopped. They impressed the market yesterday but have to continue to do so," said Sebastien Galy, currency strategist at Societe Generale, in the report. "There is very little incentive to intervene before non-farm payrolls but if there is a poor number chances are they will intervene seconds afterwards."
CurrencyShares Japanese Yen Trust
click to enlarge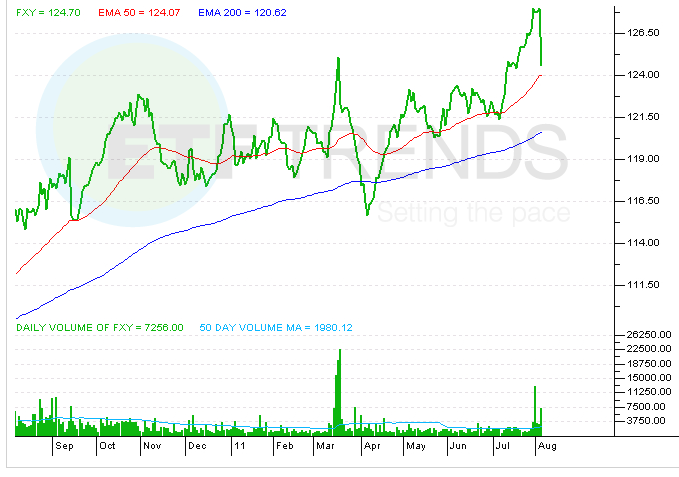 Max Chen contributed to this article.
Read the disclaimer: Tom Lydon is a board member of Rydex|SGI.