The S&P 500 ($SPX) plunged 4.8%, and the broader Russell 3000 ($RUA) lost 5.1% on Thursday, August 4th, 2011 as Wall Street sold off on the fear of another imminent and major financial crisis, and the possibility of a double-dip recession. Many individual companies meanwhile have continued to beat estimates and improve on prior year comparisons. While it is natural to be fearful in such times, it is imperative to keep a cool head, and keep scouting for new opportunities while keeping an eye on both the price movements and news flow. Our daily and weekly coverage analyzing the top movers for top buy and sell ideas is aimed at enabling you in that effort. You can access the rest of our daily, weekly and quarterly mover series from our author page.
This article covers our analysis of the top gainers amid Thursday's carnage in the equity markets. Of the 4,600 stocks that were tracked, the top 25 gainers that closed above $1 at market-close on August 4th were analyzed to determine if they would continue going up, or if they would reverse their moves going forward. The following are the some ideas based on that analysis:
Buy Web.com Group Inc. (WWWW): WWWW is an end-to-end one-stop shop for small businesses to help them establish their online presence with a suite on online web publishing and marketing tools. Its full range of online solutions and services include domain registration (via Register.com), website design and publishing, lead generation, ecommerce, power marketing bundles, search engine optimization, and even a call center service. WWWW was the second highest gainer on Thursday as its shares rose 19.7% amid the carnage; they are up 22.7% YTD and up 400% from the lows during the 2008/09 crisis.
WWWW rose in response to a good earnings report, but more importantly due to the company's announcement that was embedded in the earnings report of an executed agreement to purchase privately-held Network Solutions, a leading domain name registrar and provider of website services. In their own words, management stated that, "We anticipate that a combination with Network Solutions will more than double our revenue, triple the size of our customer base, quadruple our expected annual free cash flow…" But mainly, what they are doing is acquiring subscribers with the aim of then cross-selling them WWWW's higher end-to-end full suite of online publishing and marketing solutions. This should lead to both cost savings due to synergies as well as an acceleration in revenue and earnings growth for WWWW going forward, which would explain the enthusiasm investors showed for the company's shares amid the market plunge yesterday.
In June of 2010, WWWW bought another domain name registrar, Register.com that led to almost a five-fold increase in share prices in the next year. This deal could bring about similar cost and marketing synergies that may help rescue the stock from the slump since it topped out in the $16 range in April. At a forward 8-9 P/E, the stock already trades at a discount to its growth, as earnings are projected to rise at 31% compounded growth from 72c in 2010 to $1.22 in 2012. We believe that earnings estimates in fact should go higher (maybe over $1.50 for FY 2012), making the valuation even more attractive once analysts factor in the cost savings and revenue enhancement from this deal into their projections. We would be an aggressive buyer at these prices.
SolarWinds Inc. (NYSE:SWI): Despite its alternative energy sounding name, SWI is actually a developer of network management software used by companies to identify and solve network performance issues. The company offers free tools, including desktop, laptop, or server-based applications, and is guided by a global community of network engineers. Its shares were up a strong 4.4% amid the carnage yesterday, based on a strong June quarter report in which the company beat current quarter revenues and earnings, and guided in-line. Revenue came in at $45.8 million versus the $44.3 million consensus estimate, and it reported earnings were 22c, which was 3c above estimates. Analysts have a mean target of $23 on the company, with a high of $30; and of the thirteen analysts that currently cover the company, five rate it at buy/strong buy and eight rate it at hold.
Rangold Resources ADR (NASDAQ:GOLD): Channel Islands-based GOLD is engaged in the exploration and development of gold properties primarily in Mali and Cote D'Ivorie. In addition, it also has a portfolio of prospective exploration projects across Africa in Senegal, Burkina Faso, Ghana and Tanzania. It was up 3.2% on Thursday amid the market downturn, after reporting that the June quarter earnings rose to $1.24 as production was up 33% sequentially and 97% year-over-year. Furthermore, it confirmed that its new mines are on track to boost its gold production by more than 70% this year at the same time as gold prices soar near record highs.
Buy Motorola Mobility Holdings (NYSE:MMI): MMI is a manufacturer of wireless handsets, set-top boxes and video distribution systems for home, network and telecom markets. It was created from the spinning off of Motorola Inc.'s handset and television set-top box segment. MMI shares were up 3.6% on Thursday despite the ugly day on Wall Street, after the company announced the launch of the XT531, a budget-friendly Android smartphone aimed at China, Hong Kong, Taiwan, and select European and Latin American countries. We issued a buy earlier last month in our daily coverage of the day's biggest gainers and losers, and stand by that call even as the stock forms a nice base in the $21-$25 range at the bottom, unaffected by the market weakness yesterday.
Buy Merge Healthcare Inc. (NASDAQ:MRGE): MRGE develops medical imaging, clinical workflow process, and patient information management software applications. Their medical imaging software solutions support end-to-end business and clinical workflow for radiology departments, imaging centers and hospitals. Their patient information management software applications improve their customers' productivity and enhance the quality of the patient experience. MRGE shares gained 3.5% on Thursday, building on top of an 11.1% gain on Wednesday after the company reported strong June quarter results. We issued a buy on MRGE in our daily covers of the top gainers and losers, and stand by the call.
Sell Lihua International Inc. (NASDAQ:LIWA): LIWA manufactures copper-clad aluminum and recycled scrap copper wire that are sold in China either directly to manufacturers or through distributors in the wire and cable industries and manufacturers in the consumer electronics, white goods, automotive, utility, telecommunications and specialty cable industries. It is one of the first vertically integrated companies in China to develop, design, manufacture, market and distributes lower cost, high quality, alternatives to pure copper magnet wire. Its shares were up 8.5% on Thursday amid the market carnage. The stock has been weak since Monday after a bearish article by a fellow Seeking Alpha contributor Absaroka Capital Management that among other things alleged that the company misrepresented its business to investors and thus is significantly overvalued.
Emdeon Inc. (NYSE:EM): EM provides pre-care patient eligibility verification, claims management and billing services to the healthcare industry. Emdeon's product and service offerings integrate and automate key business and administrative functions of its payer and provider customers throughout the patient encounter, thereby enabling its customers to improve efficiency, reduce costs, increase cash flow and more efficiently manage the complex revenue and payment cycle process. The shares rose 12.9% on Thursday on the back of a 22.2% gain on Wednesday after Blackstone Group confirmed that it was in talks to buy the company.
Table
click to enlarge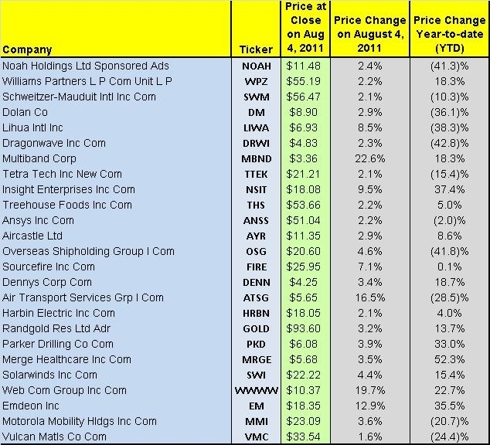 Click to enlarge

Credit: Historical fundamentals including operating metrics and stock ownership information were derived using SEC filings data, I-Metrix® by Edgar Online®, Zacks Investment Research, Thomson Reuters and Briefing.com. The information and data is believed to be accurate, but no guarantees or representations are made.

Disclaimer: Material presented here is for informational purposes only. Nothing in this article should be taken as a solicitation to purchase or sell securities. Before buying or selling any stock you should do your own research and reach your own conclusion. Further, these are our 'opinions' and we may be wrong. We may have positions in securities mentioned in this article. You should take this into consideration before acting on any advice given in this article. If this makes you uncomfortable, then do not listen to our thoughts and opinions. The contents of this article do not take into consideration your individual investment objectives so consult with your own financial adviser before making an investment decision. Investing includes certain risks including loss of principal.

Disclosure: I have no positions in any stocks mentioned, and no plans to initiate any positions within the next 72 hours.