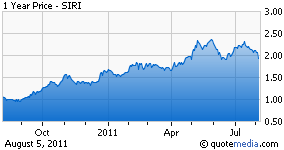 SiriusXM released its second quarter financials on August 2nd in a very upbeat press release. Statements like:
Our results in the second quarter were strong, and we are proud of our record levels of subscribers, revenue, and adjusted EBITDA and growth in free cash flow.
Demand for satellite radio continues to grow, with gross additions reaching the highest level of any quarter since the merger of Sirius and XM.
Our all-time high OEM penetration rate is a reflection of the automakers' satisfaction and their commitment to offer our service to their customers, and
We intend to drive future growth through innovations to our satellite and internet platforms, with the goal of better delivering our unparalleled content to our valued customers. We're also excited to launch a variety of additional new music and talk channels later this year
were evident throughout the release. The emphasis on subscriber metrics was also apparent and it seemed more like cheerleading than a financial press release. But it was the focus on Sirius 2.0 during the conference call where there was some significant new information.
It wasn't so much about the individual DVR-like features that were discussed last quarter. For me, it was more about the additional insights into plans for "employing connectivity technologies such as WiFi, Bluetooth and the Internet to create exciting complements to our core radio services." Instead of the comment last quarter that, "We continue to work hard to have our SiriusXM 2.0 product ready to launch in the retail channel by the end of the year," Sirius stated that, "This upgrade will first be available to subscribers late this year when we make 2 new-generation radios available at retail." Last quarter we found out that "SiriusXM 2.0 and the technology associated with it is a full business play, not an aftermarket play. You will see that functionality first, though, in the aftermarket where we're not constrained by the automakers' times to market, and we can get that product out there faster and learn from it." This quarter the OEM play was more specific, "In fact, we expect to be able to announce, by year end, launch plans for at least one of our OEM partners to begin factory implementation of 2.0 features as early as next year."
From my perspective, the most significant comment was when James Meyer said, "I'll note here that SXM 2.0 is designed to carry us through many years and will allow us the freedom to make upgrades and additions by software without our OEM partners having to change hardware in their head units." I interpret this as meaning that the new receivers will be very different from the current receivers from both a hardware and software perspective. They will probably be larger, have large amounts of memory (probably chips rather that a disk drive) and additional buttons. On the downside, it probably means that many, if not all, of the currently installed receivers will be unable to take advantage of SXM 2.0.
Additionally, Sirius plans on devoting much of the increased bandwidth to stations and content targeted to the Latino market. During the call, Scott Greenstein - president and chief content officer for Sirius spoke at length on the content. He noted "... SiriusXM will deliver a robust lineup of Hispanic channels that will become the top destinations for the best, most unique and exclusive audio in entertainment, sports and music for Latinos in both Spanish and English. SiriusXM will target the bilingual, bicultural, mid- to upper-income segment of the U.S. Hispanic population ..." and "With this new Hispanic content offering, SiriusXM will offer more variety than present in any other market in the United States, as well as unique formats that do not currently exist in terrestrial Spanish language radio."
There is a lot of good news around SXM2.0. What should the astute investor consider?
This is going to be a phased in transformation. It will not be happening all at once. Some retail receivers will appear late this year, but we don't know which features will be immediately available.
There will be a big push to make inroads into the Latino market.
2.0 could appear in an OEM model "as early as next year."
This is probably not going to be a product where we see an immediate impact. It will take time to develop content for the Latino market.
This is a software based platform. That should be a strength over the long term and enable Sirius to respond to competitive offerings on a more timely basis.
You can get excited about the direction the company is moving and feel good about its efforts to maintain dominance in the dashboard. You can be excited about the company's efforts to address the Latino market. But this is going to be a program where the results will play out over time. It is unlikely to provide instant gratification.
And, a couple of caveats. First, Mel stated "As part of SiriusXM 2.0, we will be increasing the programming we provide with more channels, and we will do this with less programming expense in 2011 than in 2010." Note that he did not state anything about 2012. This investor expects programming costs to increase in 2012. How else will Sirius be able to provide all of the Latino content and "a dynamic and exclusive new suite of music and comedy channels, including in-house and branded content channels" referred to by Scott Greenstein?
Second, anyone who has ever been involved in software development will tell you that it is very rare that everything works out as planned and on time. Be prepared for the unexpected.
Disclosure: I am long SIRI. I have $3 January 2012 covered calls against most of my Sirius position. I may add to my long position of SIRI at any time and might close or open covered call positions at any time.