You would be hard-pressed to find any company that has done well over the last week or so. The stock market has entered a state of fear, the likes of which we have not seen in a few years. But, there are still many strong companies out there that will come out of this having presented investors with juicy buying opportunities. One of those companies may be Sirius (NASDAQ:SIRI) and the next few days will be monumental in determining if its recent 19% drop is to be attributed to faults within the company or the miserable market conditions that we are currently dealing with.
Going into Tuesday's earnings, Sirius had been performing very sporadically. In May it broke through an upper trendline, representing an extremely bullish signal for short- term investors. More importantly it broke through the $2.00 threshold, which was a big mental hurdle. This run however, was very short-lived and June was not a great month for shareholders. The price fell from $2.40 to back below the mystical $2.00 mark.
As depicted below, the stock then ran into a technical support level and bounced up to the $2.30s before the debt ceiling mayhem began (well it had obviously started before this, but before it hit the mainstream media). This was then coupled with some earnings nervousness and we've experienced a dip back below $2.00. Technically speaking, this is a big deal because it has fallen below the support trend for the first time in a long time and if it does not recover it may be stuck down there for a while. If this were to happen the next big mark would be the 200 day simple moving average, marked here at $1.80. It should be noted that the 50 and 100 day simple moving averages have already been breached.
(Click chart to enlarge)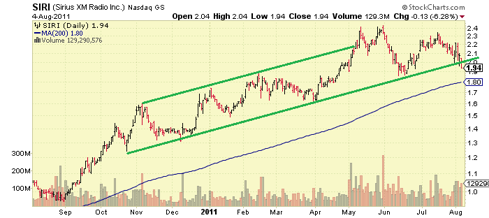 Click to enlarge
If on the other hand you feel that this drop is unwarranted and simply a product of the debt ceiling, then a buying opportunity may have been created. The earnings on Tuesday beat the EPS but missed big on revenue. Regardless of the financials, the company still offers a premium product that consumers seem willing to pay for.
As a simple case study: two members of my family have recently purchased vehicles. I had never had Sirius/XM before and had been solely reliant on my iPod. Now, I would never get rid of it. I've mentioned that I am not a huge fan of the musical offerings on Sirius, but the talk radio and sports broadcasting are more than enough to make the subscription worth it. A different family member went from having Sirius to a vehicle with a non-compatible dashboard. She decided that she would try terrestrial radio for a month and after a few weeks of disgust opted for a Sirius unit.
I would not go so far as to say that Sirius has a monopoly, because there are no huge barriers to entry, and it would certainly be difficult for a company to come out of the woodwork and challenge it. There is no money in terrestrial radio so the finished product is essentially garbage. Pandora (NYSE:P) has not made its way into autos yet, and even if it did I would not take it over Sirius. And lastly, a Sirius subscription is not that expensive. Look at the cost of gas or your monthly cell phone bill and you'll realize how cheap it actually is. If consumers are going to start cutting back, (which is not the American way), they will likely look to other spending areas.
It is for these reasons that I have held onto my Sirius shares through the last few months. Sure, there have been plenty of short-term trading opportunities, but I have neither the time nor risk propensity. For those who have, I applaud you and I hope you start picking up more shares over the next few days.

Disclosure: I am long SIRI.