A net loss of $8.2M, or $0.29, per diluted share.
For Q2/11, BMTI reported a net loss of $8.2M, or $0.29 per diluted share, compared to a net loss of $7.7M or $0.35 per diluted share for Q2/10.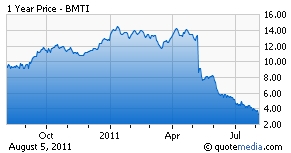 Q2 2011 revenues were $0.4 million, consisting of product sales ($72.8K), royalty income ($24.2K) and sublicense fee ($242.1K) income compared to $0.4M in Q2 2010. Cost of sales was $9.1K. R&D expenses totaled $3.8M for Q2 2011, compared to $3.9M for Q2/10. R&D activities include outside professional services expenses, as well as salaries, wages and related benefits, payroll taxes and stock compensation expense for internal R&D personnel, and relate to new and ongoing clinical trials of product candidates in the US, Canada, Australia and the EU, as well as continuing expenses associated with pre-clinical studies and regulatory filings.
G&A expenses totaled $4.7 million for Q2 2011 compared to $3.3 million for Q2 2010. Depreciation and capital lease amortization was $270K. Patent lease amortization was $9.5K. Loss from operations was $8.26 million. Interest (net) expense $1.7K while interest income was $26.5K. Gain (loss) from equipment was $166. Net loss was $8.24 million based on 27.98 million basis and diluted shares
For the 6 months ended 6/30/11: BMTI reported a net loss of $16.2 million or $0.58 per diluted share, compared to a net loss of $16.2 million or $0.73 per diluted share, for the same period in 2010. BMTI reported total revenues of $0.8 million consisting of product sales, royalty income and sublicense fee income. This compares to total revenues of $0.7 million recorded for the last 6 month period. R&D expenses totaled $7.8 million compared to $8.1 million for the same period in 2010.
Clinical trial expenses decreased $0.3 million, salaries and benefits decreased $0.2 million and regulatory expenses increased $0.2 million. G&A expenses totaled $8.7 million, compared to $7.1 million for the same period in 2010 and increased in 2011 as BMTI expanded its sales, marketing and customer service capabilities in preparation for bringing the product candidates into commercialization. The increase includes a $0.5 million increase in royalty expense, a $1.3 million increase in the sales, marketing and customer service departments, and a $0.2 million decrease in general activities such as recruiting & relocation, charitable contributions, rent, utilities, taxes, licenses, and travel.
Guidance: BMTI continues to incur expenses in connection with its ongoing clinical trials and its preparation for an anticipated US commercial launch of Augment, in view of the uncertainty regarding the timing of the FDA approval of Augment, BMTI is re-evaluating all development and commercialization plans, and anticipates that it will seek to curtail expenses until greater clarity is obtained from the FDA regarding an approval pathway for Augment.
Such efforts may result in delaying further increases in staffing, delaying certain development programs, and postponing certain activities relating to the build-out of its warehouse, distribution and manufacturing facility. Based on current operating plans, sales and marketing costs associated with the launch of Augment Bone Graft, forecasted timing and costs of clinical trials and other product development programs, BMTI anticipates its 2011 year-end balance of cash, cash equivalents and investments to range from $55M to $62M and anticipates its net cash use will be between $32M and $39M. Net loss for the year ending 12/31/11 is forecasted to be in the range of $32M to $39M.
As of 6/30/11, BMTI had approximately $16.5M of cash and cash equivalents and $58.3M of investments in US government sponsored enterprise ("GSE") securities, corporate bonds, municipal bonds and commercial paper. Total assets were $91M. These investments have maturity dates ranging from 7/11 through 12/12 with coupon rates ranging from 0.091% to 6.375%.
Disclosure: I have no positions in any stocks mentioned, and no plans to initiate any positions within the next 72 hours.