In recent days we have chronicled the descent of the S&P 500 (NYSEARCA:SPY) to the all-important neckline of a multi-month head & shoulders pattern – a pattern that has in the meantime garnered a lot of attention (somewhat late).
When the neckline was first broken tentatively, we considered a few possible outcomes – like breaking slightly further below and retesting it in a rebound, oscillating around it and then breaking it….you get the drift. Not on the list was 'crashing right through it with authority'.
When we restarted this blog in May of 2010, the first article discussed the so-called 'flash crash' and the possibility that it was just a warning shot of sorts. As we mentioned at the time, the sheer proliferation of systematic trading (this is to say, 'black box' trading systems that do not provide for human decision making) combined with HFT ('high frequency trading') meant that unusual market volatility should be expected to appear more frequently. The problem is that many of these systems use very similar inputs. The breaking of important moving averages is e.g. undoubtedly among them. This means that as soon as certain technical triggers present themselves, a great many programs do the same thing – with too few market participants left to take the other side of their trades.
We're actually not trying to suggest here that Thursday's decline was mainly driven by such systematic decisions – we are saying, they probably contributed to it and may yet do more of the same (they also help to exacerbate rallies of course).
(Click charts to enlarge)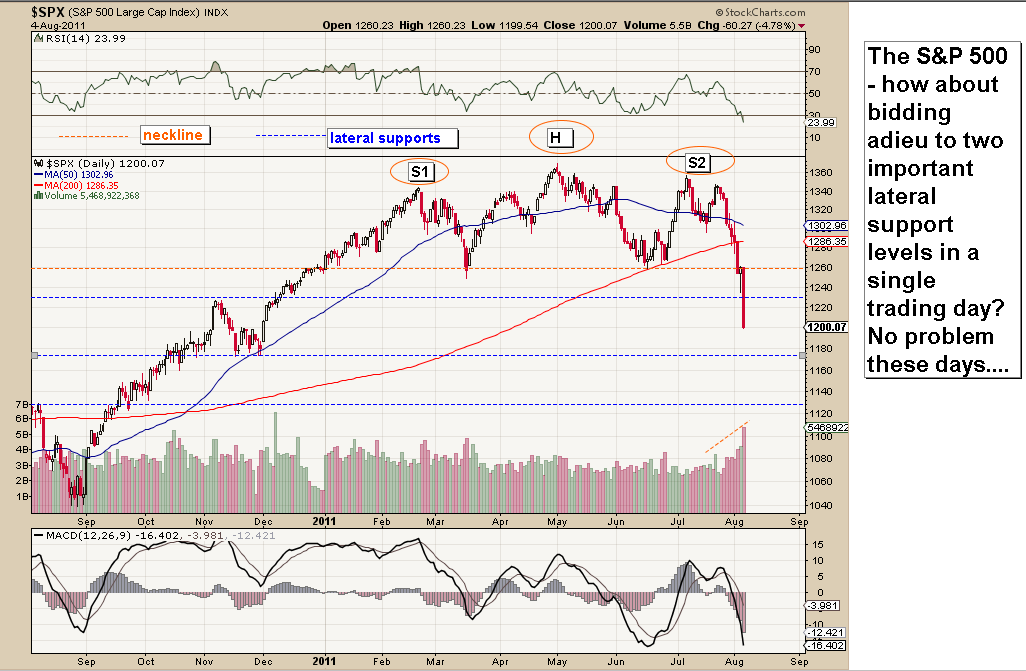 The S&P 500 – the neckline (orange dotted line) was broken with some verve, with trading volume increasing further. A second lateral support line was taken out without much hesitation as well. Yes, the index is 'oversold' – but it was oversold prior to this renewed drubbing as well.

While various sentiment indicators are now of course showing increasing pessimism, our impression is that this sell-off – as harsh as it was – does not yet constitute an all-out panic. Volume was certainly chunky, but panic volume is often much bigger than that. It is also noteworthy that equity option traders were more bearish at the late June low than they are now. They were even more bearish in May of 2010 when Greece first made headlines. This is a divergence, but we're not sure if it is really a bullish one, as it betrays a certain degree of complacency.
Here is an anecdote that may be worth relaying: after the market close in NY, we briefly switched on Bloomberg TV to hear what was being said. A reporter was interviewing a NYSE floor trader and the very first thing we heard him ask was: "So tell us, which stocks are on your buy list?"
Let's just say that people rarely consider their 'buy lists' at panic lows, although they of course should. The implication is once again that we have probably not yet seen outright panic. We hasten to add that this does not necessarily mean that we have to get one. But it certainly gives us pause.
For the bulk of the S&P's trading range this year we have warned that 'risk is very high' and have shown why we thought this was the case. This assessment remains unchanged.
A reminder that in exceptional circumstances, oversold markets can go into free-fall is probably not really needed, but here is a pictorial reminder of what that looks like anyway: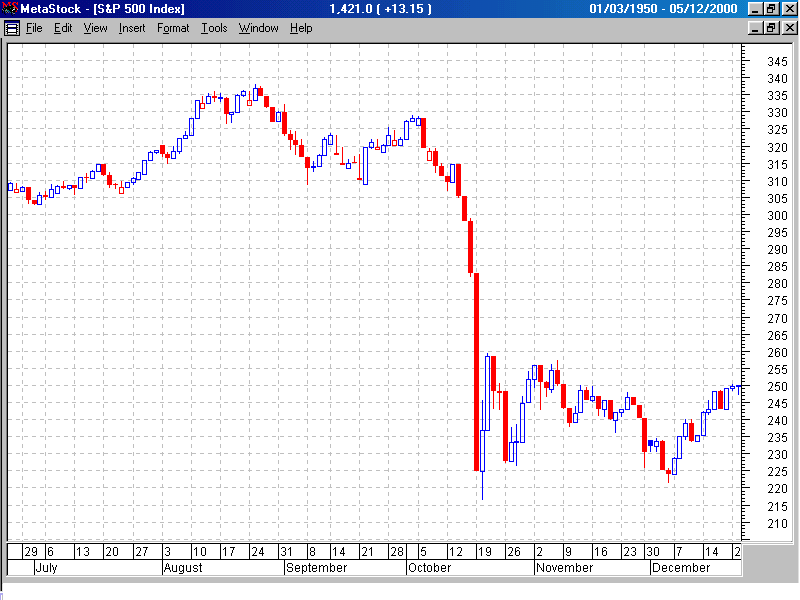 The S&P 500 in 1987. We recall that we thought it looked very oversold on the Friday before the crash and bought OEX calls shortly before the close that day. Unbeknown to us, they were destined for options heaven.
The main reason for even considering the possibility of a further decline here is that the euro-land crisis has still not gone away and it cannot be estimated how much damage will ultimately occur and how quickly that may happen. All that seems clear at this point is that the eurocrats have yet to come up with something that manages to calm down the markets. However, as you will see from our currency comments below, there is at least one reason to hope for a slightly happier near term outcome.
Here is what happened to Italian stocks generally and the leading Italian bank stocks: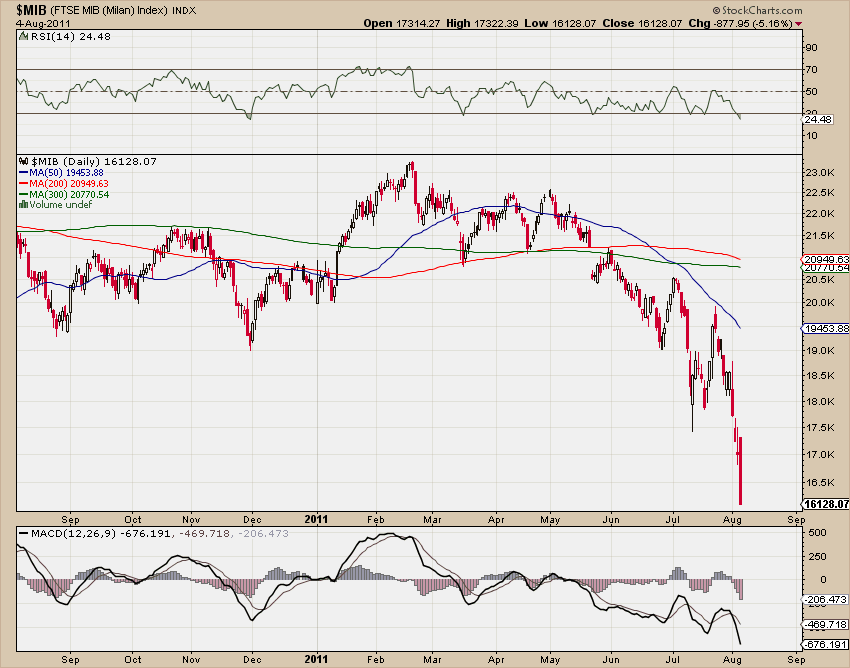 Italy's MIB index plunges to its lowest close since March of 2009. This means the next chart support is actually about 2,000 points lower still.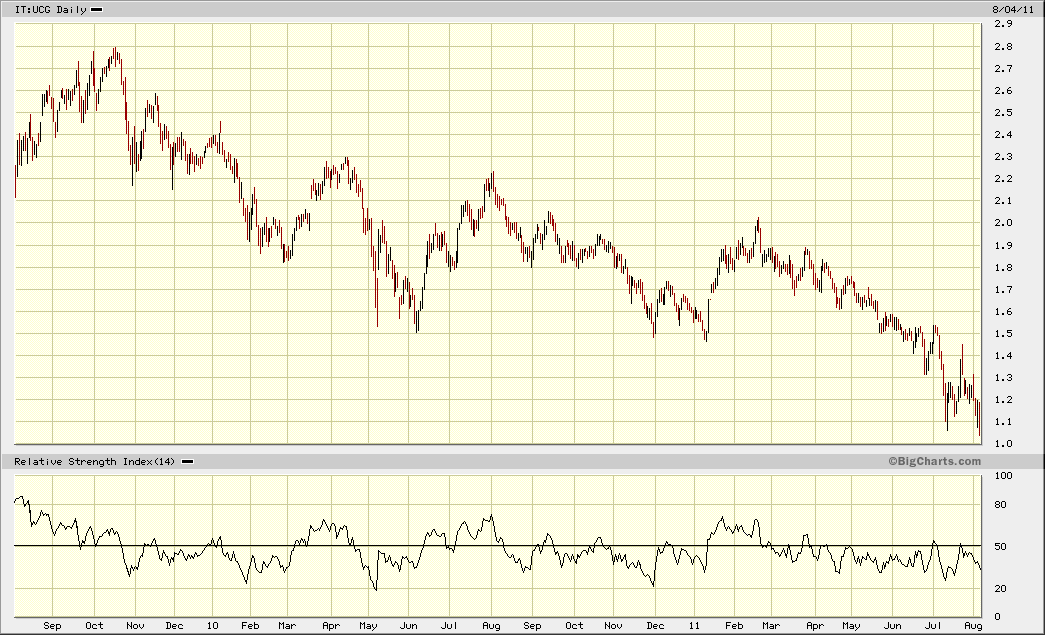 The share price of Italy's largest bank, Unicredito (OTC:UNCIF). Yet another new low (this stock gets suspended from trading every other day for hitting daily limits).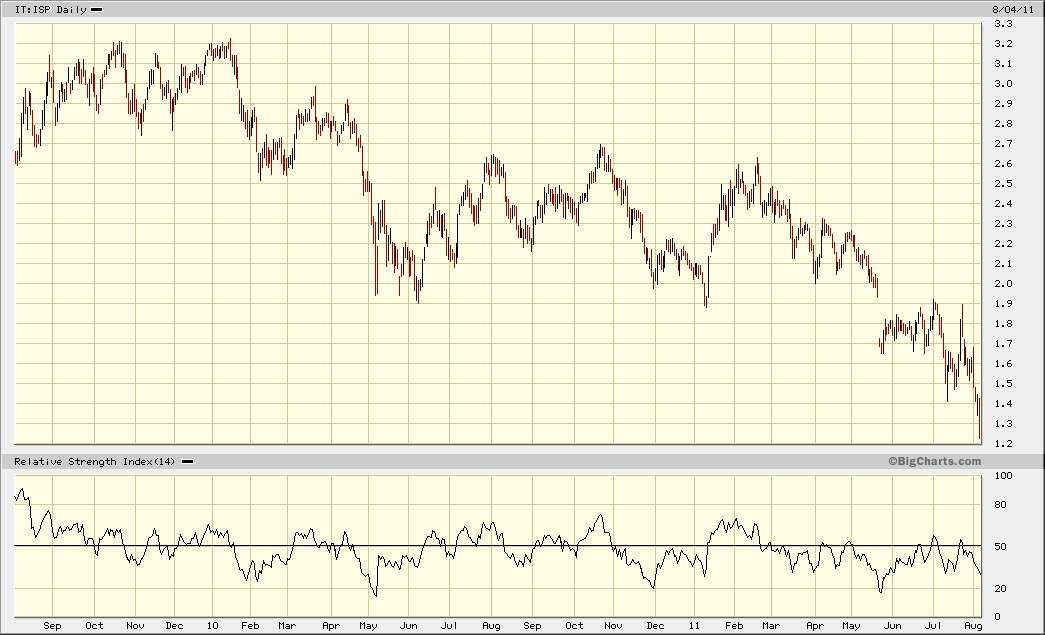 Italy's second largest bank, Intesa Sanpaolo (OTCPK:IITOF). It's hard to believe that this stock has lost another 35% from its interim high made in the last week of July.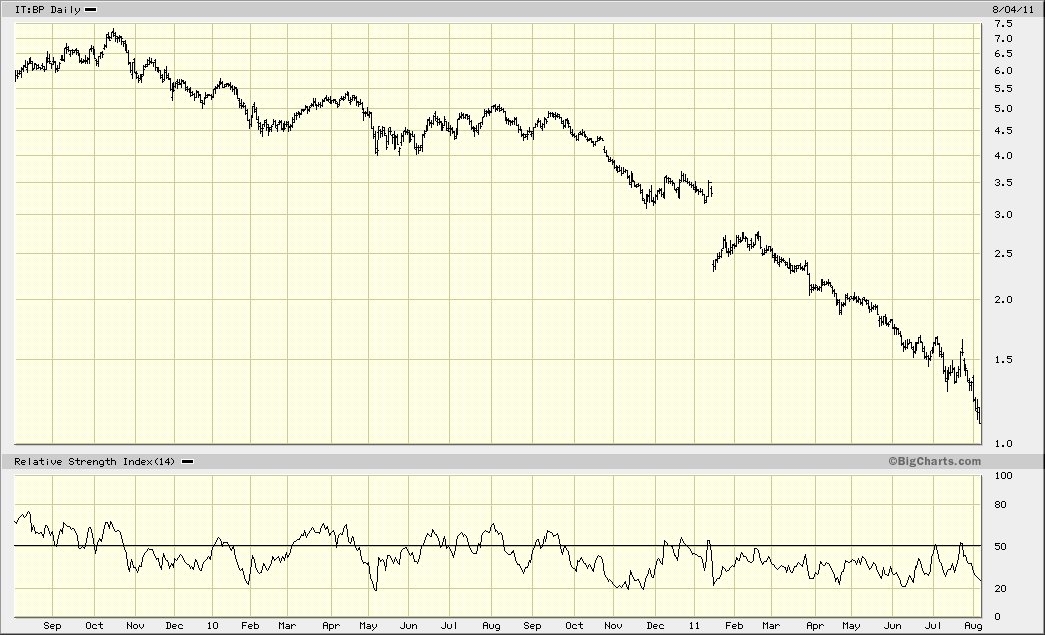 Banco Popolare (OTC:BPMLF)– as we have noted before, this stock is becoming a case for a microscope. The EBA stress test revealed it as one of the weaker banks in Italy capital-wise.
Treasury notes and bonds meanwhile continue to confirm the sell-off in equities, as their yields streak ever lower.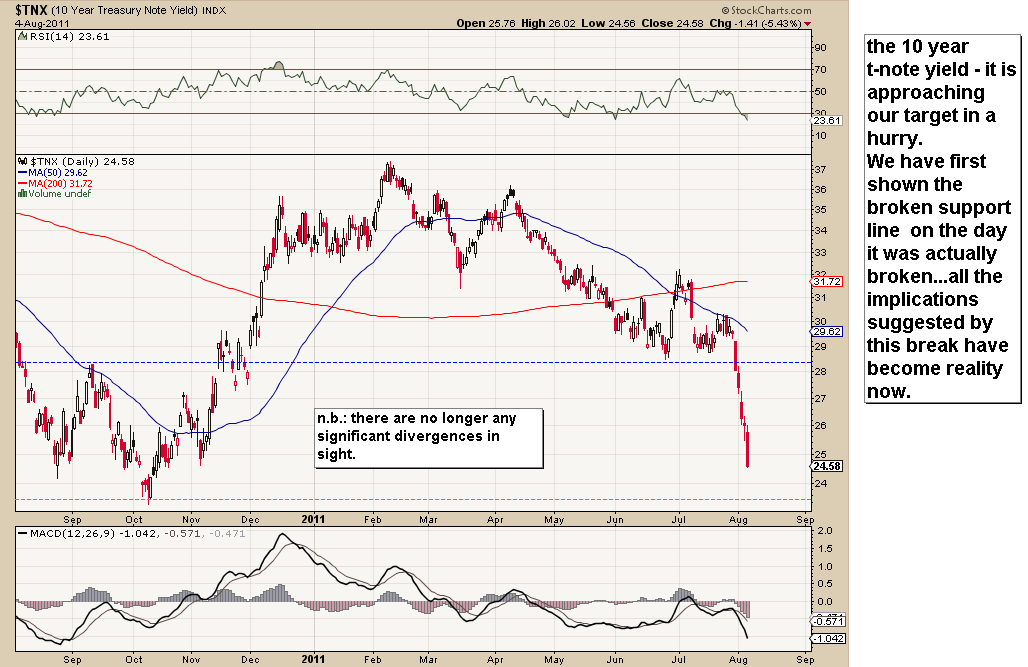 The 10 year note yield is moving toward its putative target rather quickly. Oversold, but…no divergences that would suggest a low is being put in just yet.
The world's most important industrial commodity is likewise confirming the sell-off in stocks – however, contrary to the SPX it remains slightly above its March low: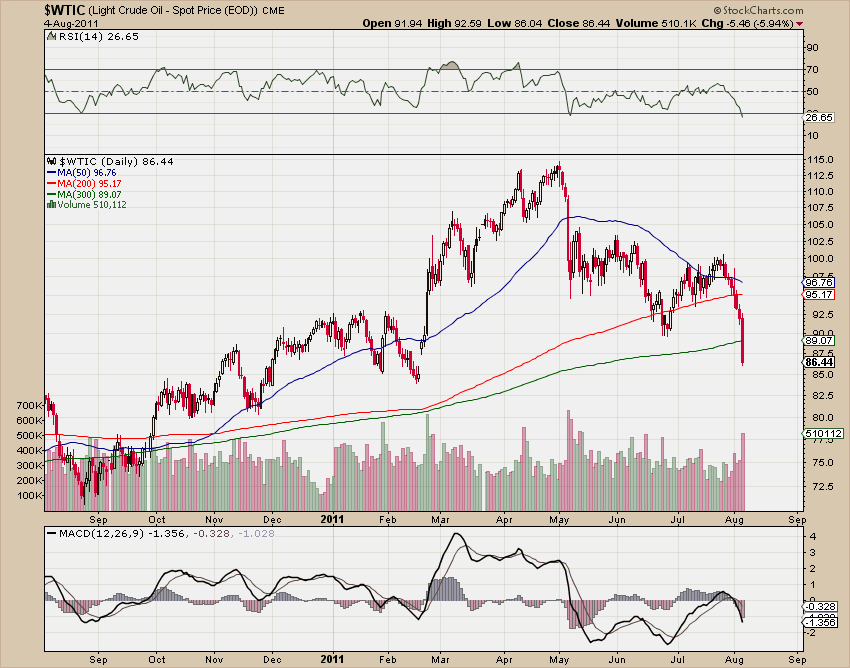 WTI crude, continuous contract – note here that just as crude oil has done, the SPX has also broken through its 300 -day moving average (which sits at roughly 1225).
After a fairly long period of not doing much, LIBOR has suddenly perked up in a sudden spike – even though the absolute level remains low.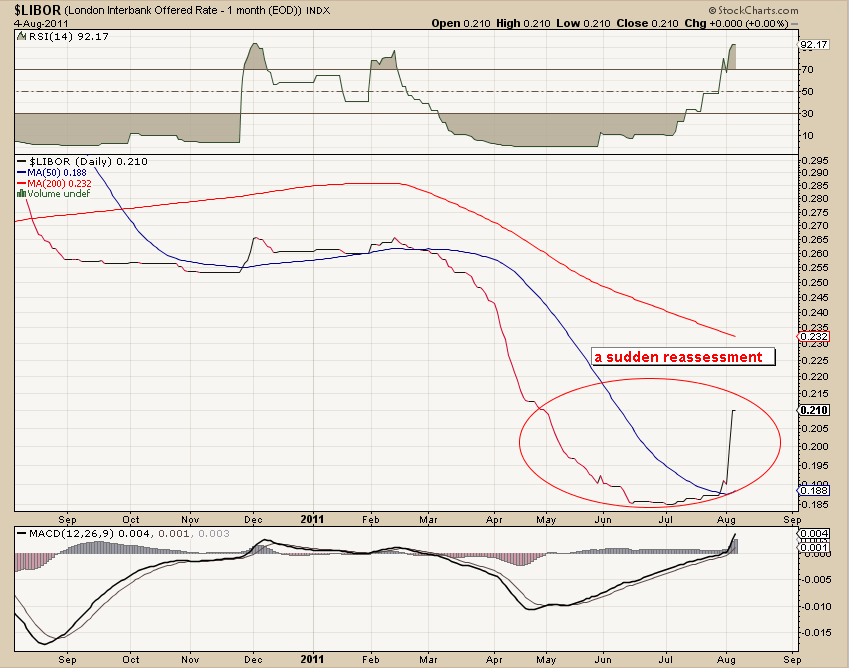 One month LIBOR changes direction, even if not by much in terms of absolute levels.
An interesting picture is provided by the TED spread (the LIBOR/t-bill discount rate ratio). During the debt ceiling debate, the spread formed a volatile rectangle, as t-bills were sold off as a liquidity management measure – money market funds investing in t-bills saw very large outflows, as investors worried that there may actually be some delays in getting payment. Now that this consideration is no longer important and t-bill yields are close to zero once again, the TED spread should be mostly driven by increasing or decreasing bank funding costs (provided the t-bill rate remains at its current low level). From a technical perspective, a break-out from the rectangle would likely be bad news: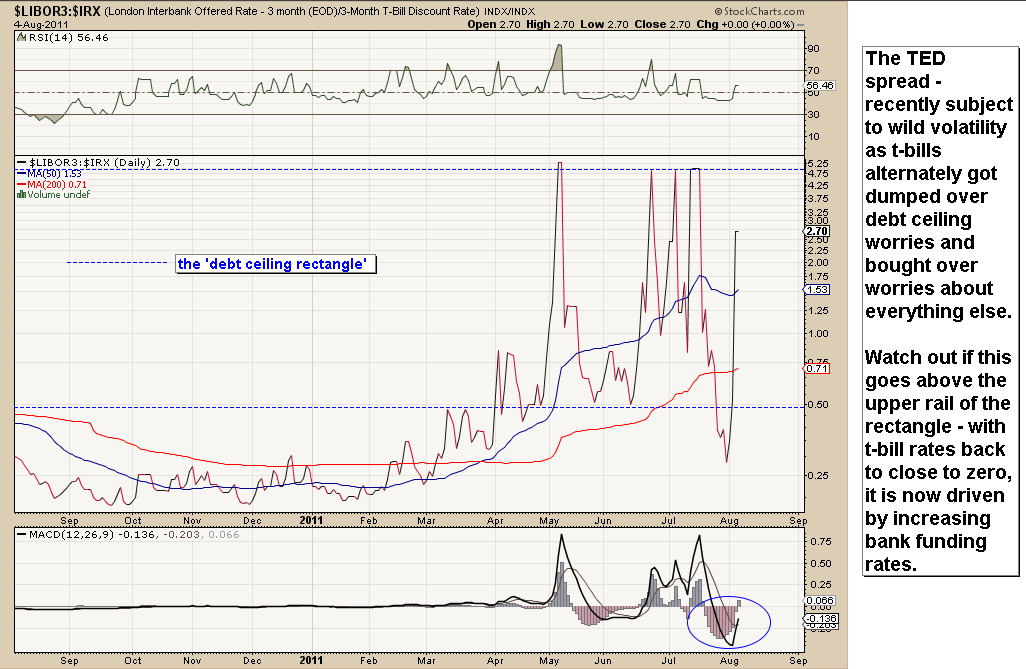 Keep an eye on that rectangular consolidation in the TED spread – a break above the upper rail would be an untoward development.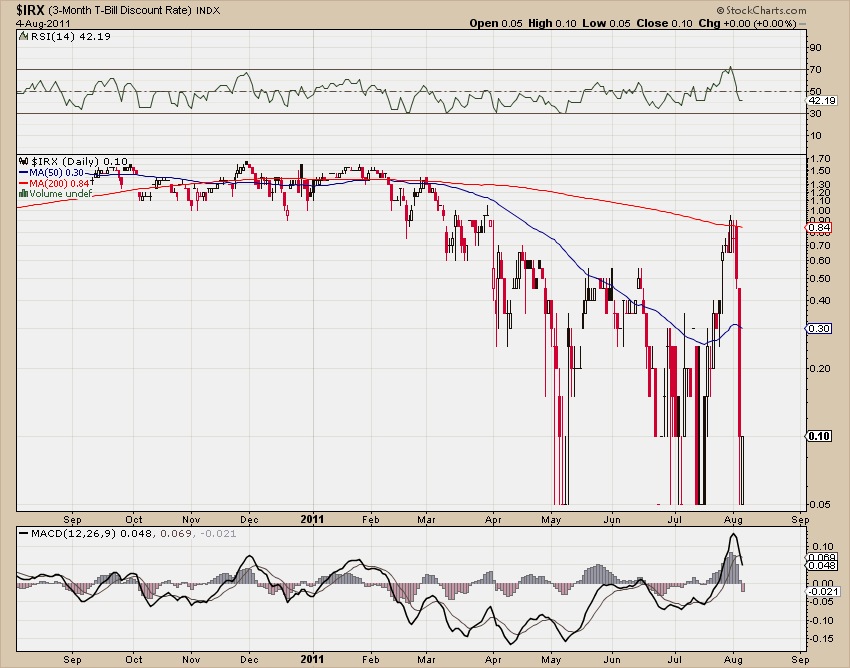 A chart showing the recent volatility in the t-bill discount rate. It's back to near zero now.
Gold meanwhile suffered a pullback as well, although it was very mild compared to what happened in commodities more generally – this is actually to be expected – during liquidity crises, gold tends to outperform industrial commodities. Silver was far weaker, giving up nearly $3 or about 7%.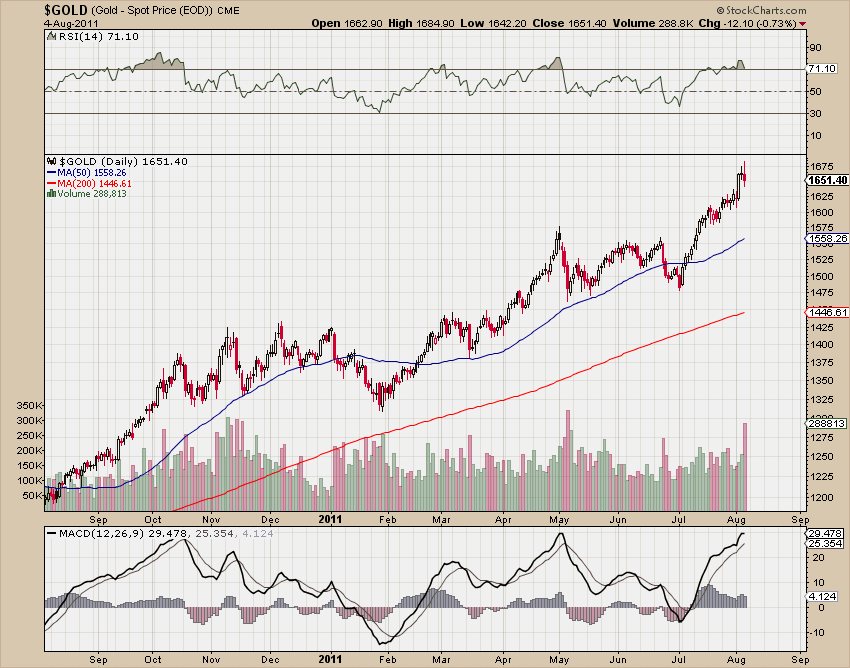 Gold - a small pullback amid mayhem in other markets.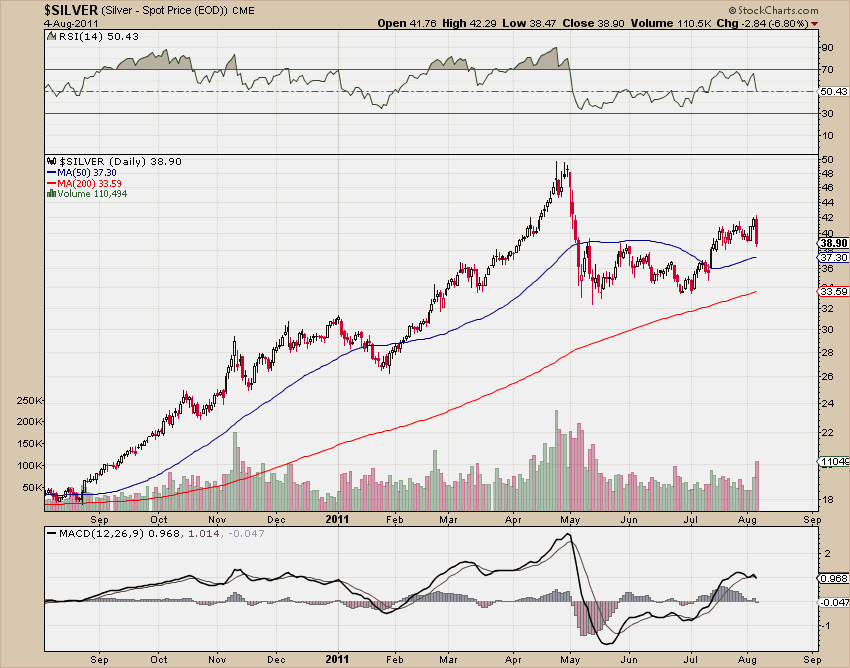 Silver pulls back more strongly.
The gold stocks were basically murdered, but due to their previous rise they only pulled back to about the 50% retracement level of their recent rally. Nevertheless, this led to the HUI/Gold ratio retesting its recent low.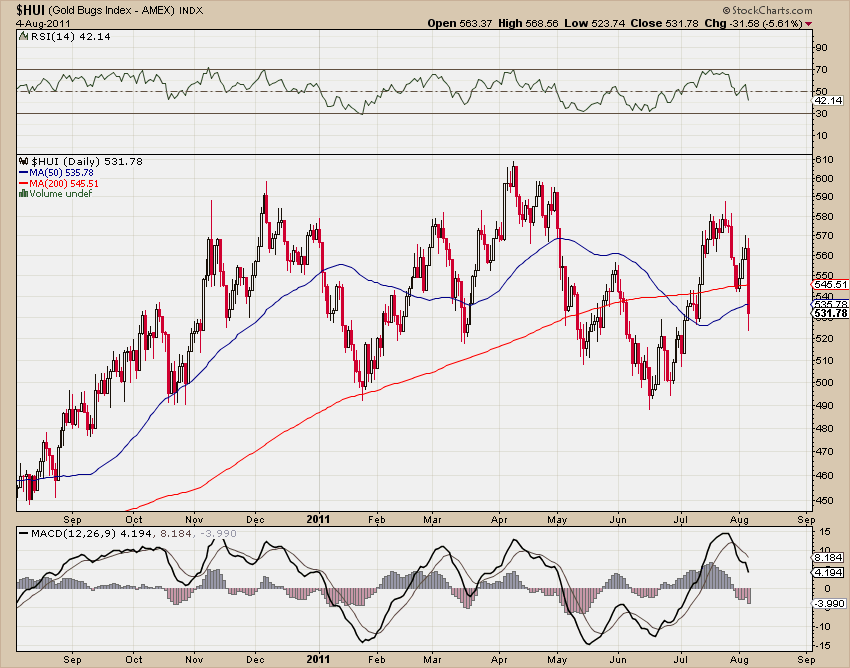 The HUI drops sharply, but still looks a great deal better than the broader market so far. Gold bugs can't be very happy anyway.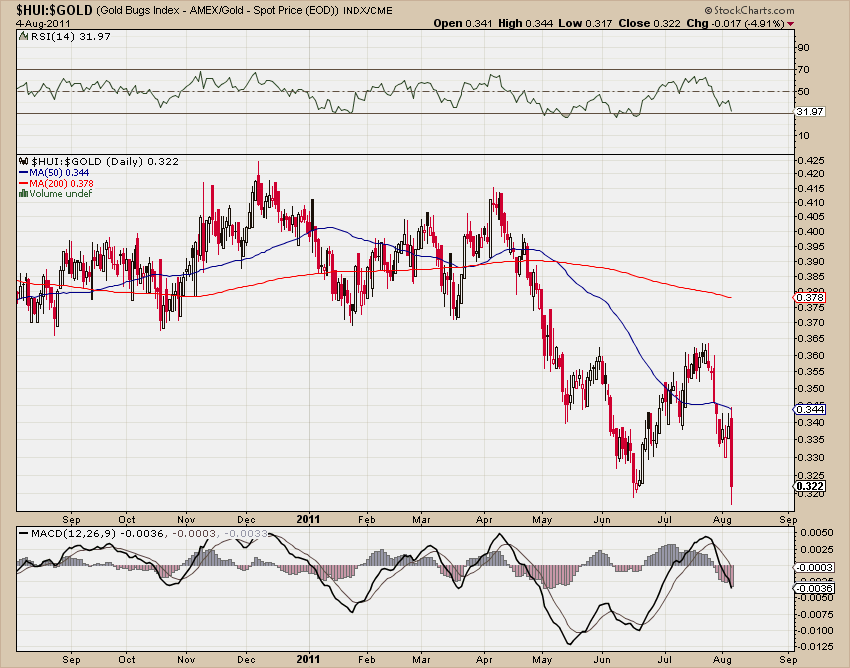 Relative to gold, the HUI revisits its recent low – this is the lowest relative valuation since March 2009. Gold stocks are cheap, but they have been cheap for some time.