In this period of low interest rates and yields, investors are looking for ways to upgrade portfolio yields. Most big name stocks pay dividends, a few offer attractive yields. 3 with excellent records of paying dividends and high yields are selected below. In all fairness, all yields above 4% carry a certain amount of risk above and beyond the ordinary risk associated with dividends.
Kimberly-Clark is an old line paper company which has been paying annual dividend since 1935 and has raised the dividends for 39 consecutive years. Businesses include personal, professional and health care products with popular brands including: Kleenex, Huggies, Scott and Kotex. Its brands typically hold No. 1 or No. 2 share positions in more than 80 countries. Half of sales come from outside the U.S.
After reporting Q2 results, KMB is guiding 2011 EPS at 4.80-5.05. Because of inflationary pressures KMB expects that adjusted EPS will be in the lower half of the guidance. Net sales increase are expected at 5-7% versus previous guidance for an increase of 4-6%. Organic sales should grow 2-4%. Analysts project EPS next year will be above $5.20. Selling at 63.04, KMB yields 4.4% with a P/E of 13X.
Kimberly-Clark --- 10 years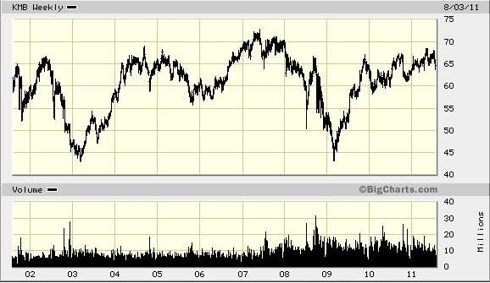 Click to enlarge
(Click to enlarge)
Leggett & Platt is a leading manufacturer of components for bedding and residential furniture, carpet underlay, components for office furniture, automotive seat support and bedding industry machinery. At the end of 2007, it adopted a new strategy - total shareholder return (TSR) with its goal of 12-15% annual returns to place LEG in the top 1/3 of S&P 500 companies. TSR = (stock price change + dividends) / initial price. The 3 year average TSR for 2008-2010 put LEG in the top 8% of the S&P 500 and 2009-2011 (to date) puts LEG in the top half of the S&P 500. LEG has a very strong balance sheet and cash flow financed share repurchases of 3-7% per year.
LEG has leverage. Every $100 million increase of sales will add 10¢ to EPS. Its goal is to raise sales longer term at least 4-5% per year with a target of $4 billion bringing EPS to roughly $2.00. Foreign sales were 5% of the total in 1995 and have grown to 28% last year with China the leading overseas market (accounting for nearly 10%). LEG has been paying dividends annually since 1939 and increasing the annual dividend for 40 consecutive years. This week, the annual dividend was raised another 4¢ to $1.12. Selling at $19.30, LEG yields 5.8% with a P/E of under 14X. If EPS rises to $1.70 next year (as analysts expect), the P/E would fall to 11X.
Leggett-Platt --- 10 years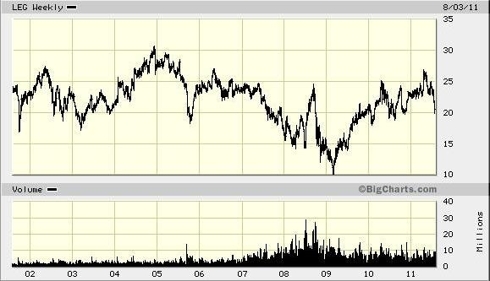 Click to enlarge
(Click to enlarge)
Lilly is the 10th largest pharmaceutical company in the world with clinical research conducted in more than 50 countries, manufacturing plants in 13 countries and products are marketed in 143 countries. Q2 sales were $6½ billion with EPS of $1.07. LLY is noted for its high yield (5½%) but it has risk attached. It's been paying a dividend annually since 1885 and had been a long time Dividend Aristocrat. But last year it failed to raise the dividend above $1.96 (paid in the prior year) causing it to lose its status as a Dividend Aristocrat. LLY is facing patent expiration for its top drugs and has to wait for approval of major drugs to replace lost revenue. Below are Q2 sales (in billions) for 3 top drugs, accounting for a high percentage of $6¼ billion total sales. Zyprexa loses protection in Q4 and the other 2 lose protection in 2013.
Zyprexa $1.4
Cymbalta 1.0
Humalog 0.6
LLY is fighting back to maintain earnings. Its medicines are reporting higher sales. Last week, it announced a strategic collaboration with Lupin Limited of India to distribute Lilly's insulin products in India and Nepal. Lilly has a history in insulin production dating back to 1923 and caring for an estimated 51 million diabetes patients in India has a high priority. In March LLY offered to buy the animal health business of Janssen Pharmaceutica from Johnson & Johnson (NYSE:JNJ). At $35.84, the stock yields 5½% and the P/E should rise to almost 10X based on next year analyst earnings of $3.70.
Eli Lilly --- 10 years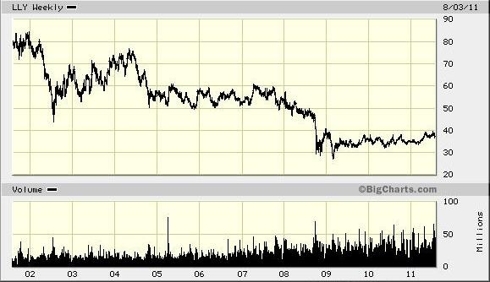 Click to enlarge
(Click to enlarge)
Higher yields carry added risk but these dividends are covered by earnings and cash flow. KMB is coping with rising costs and expanding its overseas business (as are the others). LLY is only for the very brave, but has a high yield and offers appreciation potential if new drugs are approved. My favorite is LEG because it has the best approach, using TSR to measure results. A 6% yield is a good start on growing any investment and when the economy recovers, its leverage should bring a major increase in earnings (necessary for larger increases in dividends).
Disclosure: I am long LLY.