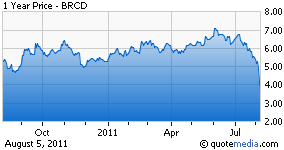 There's arguably no good time for a tech company to post a disappointing quarter, but this is clearly an especially bad time. With investors worried about tech stocks in general, and IT enterprise providers like Cisco (NASDAQ:CSCO), Juniper (NYSE:JNPR), and Riverbed (NASDAQ:RVBD) more particularly, this was a dangerous time for Brocade (NASDAQ:BRCD) to disappoint the Street.
A Tough Q3
But disappoint Brocade did, announcing that third quarter revenue was going to come in about 10% short of its guidance and the average analyst guess. Unfortunately, it looks like a broad miss. The storage business looks to be down about 5-6% as partners like EMC (EMC), Dell (NASDAQ:DELL), and IBM (NYSE:IBM) held less inventory and end-market demand has softened.
While the Ethernet business looks to be up 12-13%, the company cited weaker spending overall, and weaker federal spending in particular, as the prime sources of disappointment. Federal spending has been an odd topic of late – it seems intuitive that Federal spending would be weaker right now, but companies like Cisco, Juniper, Riverbed, and F5 (NASDAQ:FFIV) have posted a wide range of results in this respect.
The Hits Keep On Coming
Brocade investors have had relatively little to celebrate lately. A popular pick as a buyout candidate, that thesis took a hit when Dell decided to buy Brocade's smaller private rival Force10 Networks instead. Brocade had been looking to its OEM relationship with Dell (and Dell's sizable sales force) as an important part of its growth strategy; now it looks as though it is much more likely that Dell will try to nurture Force10's small market share (about 1%) and expand further into enterprise data centers on its own. While Brocade may replace some of that opportunity with more business at IBM or EMC, becoming even more reliant on a smaller number of customers is not an encouraging strategy.
The Force10 deal and this earnings miss also forces a little reflection on the loss of Brocade's CFO back in late June. It was curious enough that the company waited a few days to announce the decision. Now that decision becomes even more interesting. Did Dell approach Brocade with a deal that management felt was unacceptable? Was it clear that the end-user market demand was eroding? There are admittedly plenty of valid reasons to leave a job, but few people leave if a big payday looks close at hand (conversely, plenty of people are happy to leave if they see an iceberg in the path of the ship).
Still A Viable Player
The tenor on Brocade has not been positively lately, but that does not mean the company or stock is doomed. The company has a strong market position in the storage switch market, and though that market is evolving, so too is Brocade. The company has a line-up of new 16GB products, as well as strong relationships with storage leaders EMC and IBM. The presence of competitors like Cisco, Juniper, and Hewlett-Packard (NYSE:HPQ) don't make this an easy market, but data storage and management demand is still high.
Brocade is also looking to offset the slower-growing storage business with new opportunities in ethernet. Brocade's virtual cluster switching products are a head-on attack on the likes of Cisco and here again Brocade's partners may help move the technology (even with the prospective loss of Dell). Of course, the risk is that fierce competition erodes margins to a point where Brocade just cannot recoup its investments and garner the operating leverage analysts expect.
A Chance For The Bold
Analyst expectations for Brocade were fairly strong, not so much with respect to revenue growth but in terms of margins and free cash flow generation. While Brocade's guidance does not suggest that margins fell apart in the third quarter, a lower reset to revenue may well push some of these once-bullish analysts to reconsider their incremental margin and operating leverage assumptions.
At these prices, though, Brocade looks a lot like a binary stock pick. Either the company will survive as a player in storage and ethernet and make today's prices look like a bargain in a year or two, or the company is on a slide to irrelevance and some future dumpster-diving take-out. Brocade is hardly a sure thing, and more risk-averse investors should consider the prospects of EMC or Juniper instead. But if Brocade shares are worth something between $6 to $7 in a favorable scenario and zero in the downside scenario, today's price looks like a 50/50 toss-up in the market and those are not bad odds for aggressive investors.
Disclosure: I have no positions in any stocks mentioned, and no plans to initiate any positions within the next 72 hours.