Earlier in the week, I wrote an article suggesting options plays on three of the week's big earnings reports from First Solar (NASDAQ:FSLR), LinkedIn (NYSE:LNKD) and Priceline.com (NASDAQ:PCLN).

While the main strategy I asked readers to consider in each case was a strangle, I also put forth other ways to play the quarterly numbers. Depending how you chose to play it, PCLN could have made you send out the follow Tweet Friday morning, in the voice of an overly-excited freshman cheerleader: "Yay, I'm rich!" LNKD and FSLR - not so much.

The following set of quotes, courtesy of Schwab's StreetSmart Edge trading platform, show the prices for PCLN around the money options for August and September, pre-earnings, intraday Thursday.

Click to enlarge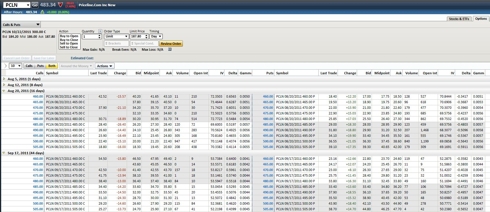 Let's use the $480 call/$485 put strangle in both months as an example of a trade you could have initiated. On Thursday, when the screen capture was taken, the August strangle would have cost you $61.60, while the September strangle set you back $74.60. Had you closed both ends of the trade within the first 10 minutes of Friday morning's session, you would have realized profits of $185 and $280, respectively, before commissions.

Personally, I never close out both ends of a strangle at the same time. In this case, it makes logical sense to hold the losing end of the strangle and wait for the inevitable bounce or pullback. Just over an hour into Friday's session, you could have squeezed an extra $3.00 out of the PCLN August $485 put and an additional $4.00 out of the PCLN September $485 put. Playing it this way turns the trade into a very profitable one considering the short holding period.

Of course, you could have become "rich" if you took the hunch I threw out and simply bought PCLN calls. For each August $480 call you flipped between Thursday and first thing Friday morning, you would have seen roughly $2,900 in profit before commissions.

Here's a look a LNKD's options price from intraday Thursday, ahead of earnings.
Click to enlarge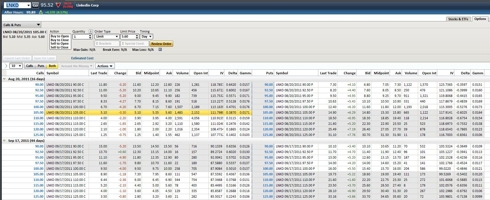 Clearly, LNKD represents one of those cases where you simply did not get a large enough move to profit from a strangle. In fact, had you opened the position at Thursday's close and sold it first thing Friday morning, you would have taken a loss of several hundred dollars on most combinations as the following screen captures of LNKD August and September options prices at Friday's open show.
Click to enlarge charts




The lesson here -- you need significant price moves, preferably somewhere around 10% either way, to justify a strangle. Because you do not know what type of move you'll get going in, you're making an educated guess, just as you do with most trades, short-term, long-term or otherwise.

That said, PCLN and Google (NASDAQ:GOOG) seem to represent the "safest" strangles around earnings. The more I study this, the more I am convinced that strangles might work on a larger number of stocks if you trade them, not around an event but on the day-in, day-out volatility some stocks, such as Apple (NASDAQ:AAPL), display.

As for FSLR, here's the way I suggested playing it, assuming you were bullish, heading into the company's lackluster earnings report:
If you're a bull, consider selling an FSLR put with a strike price you would be happy owning the stock at. If FSLR breaches that level between now and options expiration day, you could get "'put" 100 shares of the stock for each contract you sold at its strike price. Use the proceeds from the sale of the put to buy an FSLR call option.

As of Monday's close, I would look to sell the FSLR August $105 put for $1.87. If you're really bullish, you can turn around and buy the FSLR January 2012 $120 call for $11.40. The combination trade results in a net debit of $9.53. This trade is not for the faint of heart. And it will take a considerable amount of cash and account equity to pull it off. Proceed with caution and have, at least, mental stops in place.
On the put side, assuming you want to go long, things might not turn out all that bad. If you end up getting put the shares at $105, you're long not far from what could turn out to be support during a market crash. As for the long side of the trade, obviously, the FSLR January 2012 $120 call has lost about half of its value. It only made sense to make that play if you were "really bullish." If that sentiment remains intact, averaging down could make sense. Remember, we're in the middle of a major market turndown. Bargains abound.
Disclosure: I have no positions in any stocks mentioned, and no plans to initiate any positions within the next 72 hours.