Over the past few days, markets across the globe have been in absolute turmoil. The concerns over a slowing global economy and Europe's raging contagion situation have gripped markets and show no signs of letting go, even after Friday's respectable employment report. Bond prices have skyrocketed along with gold, while oil and equities have sold off evermore. Making investment decisions in this type of environment can prove to be quite challenging, especially with the effects of the recent financial crisis still hurting investor confidence.
The one positive that investors can take out of this global sell off is the decline in most commodities prices. Petroleum prices are trading around $86 a barrel, which will surely bring the price of gasoline down. As prices at the pump fall, investor confidence generally ticks higher as consumers end up with some extra cash in their pockets. People begin to spend again and the economy will pick up steam. That's why the current downturn presents an excellent buying opportunity. There appears to be some good value in the automotive manufacturing industry. Looking at the entire industry, vehicle sales were up quite noticeably in July, surprising some analysts. After declining for three months, sales turned higher amid strong demand. Click charts to enlarge)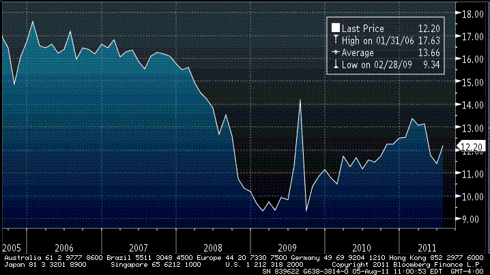 Click to enlarge
With that being said I am going to advocate Ford Motor Company as a strong buy. In the automaker's most recent
earnings release
, Ford notes strong growth and cash flow. The balance sheet is improving, indicative of a company that will prosper in the years to come. While net income did decline compared with the second quarter of 2010, "unfavorable special items of $272 million, $177 million more than a year ago" impacted earnings. According to Ford, "the special items include personnel reduction actions, Mercury and other dealer-related actions in North America, and pension settlements in Belgium." Further encouraging signs include an increased presence overseas, especially in China. Although higher costs impacted sales in some of these regions, the recent slide in metals prices will likely prove to be favorable for Ford's margins. The chart below displays Ford's monthly sales compared with sales of it's peers. Clearly, demand is strong for Ford product.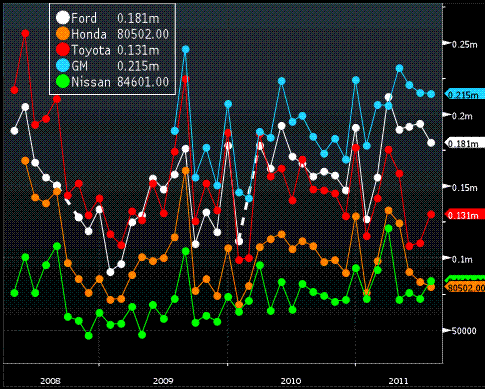 Ford recently broke lower on solid volume, which suggests the sell-off has some steam behind it. However, I fear this is unwarranted given the recent earnings release and vehicle sales report. Investors are panicking and moving into "riskless" assets to avoid any exposure to equities. As mentioned above, this presents a good buying opportunity. Looking at Ford's more recent vehicle sales report, the company's July sales were up 9% compared with a year ago. Consumer demand has proved to be quite strong even in the current soft patch. Their fuel-efficient vehicles have been selling well, a positive sign given the somewhat pricey models.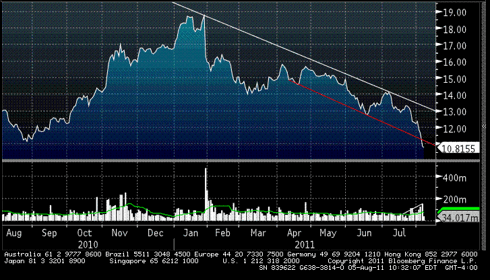 Click to enlarge
Another promising sign was CFO Lewish Booth's announcement of a dividend payout in the "near team," according to a
WSJ
article. Investors should take this as a sign of Ford's expectations for profitability in the years ahead and its desire to share that with stakeholders. While Ford does have a large amount of debt to handle before paying out income to its investors, the time when Ford returns to a dividend stock is certainly approaching. Waiting for this to occur will likely prove imprudent, as investors will miss out on the almost certain immediate price appreciation and subsequent dividend payments. After some careful projections for cash flow, it appears Ford could produce a dividend by year's end. After searching the Bloomberg Terminal, it appears the forecast is also in line for a year-end payout. Ford also has 14 buy recommendations with price targets in the high teens, as high as $22. Although
Goldman
did lower the price target from $20 to $17, all signs still point to a strong outlook. Should the stock move to $17, that's almost a 70% move higher, a welcome appreciation by investors. Goldman also noted a possible update to the debt, further indications of profitability and strong cash flow. All in all, Ford's financials make it a good investment in a bad market. The sharp decline in the price of the stock makes it quite attractive given its outlook and future growth prospects. In an article about a year back, I noted the possible dividend payout would be coming. Should Ford enact a dividend at the end of the year, 2012 could prove to be quite a remarkable year.
Disclosure: I have no positions in any stocks mentioned, but may initiate a long position in F over the next 72 hours.