By John Critchley & Christopher Yip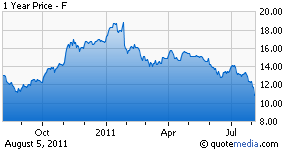 With debt ceiling discussions eating up all the media space lately and crude oil prices retreating from the $100 level back down below $90 per barrel, American automobile companies have not been in focus in the recent weeks. But as earnings season winds down, American autos are beginning to look interesting again. GM (NYSE:GM) announced earnings this past Thursday, August 4th, trumping expectations with EPS coming in at $1.54 per share versus an estimate of $1.20 per share. But even a great quarter and amazing sales growth year over year could not help prop up GM shares on Thursday as all three major indices opened and sank more than 4% each for the day.
The new threat to auto sales, however, stems from much larger macro factors and is in fact, not an isolated threat to the auto industry but is a threat to the general economy. June's unemployment rate signaled a critical continuation that U.S unemployment numbers have reversed and unemployment is now on the rise again. The February unemployment rate was pinned at 8.9% with June's unemployment rate tagging 9.2%. Consumer spending in the past few months has been up and down which ultimately reveals uncertainty in consumer behavior. More importantly, recent studies show that rather than actually spending money on new goods, consumers are using money to pay mortgage loans and credit card debts. There are now serious concerns about the financial health of the U.S and the stability of the global economy. Discussions of a double dip recession caused by a slow growing economy are pushing equity markets lower. Should symptoms of poor economic health continue to pour out, it can be assured that GM and Ford (NYSE:F) will not be spared.
Which of the two auto giants is more likely to survive another financial crisis is debatable. To put things in perspective, 30% of GM is still owned by the United States after they were bailed out in December 2008. Which makes them less vulnerable to economic blows because ownership is spread across the nation and losses will be written down against the overall country. On the flip side, Ford is still publicly held and carries a debt to equity ratio of 41.9, the highest amongst its peers. This level of leverage makes Ford very sensitive to financial and economic fluctuations. If the world could fast forward several months and analyze Europe's sovereign debt crisis, the ongoing uprising in the Middle East, and the slow growth in the United States, traders and investors could certainly prepare themselves for what to "expect." For obvious reasons, we do not have the ability to "fast forward" and cheat the system but we have the market to provide a 6-month economic forecast for us.
Ford's business strategy to expand rapidly overseas has not worked out as well as planned. Although still ranking high in sales in the United States and Canada, second quarter pre-tax profit from sales in Europe fell year over year from $322 million to $176 million. Sales in Asia were even worse, with pre-tax profits of roughly $113 million last year dwindling to $1 million this year. In comparison, GM's concentrated efforts have seen positive reactions. Spear headed by their relatively new and aggressive CEO Dan Akerson, GM plans to rebuild the brand to represent an icon of worldwide vehicular quality, beginning with Chevrolet and Cadillac. Although, it remains unclear whether such a strategy will turn out for the better, it is important to note that regardless of analysis under a micro or macro scope, Ford has much work to do in order to protect itself from industry specific threats and general economic headwinds.
Options Plays
Although no one has a crystal ball and can fast forward ahead to see what the economic climate will be like for Ford and other automotive companies, one can effectively use option strategies to make a strategic bet and or hedge on the movement of the underlying over the next 6 months.
From a pure options trading standpoint, the real question is what are the chances that the stock stays around $11? With great uncertainty and fear in the marketplace, the implied volatility of the whole options universe is near at its' 52 week highs. The VIX (CBOE Volatility Index) hit a 52-week high of 34.66 after the mauling the stock market took on Thursday and continued weakness on Friday. Ford options followed the overall market trend and are trading at a 56% IV, also a 52 week high.
The 30 day implied volatility is trading around 56%, significantly higher than the 52 week implied volatility low of 24.54% hit in late May of this year. The argument that implied volatility for F options is too high is made by those who believe the overall market implied volatility is too high and will eventually mean revert lower. However, the opposite argument that implied volatility is just about right considering the uncertain economic climate has many followers and is quite understandable. Is the automotive business model broken and the stock has further to fall? Or does the depreciation in share price to near a 52 week low make the underlying a tempting purchase for value investors.
If you believe there is further volatility in the marketplace as a whole and F in particular over the next coming months, the buying of options at this level may be a reasonable option play.
Let's take advantage of these uncertainties to either initiate a brand new long implied volatility position in F.
Trade idea -An Options Play
To let our implied volatility view play itself out and find the most reasonable implied volatility option plays, let's go out to the January'11 options, which present some compelling long term value.
The play:
a) Buy January 10 straddle for $2.47. Paying about 44.3% in Implied Volatility.
Net debit: $2.47
Breakeven point: $7.53 or $12.47 in the next 6 months.
Why January? Normally, one would buy the nearer month options if they wanted to make a bet on the underlying to be volatile. However, for this trade we are taking a longer-term horizon. Secondly, the implied volatility of the front month August options is significantly higher than the January '12 options. The August 10 straddle is currently trading at $1.10 or 56.88% implied volatility. The January straddle is trading at an implied volatility that is nearly 12.5% cheaper than August. This would appear to be an appetizing differential for many option traders. Let's take advantage of this calendar differential and buy the January straddle instead of August.
Stay tuned ...
Notes: Prices quoted are accurate at the time of writing and are subject to change after submission to Seeking Alpha.
Disclaimer: We are not liable for any trading decisions made by any reader. NO advice is given or implied. The information offered in this article is for demonstration purposes ONLY and should not to be either construed as an offer or considered to be a recommendation to buy or sell any options.
Your use of this information is entirely at your own risk. It is your sole responsibility to evaluate the accuracy, completeness and usefulness of the information. You must assess the risk of any trade with a professional broker, or financial planner, and make your own independent decisions regarding any trades mentioned herein. This is not a solicitation to buy or sell any options, or to purchase or sell any credit spreads. Trading options only carries a high degree of risk, is not suitable for all traders/investors, and you may lose all of your premium money invested in the options. If you have never traded options before, we strongly recommend that you read a little background information made available by the government. Only you can determine what level of risk is appropriate for you. Also, prior to buying or selling an option, a person must receive a copy of Characteristics and Risks of Standardized Options.
Past performances DO NOT guarantee future results. Please consult with your own independent tax, business and financial advisors with respect to any trade. We will NOT be responsible for the consequences of anyone acting on this purely demonstration material.
Disclosure: I have no positions in any stocks mentioned, and no plans to initiate any positions within the next 72 hours.