By Bryan McCormick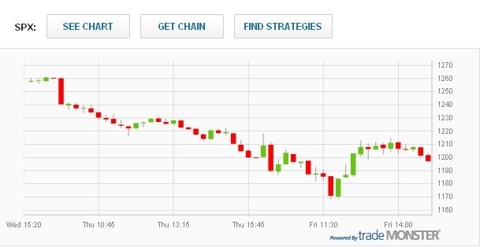 The markets have gone through an incredible series of price swings in short time today that have seen large moves above and below the zero line. While speaking with my editor on the phone, for example, the Russell 2000 traded up and down by nearly 1 percent several times in less than 10 minutes.
There are rumors and news and some mechanisms at work that are worth examining to help put some context to the action. In particular, two diametrically opposed stories have helped to push the tape around today.
First was an unsubstantiated rumor of a possible downgrade of the U.S. credit rating that made the rounds at the market lows. Markets stabilized but remained lower after that rumor was dismissed.
The second story was news that Italy and the European Union had agreed to measures that would be sufficient to allow the purchase Italian debt, providing a backstop for that country's economy. The euro surged on that story, as did U.S. markets.
Given the black-and-white nature of those two stories, it is little wonder that we saw such extreme moves today. But that doesn't explain the frequency of some of the moves we've seen. For that we need to look at relative volumes in the E-Mini index contracts and related exchange-traded funds.
With two hours left in the session, volume in the underlying indexes is about 130 percent of average. That's nothing compared with the volumes in E-Minis, which are at 200 percent of their daily average. And that, in turn, pales by comparison to the near 300 percent daily average volumes in the index exchange-traded funds.
With this kind of volume and machine-driven trading in full swing, it is also not a surprise to see wild price swings.
Keeping an eye on volumes will help give us some idea of when something resembling normal market conditions return. For now, human traders are at a distinct disadvantage in navigating the turbulence.