Equity markets finished a down week on a mixed note as worries over a global slowdown collided with easing fears over the European situation in what was an extremely rocky session for the Street. The Dow finished up by 0.5% but the broader indexes were not as fortunate as the S&P 500 fell by 0.1% and the Nasdaq continued its slump, sinking by 0.9% to close out a horrendous week. Rough trading continued to plague the financial and tech sectors, although healthcare and some of the larger oil names did manage to rebound into the green to help balance out Friday trading. In commodity markets, all four major resource benchmarks finished the day in the red as trading was overall pretty mixed in the session. WTI crude and gold both finished the day slightly higher but many softs, notably cotton and orange juice, sank along with multi-percentage point losses for silver and copper as well. Meanwhile, in currency and bond markets, the dollar slumped against most of the world's major trading mediums as the greenback fell by over a cent against the pound and nearly two cents against the euro. Thanks to these declining fears over the eurozone, traders dumped some of their T-Bill holdings as well. The 10-Year saw yields surge by nearly 18 basis points, up to the 2.58% level to finish the week.
One of the biggest ETF winners on the day was the Vanguard European ETF (NYSEARCA:VGK) which gained 3% in Friday trading. Today's robust gains, which came on volume that more than doubled the fund's longer term average, was largely the result of encouraging developments out of Italy and its attempts to reign in the yawning budget deficit. Prime Minister Silvio Berlusconi vowed to speed up budget reduction measures approved by Parliament last month and even looked to balance the budget in 2013 as opposed to the original 2014 deadline. Furthermore, the ECB also agreed, in principle, to buy bonds of Italy and Spain assuming that the nations agreed to implement vast reforms in order to get their deficits under control. Thanks to this possible support by the European Central Bank for these two under-pressure nations, many breathed a sigh of relief and bought up European securities across the board in response. VGK, which represents a vast swath of the European stock market, was a large beneficiary of this trend but even larger gains were seen in the ETFs that track the national markets of countries such as Italy (+5.5%), and Spain (+6.5%) as well.
Click to enlarge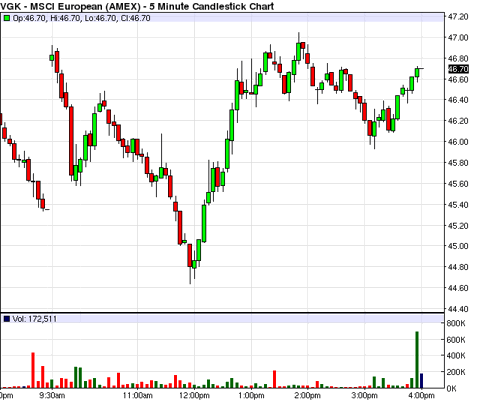 One of the biggest losers in ETF world was the PowerShares DB Base Metals Fund (NYSEARCA:DBB) which sank by just over 3% to close out the week. Today's heavy losses in this base metal fund came as traders bet on reduced economic growth thanks to weak manufacturing prospects as well as an unemployment report that was above expectations, but well below what many feel is necessary to quickly reduce the rate of joblessness. "The headline numbers for July were better than anticipated, but scratch only a little deeper and the state of the U.S. labor market unfortunately remains deeply troubling," said FX Pro chief strategist Michael Derks. Thanks to this sentiment, demand for copper and the rest of the base metal sector, which find their way into a variety of industrial applications, sold-off significantly on the day. DBB consists of three futures contracts - copper, zinc and aluminum - and these products were down, respectively, 2.5%, 5%, and 2.7%, ensuring that the popular ETF finished the day sharply lower as well.
Click to enlarge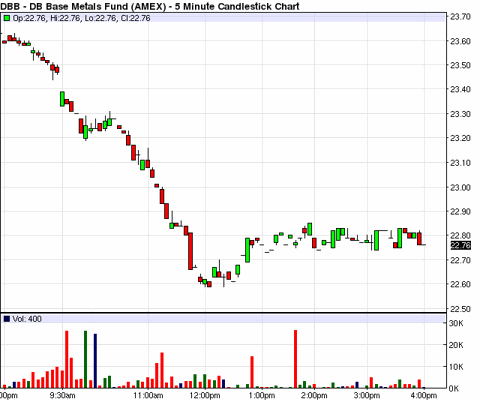 Disclosure: Long VGK.
Disclaimer: ETF Database is not an investment advisor, and any content published by ETF Database does not constitute individual investment advice. The opinions offered herein are not personalized recommendations to buy, sell or hold securities. From time to time, issuers of exchange-traded products mentioned herein may place paid advertisements with ETF Database. All content on ETF Database is produced independently of any advertising relationships.