For first time in its history, the U.S. had its sovereign debt downgraded to AA-Plus. What would be the effect of this downgrade on financial markets?
Some analysts believe that such a downgrade will have a minor effect on U.S. Treasuries, as was the case with Japanese government debt that continued to rally even after credit agencies downgraded it; and they may be right. But this isn't a certain event, as the debt structure of the two countries is different, and given the huge rally in treasuries, it may catch many traders on the wrong side of the table. Besides, some institutional investors aren't allowed to invest in debt that is less than AAA-graded. So, the downgrade is expected to have a major negative effect on both bonds and stocks, at least for the short run. What should investors do?
Here are three possible trades for next week:
1. Buy an ETF that is short on U.S. treasuries like the ProShares UltraShort Lehman 20+ (NYSEARCA:TBT) or ProShares UltraShort Lehman 7-10 (NYSEARCA:PST). The problem for investors, however, is that both funds bet against the daily price movements of U.S. treasuries, and therefore, they do not make good long-term bets.
2. Short iShares Barclays 20+ Year Treasury Bond (NYSEARCA:TLT). The problem again is that TLT is a bet on the daiy price movements of U.S. Treasuries, and therefore, it isn't a good long-term bet.
click to enlarge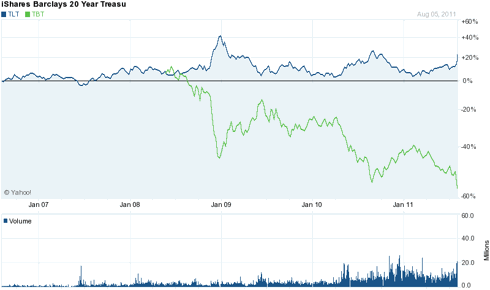 Click to enlarge

3. Short or buy puts on SPDR S&P 500 (NYSEARCA:SPY). The problem, however, is that S&P500 had a big correction already. So investors may want to average into this trade rather than going outright into a major position.
Disclosure: I am long TBT.