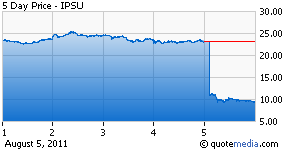 Imperial Sugar (NASDAQ:IPSU) investors saw their investment decimated by 60% in less than two hours on Friday, the result of a dismal third quarter earnings report. The carnage was extreme, and saying it was a combination "take no prisoners-Maalox moment" is an understatement! There was nothing about the report that even the most optimistic, "glass is half full" kind of investor, could call redeeming.
After listening to the analysts peppering the CFO and CEO with a barrage of questioning in the conference call, I left absolutely dumbfounded, questioning to myself, how will this company ever become profitable again? The only reason I continue to hold the shares at this juncture ,is the fact that its pieces appear to be worth more than its whole, making it susceptible to a Private Equity firm looking to exploit the situation.
What happened? In a nutshell, the company was not able to pass on its raw sugar price increases to its retail customers. Its cost of raw sugar increased 34%, while it was only able to raise prices to its customers by 21%. The fact that it only transacts hedging activity for its industrial customers, and not on the retail side of its business, left it vulnerable to the volatility and helplessness of the commodity markets. The other pitfall the Sugar producer encountered was production problems at its Port Wentworth refinery (mainly reliability issues with its steam boilers) which hampered its production efforts and allowing them to produce at only 75% capacity. This issue had a 200 basis point unfavorable impact on its gross profit margin.
Wholesome Sweeteners: The analysts probed extensively on IPSU's plans regarding its Wholesome Sweeteners position, especially since it decided not to exercise its option to purchase the remaining half. The general consensus was: Why sell your star performer? If you are going to sell something, why not exit out of the very unpredictable and low margin refinery business and focus on a enterprise which is growing and carries substantially higher margins? Why take the money from Wholesome and plow it back into the losing refinery business? The reality is, IPSU's 50% Wholesome stake is probably worth more than its total decimated market cap alone, and if you add in its other holdings, such as its joint venture LSR refinery, Mexican operations (Santos Imperial) and Natural Sweet Ventures, the perception of a very undervalued company emerges.
The bottom line: I spoke with PAA analyst Brad Safalow and asked him if he would still recommend the stock after today's earnings debacle and subsequent share meltdown and his response was, "without a doubt," emphasizing that the shares will not last long at these hammered prices. It will be interesting to see if the Analysts at BWS Financial and Janney Montgomery Scott share the same view as Safalow does.
Disclosure: I am long IPSU.