The weakness in the broader market has been mild compared to the pain suffered by stockholders in the semiconductor sector. The Philadelphia Semiconductor Index (NASDAQ:SOXX), a broad measure of the sector as a whole, is off over 21% since hitting near-term highs on May 16. Last week's selloff only intensified the downtrend (click on image to enlarge):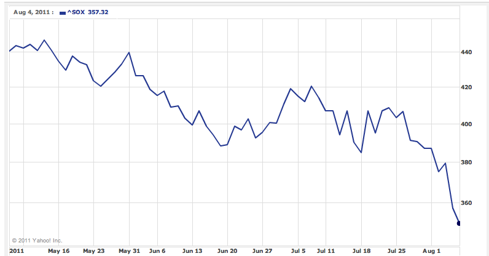 SOX 3-month chart, courtesy Yahoo Finance
To be sure, there are plenty of reasons for the decline in sector stock prices. The semiconductor industry as a whole is highly cyclical, and there has a been a drumbeat of bad news regarding future revenues. On July 21st market research firm IDC lowered its forecast for 2011 growth; competitor IC Insights followed on August 4th. Weak industry projections from Dutch supplier ASML Holdings (NASDAQ:ASML), Applied Materials (NASDAQ:AMAT), and MEMC (WFR), among many others, have confirmed investors' fears of a slowdown. Forbes' Carl Johnson wrote an excellent piece on Friday on semiconductor supplier Microchip (NASDAQ:MCHP), quoting CEO Steve Sanghi on the company's post-earnings conference call:
Since then, we have seen this [bearish] sentiment reflect to the earnings season with a weak guidance coming from Linear (NASDAQ:LLTC), Freescale (NYSE:FSL), Texas Instruments (NYSE:TXN), Silicon Labs (NASDAQ:SLAB), STMicroelectronics (NYSE:STM), Intersil (NASDAQ:ISIL), Micrel (NASDAQ:MCRL), NXP Semiconductors (NASDAQ:NXPI), IDT (NYSE:IDT), Power Integration (NASDAQ:POWI) and others. The semiconductor supply chain is confirming the same sentiment with weak guidance.
Johnson argues that the cyclical low in semiconductor is a reason to stay away from the sector. However, given a 25% drop in 3 months, it would appear that much of the weakness has now been priced in. The time to buy cyclical stocks is PRECISELY when they are falling out of favor.
Despite the pessimism, there is some good news, to paraphrase the old GEICO commercials. The lowered forecasts from IC Insights and IDC both project 5% growth in the semiconductor industry this year, with IDC projecting long-term growth in the 6-8% range. Even the much-maligned PC microprocessor segment was flat in a weak second quarter, with 2011 growth projected at 9%. Long-term secular drivers such as smartphones and tablets remain in place, while the expansion of chips into automobiles has opened new markets. While economic woes may delay the adoption of smartphones, tablets, and e-readers, it is hard to deny that those markets will show tremendous growth in the years ahead.
Still, investors interested in the sector must be cautious. Technicals on the SOXX (the major semiconductor ETF) and many individual stocks are bearish on some and downright terrifying on others. Continued macro weakness may weigh on near-term stock prices in the sector. Given that the consumer is the end user for the overwhelming majority of chips, whether in automobiles, PC's, smartphones, or other devices.
Most importantly, investors need to look past simply gaudy numbers (8 different semiconductor companies on my main screen have a trailing enterprise value-to-earnings ratio under 5) and understand not only the broader semiconductor market but the drivers for growth and profitability within each segment. One bonus for investors is that the volatility in the sector and the broader market has increased option premiums, allowing for more effective hedging strategies against near-term weakness. Here, then are 3 picks in the sector, along with hedging strategies if available:
Brooks Automation (NASDAQ:BRKS): Brooks picked the wrong week to have a blowout quarter, as the company reported earnings after the close of Thursday's 5% market drop. The maker of vacuums and robots for semiconductor manufacturers beat analysts' estimates on revenue, and its updated guidance for the quarter for both earnings and sales, managing only a slight sequential decline from a strong second quarter, while growing revenue 19% year over year.
More importantly, the company showed a sharp increase in cash and securities, thanks in part to the sale of its contract manufacturing unit to Celestica (NYSE:CLS). Even after the $90MM purchase of Nexus Biosystems in July, Brooks now has some $170MM in cash and securities net of all liabilities, or $2.57/share. Free cash flow contributed to the strong balance sheet as well; for the first nine months FCF was $63MM, over 14% of enterprise value (including the Nexus purchase).
To top it off, the company announced the initiation of a quarterly dividend of 8 cents per share. At Friday's close of $9.19, the company now offers an impressive yield of 3.48%, with impressive safety: A payout ratio of 21%, with 8 years' worth of dividends in net cash.
The market did reward Brooks with a 6% jump on Friday; of course, given that the stock had fallen 6% on Thursday, BRKS actually closed one cent lower on Friday than it did on Wednesday. For a company that now offers a substantial yield and substantial margin of safety, this seems to be a major mispricing.
The company did note the headwinds present in the sector, guiding revenues down sharply, and adjusted earnings in the range of $0.24 - $0.30. CEO Stephen Schwartz noted on the company's conference call that a decline in expected revenues for the core semiconductor business had come from "the additional downturn in semi that we've seen over the last three weeks." Yet, an analyst on the call noted that the projected downturn for Brooks was lower than that noted by other suppliers, and the company's expansion into life sciences has opened a new, growing segment to the company.
In addition, the company expects synergies from the acquisitions of Nexus and RTS Life Sciences to provide cost savings and grow margins. Even with a revenue and earnings drop, Brooks looks well-valued. Traders looking to hedge should realize that the options are thinly traded with wide spreads; experienced traders willing to commit to mid-term hedges can look at limit orders for the October 10 covered call (last at 50 cents) for some downside protection.
Given the built-in safety of the balance sheet, however, and the potential for real upside should the market turn and price in Thursday's earnings, I would recommend a straight purchase for BRKS and hope to capture upside should the stock break out.
Entropic Communications (NASDAQ:ENTR): Like Brooks, Entropic picked the wrong week to report earnings. Unlike Brooks, the maker of chips for home entertainment connectivity reported a very poor quarter, dropping 38% on Thursday after missing analysts' expectations on revenue and guidance. The company also provided third quarter guidance well below analysts' expectations, while providing commentary in line with the rest of the industry.
From CFO David Lyle on the company's conference call:
We are seeing significant pressure on revenues from our two largest end customers: DirecTV, with both our MocA and our DBSODU products, and Verizon, with our MoCA products...We had previously expected to see tailwinds in Q3, as we enter what is typically a seasonally strong second half, and we also expected to see higher trends toward HD attach rates and potentially the beginning signs of an upgrade cycle. We are seeing limited signs in Q3 on all of these fronts. What we believe we are seeing is our service provider end customers keeping tight controls on capital expenditures in light of an unknown macro environment.
Lyle, however, went on to make a key point that applies to much of the semiconductor industry right now -- the issue is not market share, but market demand. The long-term story for Entropic still stands: technology convergence in the home will result in an upgrade cycle, as consumers get new TVs, new DVRs, new boxes, and new adapters. They just aren't doing so right now.
In the meantime, Entropic has no debt and offers $2.18 per share in cash -- over half of market cap, based on Friday's close of $4.24. Even in the difficult second quarter, free cash flow was $8MM. At that depressed annualized rate, ENTR sports a free cash flow yield relative to enterprise value of 18%. With any growth to the upside, and barring major missteps by the company, the stock should grow as the market does. Investors with the stomach and the patience to wait should be rewarded.
ENTR's volatility (it has a beta of 2.48) offers several option trades for Entropic bulls. Conservative investors can sell a cash-secured February 3 put (bid .30, last .35). At the bid, this trade offers a solid 11.1% return on risk capital (20% annualized), with break-even at $2.70, a further 36.3%. A more moderate trade, with greater upside, is the February 5 covered call. The February 5 is bid at 65 cents (last 75 cents), offering 15% downside protection from the current price of $4.24 to break-even at $3.59.
Our maximum potential gain is still a handsome 33% with the covered hedge. Finally, more aggressive investors can write the September 5 call for $0.25. This offers nearly 6% downside protection on a 6-week trade, while not losing the potential upside should the third or fourth quarter show renewed growth in the sector.
Amtech Systems (NASDAQ:ASYS): The maker of capital equipment for wafers in the solar and semiconductor industries reports earnings on Tuesday, having already pre-announced record revenues of $70MM on a preliminary basis. Should the results hold up, it would be the company's fifth consecutive record quarter, and growth of 62% over the year-ago quarter. The stock has been nearly halved since early February, as pressures not only on the semiconductor business, but concerns about pricing in the solar power sector have hurt the stock.
Despite the stock's struggles, the company is roaring. Five straight quarters of record revenues have been accompanied by four straight monster beats of analyst estimates. The second quarter beat was accompanied by a raise in full-year guidance to $240 million, double the year prior; it seems likely that that target, too, will be raised, as third quarter preliminary revenues were ahead of the company's guidance for the quarter.
The company has earned $2.25 per share over the trailing twelve months, with analysts expecting $2.57 and $2.59, respectively, for the years ending September 2011 and 2012. Given that the company has nearly $7 per share in cash on hand, this puts the enterprise value-to-earnings ratio at about 3.7. This is simply a stunning rate for a company with the growth profile of ASYS. The strong earnings growth and strong balance sheet combine to provide a significant margin of safety.
ASYS is also a volatile stock, with a beta of 1.61, and does provide some hedging options. Since it is a small-cap stock, use limit orders and pay attention to spreads. The November 15 put is bid at 1.30, (last 1.35), offering over a 9% return (about 30% annualized), with break-even at $13.70. More speculative types may want to bet on another earnings beat and an ensuing short squeeze (the stock has an 18% short float, over 5 days' worth of volume). The August 17.5 is asked at 65 cents, needing an 11% rise in 2 weeks.
Disclosure: I have no positions in any stocks mentioned, but may initiate a long position in BRKS, ENTR, ASYS over the next 72 hours. I may trade options on BRKS, ENTC, ASYS in addition to or in place of a stock purchase.