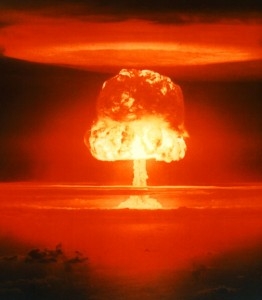 by John Nyaradi
Standard and Poor's dropped a bomb after markets close on Friday
Everyone's summer weekend was disrupted Friday afternoon when S&P announced they were downgrading the U.S. to AA+ and so stripping the United States of its AAA rating for the first time in history.
To further kick sand in the country's face, S&P declared that the country is now "outlook negative."
Gallons of ink and cyber bits have already been spent on this issue this weekend but here are just a few observations about what all of this might mean.
Political Fallout: Bad news for just about everybody.
Nobody looks good in this as President Obama and Congress took us to the brink of disaster and caused signficant loss of confidence in the will or ability of the United States to get its fiscal house in order.
The blame game is already starting between Republicans and Democrats and the U.S. government went so far as to say that the whole thing is a giant $2 Trillion mistake and that S&P's numbers were way off.
Furthermore, and this is the scariest part of the whole political process of raising the debt ceiling debate, the recently inked agreement that S&P didn't like, makes virtually no real dent in the U.S. debt situation. In spite of all the storm and drama, we are still looking at $1 Trillion annual deficits for years.
And this doesn't begin to talk about off budget tidbits like Social Security and Medicare
Economic Fallout: More Bad News
Over the weekend, I've been reading many articles about how this downgrade doesn't matter and not to panic, etc, etc and I've got news for everyone. It does matter. If it didn't matter, it wouldn't have happened.
Here are just a few of the potential outcomes:
1. More stock market turmoil which is just what we don't need after the U.S. equities market had its worst week since 2008 and the S&P 500 lost 11% in nine days, the biggest such drop since March, 2009, at what was then declared to be the end of the bear market.
2. Higher interest rates somewhere down the road. By S&P's own estimate, interest rates could rise between +0.25% and 0.5% as a result of the downgrade. Doesn't sound like a lot but it certainly adds stronger headwinds to an already struggling economy and helps to negate the effect of QE1 and QE2.
3. Slower economic growth which won't turn up in good numbers for GDP which is already perilously close to the flatline as it is.
4. China flexing its muscle, slamming the United States on Saturday with its official statement, saying, "The U.S. government has to come to terms with the painful fact that the good old days when it could just borrow its way out of messes of its own making are finally gone." Beyond that, they suggested that as the U.S.'s largest creditor nation they have "every right now to demand the United States to address its structural debt problems and ensure the safety of China's dollar assets." They went on to dictate policy about slashing our military and welfare expenses and suggesting that a new world reserve currency should be considered.
So now China has become the company store and is acting more and more like they "own" us.
Next week brings more volatility, for sure, and everybody will be tuned into the Federal Reserve on Tuesday when it issues its FOMC statement at 2:15 p.m. Eastern time.
QE3? Maybe. But it's highly likely that there will be global liquidity floods from central banks around the world if Asian markets open sharply lower on Sunday evening in the United States and that action spills over into Monday morning.
Don't forget; markets were already in panic mode last week before this latest bomb exploded on the global financial scene.
Disclosure: Wall Street Sector Selector actively trades a wide range of ETFs and positions can change at any time.