Winn-Dixie Stores, Inc (NASDAQ:WINN) released its preliminary 4th quarter results last week and the market quickly showed its disdain by slamming the shares with a 10% hit (expectations probably became too high while the overall market meltdown exacerbated the fall). The regional grocery chain has nearly surrendered back its previous 40% run up ( the massive rally was attributable to strong third Q results as well as an analyst upgrade) since the beginning of May, when it stood in the low $7's and briefly ran north of $10.
The reality is that the company is a much stronger one than it was just three months ago, but this is not reflected in the share price anymore, so you are essentially getting a more valuable company for the same price.
With its shares selling at less than half of shareholders' equity, it is obvious that there is a major disconnect between the company's inherent asset value and its market value, a trait that could be exploited in a takeover attempt by a Private Equity firm or competitor.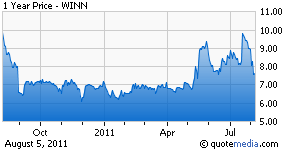 Fourth Quarter analyzed: WINN indicated it would earn 10 cents on sales of $1.6 billion, including a $4 million LIFO charge (earnings excluding the LIFO charge would have been 18 cents). The supermarket operator experienced an impressive 3.2% increase in identical store sales, despite one less week in its reporting period, and indicated it would generate EBITDA of $38 million, bringing its total 2011 EBITDA to $114 million, slightly above the company's previous guidance in the lower range of $100 to $130 million!
The future: WINN's capital expenditures will be reduced 19% from $115 million to $93 million in 2011, and hopefully the Board of Directors will earmark some of those savings directly back to shareholders via the initiation of a cash dividend or stock repurchase authorization. That type of action would certainly send a resounding vote of confidence to the market in their evaluation of the company.
The bottom line: On Monday Aug. 29, after the market close, WINN is slated to release its formal 4th quarter results, as well as provide management guidance regarding its fiscal 2012 performance. CEO Peter Lynch emphasized he was very pleased with WINN's 2011 fiscal results, so that being said, it could be a setup to ratchet EBITDA guidance 25% higher, encompassing a range of $125 million to $163 million. An outlook that strong would surely help the shares re-challenge the $10 threshold in a matter of days . This is an opportunity for those who missed the previous run-up, a chance to get long again at a bargain price.
Disclosure: I am long WINN.