The Coca-Cola Company (NYSE:KO) is not only an iconic American brand, but also a leading dividend stock, consistently posting annual dividend increases since the early 1970s. It is a rare stretch of time when 4 quarters will pass without a dividend increase. With the vast majority of its sales from outside the United States, KO should continue to post strong earnings, resulting in a continuation of this dividend track record.
KO has a forward dividend yield of 2.9% based on the recent closing price of $66.77 per share and the author's estimate of a forward dividend of $1.92. In the past two quarters, KO has paid a $0.47 quarterly dividend, suggesting that KO, based on past history, announce a dividend increase for the Q1 2012 dividend. It should noted that KO's dividend growth has been slowing over time and is currently around 7-8% per year.
KO is a leading non-alcoholic beverage company. KO has 6 reporting segments excluding corporate: Eurasia/Africa, Europe, Latin America, North America, and Pacific. KO's operating income (2010) is distributed as follows: Europe 27%, Latin America 22%, Pacific 21%, North America 18%, Eurasia/Africa 8%, and bottling at the rest (about 3%). Margins are quite high across all businesses, except North America and bottling. This broad geographic base of business should continue to fuel KO's future growth. Furthermore, with its most recent quarter posting $1.22 per basic share of earnings, KO has a comfortable payout ratio of 39%.
The following graph shows KO's historical dividend yield history: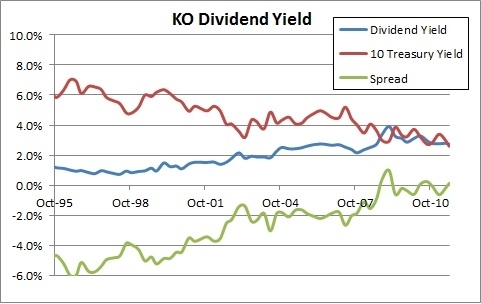 Created from data from Yahoo Finance
This graph also shows that KO crossed the 2% dividend yield mark back in early 2003. In comparison, the SPDR S&P 500 Trust ETF (NYSEARCA:SPY) has a current dividend yield of 2.0% due to the recent stock market declines and a slightly higher forward yield of 2.2% based on 10% dividend. The following chart shows KO's recent performance in terms of stock price and dividends.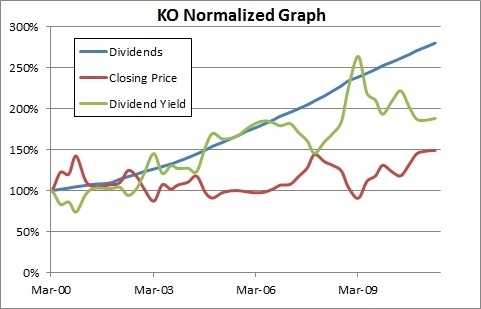 Created from data from Yahoo Finance
This graph shows that while KO dividends have tripled in the past 10 years, the stock price has increased just 53% or approximately 3.5% per year. With an average dividend yield over that time of approximately 2.3% that would provide an investor in March 2000 with $13.48 in dividends since then or about 31% of the stock price of $43.75. However, the total return since that time has been 99% which implies that the remaining 15% return would come from reinvesting dividends.
This analysis shows two important things for KO and for dividend investors:
Reinvesting dividends is critical for stocks. Furthermore, the higher the dividend yield, especially relative to expected stock price appreciation the more important it is to reinvest. Another way of thinking about this is that it creates a compounding effect as investors earn dividends upon their reinvested dividends.
While KO has a great track record around dividends and a reasonably high yield, the primary driver of returns remains stock price appreciation (but just barely). It is critical for KO to continue to grow profitably. This is not true for utility types of stocks (certain communications companies, electric utilities, gas utilities) that returns, in many cases, are almost exclusively from dividends. These companies simply need to sustain their businesses.
Despite the dreary outlook for the economy and stock market, companies are posting substantial profits that should enable continued dividend raises. The recent U.S. debt downgrade should increase borrowing costs for companies, raising interest rates and lowering profits. However, quality companies like KO, which has substantial value in its brand, low capital requirements, and a product that does not represent a substantial portion of people's income, should not suffer as much.
Despite a the S&P 500 being in correction territory, KO is only down 4.4% from its 52-week high,why SPY is down about 12.5%. If market turmoil continues, which it probably will in my opinion, it may provide a good opportunity for long term investors to buy quality companies with attractive dividends.
Disclosure: I am long SPY.