There is a very short list of top companies whose stocks are trading above their 50 day moving averages. Google (NASDAQ:GOOG) is trading at 4.92% above its 50 day moving average, which bests other top performers including Apple (NASDAQ:AAPL) (3.65%), McDonald's (NYSE:MCD) (-0.02%), Kraft Foods (KFT) (-0.27%), and Visa (NYSE:V)(-1.04%). The purpose of this article is to justify Google's growth and to explain why Google is a great stock to buy in today's market.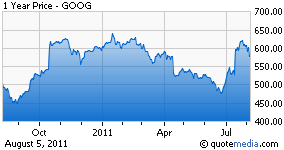 Although invested in so much more, Google's core business is based around its search engine. Google's current P/E ratio is 20.88, which is high compared to competitor Yahoo!'s (NASDAQ:YHOO) P/E of 13.25. However, Google's EPS is expected to increase 35% in FY 2011 to $35.50, and increase another 18% to $41.94 in FY 2012, according to analysts. This is compared to Yahoo!'s expected EPS increases of 4% in FY 2011 and 16% in FY 2012. If both companies' shares traded at the same price until the end of 2012, their P/E ratios would be 13.5 for Yahoo! and 13.8 for Google, which justifies Google's higher P/E ratio. In addition, Google is involved in so much more than Yahoo!.
Google has conquered almost every space it choose to compete in. It has the most popular search engine, the largest smartphone platform, and an e-mail service with about 200 million subscribers. Google+ already has 25 million users, which still does not compare to Facebook's 700 million, but it is entirely possible that Facebook goes the way of MySpace over the next couple of years and loses popularity. Investors also pay high premiums for social networking sites, as LinkedIn has revenue of under $500 million and virtually no earnings, yet has a market cap at over $8.5 billion. Facebook generates about $4 billion in revenue per year and is valued somewhere between $40 billion and $100 billion. Google is also heavily invested in cloud computing where some companies, like Salesforce.com (NYSE:CRM), trade at P/E ratios of over 200.
Google has only $3 billion in long term debt and $40 billion in cash and investments. Once it sees an opportunity for a new product or service, it has the ability to invest in it right away. In addition, its stockpile of cash adds virtually no income to the company's bottom line. Google is currently undervalued from an earnings standpoint, and their bounty of cash adds to its value.
I would place a BUY recommendation on Google as I see it continuing to innovate with its current products while continuing to be innovative over the next few years.
Disclosure: I have no positions in any stocks mentioned, and no plans to initiate any positions within the next 72 hours.