Oracle (NASDAQ:ORCL) has drifted about 10% below the NASDAQ in the last few months. The technical indicators are admittedly bad (it's trading below the 13, 50, and 200 day moving averages). This could just be a correction for the higher hopes people had earlier in the year. Still, nobody can deny the earnings numbers. Oracle's income has continued its admirable growth way beyond the norm, and its constant acquisitions are expanding its presence in a variety of applications markets.
The fact that it is now underperforming the NASDAQ by such a huge gap (with no disappointing earnings reports yet) makes it one of the best long positions available. With an average analyst target of $39/share it's amazing that you can buy ORCL with roughly 38% upside if it is even within the ballpark. Looking at how much Oracle makes in addition to its prospects as a company, $39 in a year isn't as ridiculous as it sounds. The only thing missing is a nice dividend, although the .9% yield is at least something.
click on image to enlarge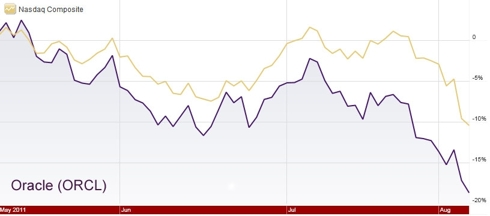 Although its forays into the hardware sector have been quite unsuccessful, it really doesn't make a dent in its earning power. Oracle had a 36% increase in its GAAP net income as of Q2 2011, and according to CEO Mark Hurd this was without much help from its newer acquisitions (In 2011 this includes Datanomic, Fatwire, Ndevr, Ksplice, Pillar Data Systems, and soon InQuira).
This company-eating machine has shown a real ability to integrate its acquisitions as well (just look at the successful acquisition of Sun Microsystems). Compared to competition in the software industry, few can boast both huge market cap and very solid growth prospects.
Speaking of competition, Progress Software (NASDAQ:PRGS) is another software company trading at a higher P/E multiple of 21.34 with worse overall data backing the company and without Oracle's acquisition power. In fact, net income isn't even increasing. A 6% yearly decline in net income versus Oracle's 36% increase would make anyone wonder why Oracle shares are suffering right now and PRGS is valued higher on an EPS basis.
Databasing was once dominated by IBM, but Oracle is expanding most rapidly on that particular front. Oracle has happily taken 50% of the marketshare (and is showing no signs of slowing down). It's operating margin is now standing at 48%, which shows that Oracle's streamlining of its broad pool of applications and licenses is having drastically positive effects on its net income.
Considering how competitive the corporate software industry is, the ability of Oracle to simultaneously boost its income and acquire important rival companies at a quick rate makes it one of the (if not the) most favorable risk-reward ratio equities in technology right now. Since it has been hit especially hard in the last week, the stock looks extremely attractive at the moment regarding its valuation.
Don't forget the technicals can reverse themselves at any moment next week or sometime. You'd be buying Oracle Corporation, not a chart.
Disclosure: I am long ORCL.