In July, I used ideas from Jeremy Grantham to lay out a case for taking advantage of a coming "commodities crash" to invest in and prepare for a future resource-constrained world: "Preparing for Profits in a Resource-Constrained World" and "Profiting from Physical Assets in a Resource-Constrained World – Rules and Picks".
While the fundamental catalysts of a severe growth slowdown in China and a reversion to the mean in weather patterns has yet to play out, the current sell-off is nonetheless hammering commodity-related stocks down to attractive buying levels. I am using the effective launch of QE2 (second round of quantitative easing) at the end of August as a benchmark for triggering purchases. QE2 is a great milestone because, presumably, loose monetary conditions have contributed to the tremendous lift in the prices of commodities since late August. (Note well that Federal Reserve Chairman Ben Bernanke consistently absolves the Fed of any responsibility).
Thanks to a 17% drop after reporting earnings Thursday morning, Alpha Natural Resources (ANR) has the ignominious distinction of being one of the first to punch through QE2 support.
click to enlarge images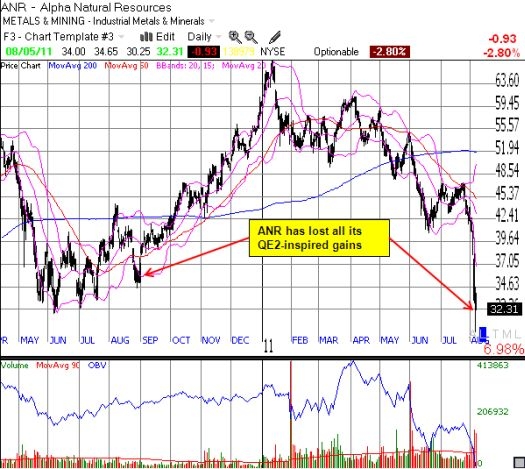 Alpha Natural Resources has completed a QE2 roundtrip
*Chart created using TeleChart
ANR mines and sells metallurgical coal for the steel industry. Thanks to purchasing Massey Energy earlier this year, ANR is the third largest metallurgical coal producer in the world. The company has the largest U.S.-based export capacity at almost 30M tons of core capacity. The company also supplies thermal coal to electric utilities.
ANR operates mainly in the Appalachian region of the United States and is based in Virginia. At current prices, ANR has dropped to a 5.4 forward P/E. Its price/sales ratio has hit 1.0 but price/book is still above 1.0 at 1.4. ANR has a surprisingly massive war chest of "$1.2 billion of cash, cash equivalents and marketable securities, and total potential liquidity of approximately $2.2 billion" given it just completed a major acquisition. The stock is certainly cheap, but if a global recession is around the corner, ANR might turn out to be fairly-valued at current prices.
Certainly the complete collapse in the stocks of steel companies suggests a dismal near-term outlook for ANR (I will write more on the collapse in steel stocks later; In the meantime, you can read my review of earnings from AK Steel (NYSE:AKS): "AK Steel Suffers Largest 1-Day Loss in 3 Years on Poor Earnings"). For now, the main concerns with ANR from what I could tell as expressed by analysts on the conference call (from Seeking Alpha transcripts) are:
The tremendous complexity and costs of integrating Massey (the company confirmed no additional acquisitions of this size are planned even in the "midterm");
Increased costs per ton of metallurgical coal;
The closing of some thermal coal mines that generate negative free cash flow;
Projected 2012 flat pricing for metallurgical coal (a lot of steel companies will be relieved to hear THAT although note that ANR will be moving to bump up pricing on legacy Massey contracts); and
Flattish growth projections for 2012 met coal deliveries.
Note that management thinks it could surprise to the down side on overall costs. Management also sounds very optimistic about 2013, but they are not yet ready to provide specific guidance.
ANR purchased 500,000 of its shares at an average price of $42.88 last quarter. That is an unfortunate paper loss of $5.3M, but easily absorbed by the strong balance sheet. No surprise that the company is considering extending the buyback program. Analysts peppered management with questions regarding the timing of any future buybacks, presumably to get a handle at where ANR management thinks its stock is undervalued. Any hesitation here could be interpreted as anticipation of even lower stock prices and/or that the company actually does need the cash to do more deals.
Shorts have hounded ANR and represent a substantial portion of the float at 8.3% as of July 15. While this level is high, it has been a LOT higher. Interestingly enough, shorts swelled between March and June which means a large bulk of them missed out on the most profitable portion of ANR's slide: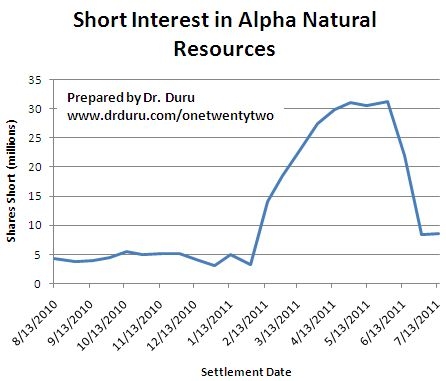 Short interest swelled earlier this year only to dissipitate just ahead of its large sell-off
Source: NASDAQ.com
It is possible the surge in short interest was related to closing the Massey Energy transaction on June 1, 2011. The timing is right anyway. Certainly, ANR has inherited on-going legal and litigation issues related to Massey's tragic mine accident last year and a large number of alleged safety issues at other mines.
During Thursday's earnings conference call, ANR indicated that Massey's coal contracts are "committed and priced" for 2011 below market value. However, once ANR has fully absorbed and integrated Massey, and once global growth resumes (or at least the confidence in global growth resumes), ANR will once again be a must-own position for anyone wanting domestic plays on future resource scarcity and exposure to the necessities supporting future global growth.
Brazil's economy gets a large contribution from the production and export of commodities, making it a prime candidate for the commodities crash playbook. EWZ, the iShares MSCI Brazil Index Fund ETF, triggered TWO different buy signals last week. EWZ erased all its post-QE2 gains last Wednesday (Aug 3), but I bought the next day when I noticed EWZ hit my rule for buying EWZ when it reaches a 20% correction. Since hitting a two-year high last October, EWZ has alluded me. For most of 2011, EWZ maintained loose support around the $70 level. Last week's dramatic sell-off took EWZ as low as $60. I bought EWZ when hit a 23% correction from its highs (around $63).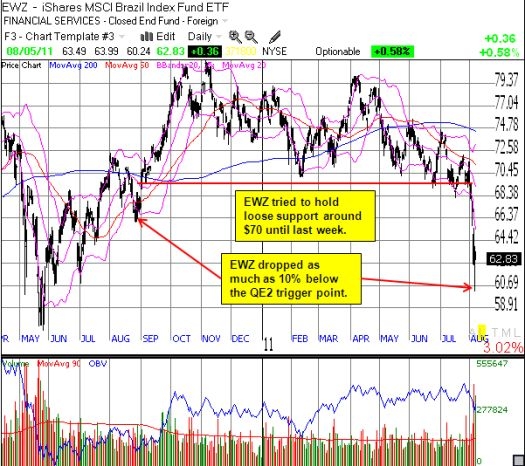 EWZ finally breaks down
*All stock charts created using TeleChart
Brazil's economy is expected to grow 4% in 2011 after a blistering post-recession pace of 7.5% last year. Monetary tightening has raised rates five times already this year and helped make the currency, the real, ever more popular. Brazil has complained bitterly about the "currency wars" which are driving excessive amounts of capital into Brazil from countries with low interest rates and depreciating currencies. A higher interest rate is one of several tools Brazil has tried to arrest the growth in credit.
Bloomberg recently reported:
Brazil raised reserve and capital requirements on some loans in December, doubled to 3 percent a tax on consumer credit in April and required banks to hold more capital against certain credit-card loans last month.
Consumers may be getting squeezed by tighter monetary conditions:
The average interest rate on consumer loans was 46.1 percent in June, up from 40.6 percent in December, according to the central bank. The average rate on company loans increased to 30.8 percent from 27.9 percent.Loan payments by Brazilian consumers climbed to 26 percent of disposable income in March, up from 24 percent a year earlier.
Bloomberg cited a startling example of a woman living in one of Brazil's slums (Rio's largest) who sports a $1,936 USD credit card balance with an annual interest rate of 456 percent.
Clearly the risks in Brazil remain high!
(Next up on my commodities crash purchase list is EWA, the iShares MSCI Australia Index Fund ETF).
Be careful out there!