Have you ever felt like a grizzly bear in an Alaskan pond filled with king salmon? The only question going through your mind is, "Which one shall I eat first?". Or as a comedian recently commented on the sudden supply of bargain-basement prices on both stocks and real estate investments, "I feel like a mosquito in a nudist colony, I don't know where to begin!". Investors are very shaken by this correction and the looming threat of more downside risk. We have the kind of "set up" for a bottom to be put in place and then an impressive upside rally.
The investor "Sentiment Survey", based on data from the American Association of Individual Investors is currently showing only 27% are bullish, while 50% are bearish. Bullish sentiment is currently at one of the lowest levels of the last decade.
Recently, when it's gotten this low, stocks were close to a rally as the chart below demonstrates. Keep in mind the S&P 500 is now below 1200.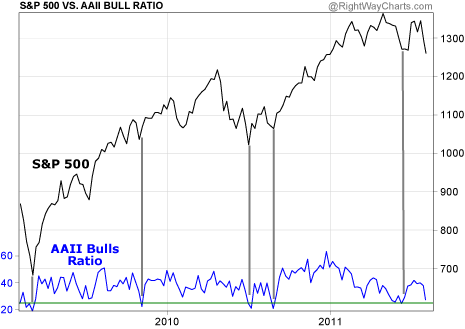 According to Jason Goepfert, who writes at Sentiment Trader, investor sentiment is at "extreme pessimism" levels.
When we see readings this low during bull markets, stocks have rallied higher three months later 87% of the time. Many stocks are relatively cheap right now. For example, the forward price-to-earnings ratio of the Dow is 11.7. We haven't seen levels this low since July 2009.
This market "bloodbath" has a familiar formula and features to past ones. And as a market analysis article at "Wall Street Unlocked" recently opined:
Their usual formula for signaling an upturn (much like they did in March and June of this year), is to scare the kidneys out of the average investor, make things look "safe" for a day or two, and then drop the stock prices again (allowing plenty of time for the big players, the hedge funds and the institutional funds to cover their "short" positions) only to switch to a computer algorithm that signals a sustained rally.
We may be days away from that sudden and dramatic "switch" to a powerful upside rally, and the key to benefiting is to begin realizing that there are many great companies whose shares are already "on sale" and whose prices have been "slashed".
Here's a pretty little 6 month chart of the Dow Jones Industrial Average. Take special note of the 200 day moving average line and the volume spike that recently occurred. Takeaway, the short positions are all "borrowed and sold" and it'll soon be time to "buy to cover" in a big, big way:
We may see a day or two more of gut-wrenching selling, but 4 months from now we'll look back and say, "that was such a great buying opportunity".
Best-of-Breed Stock Bargains
This is no time to compromise on quality. If you want a great, super cheap copper and gold company look no farther than Freeport McMoRan (NYSE:FCX). My goodness, it's selling at 7 times earnings and sports a dividend almost as good as a downgraded 10-year US Treasury bond.
The same can be said for Intel (NASDAQ:INTC) with a yield of 4% and a forward PE ratio of 8. Or how about Abbott Labs (NYSE:ABT)? If you can buy shares below $49 you'll be getting close to a 4% dividend yield on a company with a 50% year-over-year quarterly earnings growth and a forward PE of 10.
If you're not tied too closely to dividends there are other mouth-watering bargains on some best-of-breed companies:
Apple (NASDAQ:AAPL) is still selling for less than 12 times forward earnings and continues to knock the cover off the ball with their products and marketing. No debt, almost $70 billion in cash and cash equivalents, top management, and a return-on-equity of nearly 42%, maybe they should be managing the federal government's budget?
Would you like to own one of the "crown jewels" of the energy sector? Chevron (NYSE:CVX) may still be available for under $95 a share before the panic subsides. At that price, CVX is selling for around 7 times projected earnings, has a trailing-twelve-months price-to-sales ratio of less than 1 (0.90) and pays out a 3.3% dividend. Talk about "Growth with Income".
Precious metals stocks have been hit hard and are getting very attractive, especially the lower-cost gold producers like Kinross (NYSE:KGC), Iam Gold (NYSE:IAG) and the attractively priced, gold and silver producing powerhouse Goldcorp (NYSE:GG).
Have you seen the financial statistics and key numbers on GG? PEG ratio (5 year expected) of only 0.70. Profit margin and operating margin of 41 to 42%. Quarterly revenue growth (year-over-year) of 62% and still growing. Amazing!
Need I continue? You want a "two for the price of one" bargain bonus extravaganza complete with a mind-boggling payout ratio? Have I got a deal for you.
Right now you can buy shares of Two Harbors Investment Corp. (NYSE:TWO) for around $9.50 a share, about half of what it costs to buy a share of Annaly Capital (NYSE:NLY), and set yourself up for a current payout yield of around 17%.
TWO, which operates as a real estate investment trust (REIT) focusing on investing in, financing, and managing residential mortgage-backed securities (RMBS) and related investments (you know, the ones that the Fed's been buying and protecting) has been a favorite of one of the best performing hedge fund managers in the world, Steve Kuhn.
Kuhn, along with Brian Taylor who heads up a hedge fund company called Pine River Capital Management, launched Two Harbors as a mortgage REIT and it has outperformed the other big players in total returns. In fact, TWO has created the highest return-on-equity in the mortgage REIT sector and has the extensive experience necessary to take advantage of current mispricings of mortgage-backed securities, and the opportunities in the mortgage markets as they evolve.
By the way, Annaly (NLY) is the "best-in-breed" among the mortgage REITs in my opinion, and it's also "on sale" (briefly dipping below $17-a-share last Friday) and paying a generous 15% dividend.
You like Silver producers? Cour d'Alene Mines (NYSE:CDE) is one of the most productive and it's selling for only 7 times forward earnings. If you want an international silver miner with tons of reserves and cash look at Silvercorp Metals (NYSE:SVM), which at around $8.50 a share could easily double its price over the next 12 months.
The list goes on and on, and many will have their own "shopping list" of outstanding defensive stocks like Clorox (NYSE:CLX), Procter and Gamble (NYSE:PG), Wal-Mart (NYSE:WMT) and Kimberly-Clark (NYSE:KMB) that are or soon will be "priced for perfection".
The international financial power-banks and central banks will soon put together their own version of QEE (Quantitative European Easing) and mega-bailouts to ease the worldwide angst sooner than later.
The Fed's Open Market Committee meets on Tuesday 8/9 and will somehow remind us that they are still printing money and keeping interest rates so low that only a paranoid lunatic would avoid "alternative investments" like the cash-rich, dividend paying globally positioned companies mentioned above.
Did I mention Microsoft (NASDAQ:MSFT) and Cisco Systems (NASDAQ:CSCO) which seems like a steal below $15 a share? Microsoft alone should be called a "defensive play" and has almost as much cash as "The United States of Apple".
So, don't say I didn't warn us, and remember, 4 months from now are we going to be glad we controlled our fears and distorted imaginations and bought while the whole world was soiling their diapers in emotional fear-mongering.
Start now if you haven't already and make that "wish list". Pick the "best-of-breed" companies that know how to excel and make lots of money in all kinds of economic environments. Do what the superstar investors do and put in your "stink bids" before the markets miraculously recover and everyone's singing "happy days are here again".
Funny how "bloodbaths" turn into fountains of flowing "bull market profits" just when everyone thinks the world is coming to an end. Be rational and be greedy when everyone is scared to death!
Disclosure: I am long CSCO, SVM, CDE, NLY, FCX, INTC, ABT, AAPL, KGC, IAG, GG. I've placed my limit orders for CVX and TWO and international powerhouse ABB.