Nouriel Roubini thinks the S&P downgrade could help lock the U.S. into a recession and send Treasury rates down not up; Christina Romer wants to "swing for the fences" and respond with a massive jobs bill – Bloomberg Video: "Roubini, Rosner, Bianco and Romer Discuss U.S. Downgrade"
China is livid and fuming – "China, the largest creditor of the world's sole superpower, has every right now to demand the United States address its structural debt problems and ensure the safety of China's dollar assets" – and recommends the U.S. cut military (of course) spending and social welfare programs. See: "China tells U.S. 'good old days' of borrowing are over."
Euro-region central bank governors are scrambling to make sure the S&P downgrade does not make the European sovereign debt situation even worse: "Euro-Area Central Banks to Hold Crisis Call"
Finally, Paul Krugman thinks ratings agencies are irrelevant:
The S&P downgrade is sure to cause a global fuss and ruckus. The agency has already had to issue another press release to clarify and correct assumptions it used to calculate growth in discretionary spending. S&P did well to issue its downgrade after all financial markets were closed Friday night. The timing allows breathing room for world markets to adjust to the news without the immediate pressure of buying and selling. Economists, policy makers, etc… also get time to dream up responses before feeling the pressures of financial markets. The disagreements and displays of political opportunism should thoroughly entertain us.
Arguably, the news of the downgrade comes as little surprise, but it does present an interesting scenario for a continuation of the dollar's bounce from its July lows. All the bad news from the debt ceiling circus and various poor economic reports failed to push the dollar index to fresh 2011 lows. Thursday's massive 4.8% sell-off in the S&P 500 sent the dollar soaring 1.7%. Unless the Federal Reserve pushes forward with QE3 (quantitative easing) or related jawboning at Tuesday, Aug 9th's meeting, every near-term dollar-negative catalyst will finally be out of the way. The first natural target for the U.S. dollar is another test of overhead resistance at the 200-day moving average (DMA). A break above that point could launch a sustained relief rally.
Click to enlarge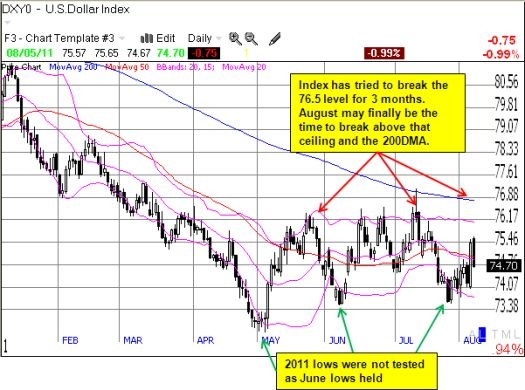 *Chart created using TeleChart
Dollar index could be setting up for a large relief rally
Note that a potential relief rally in the U.S. dollar does not motivate me to sell my Australian dollars (FXA in particular), gold (GLD, Goldcorp (NYSE:GG)), or silver (Pan American Silver (NASDAQ:PAAS), SLV). Instead, I am looking for the dollar to make more substantial, near-term gains over the Swiss franc (the Swiss National Bank has warned that it will once again try to fight its currency's strength), the Japanese yen (Japanese authorities have already moved to weaken the currency – click here for ideas of how to trade the intervention), and/or the British pound (I have long been bearish). The euro is a huge wildcard since the currency has remained remarkably resilient through this year's latest version of sovereign debt crises.
I have never bothered to review a ratings report, but I could not help myself this time around. S&P posted its press release on the downgrade as "United States of America Long-Term Rating Lowered To 'AA+' Due To Political Risks, Rising Debt Burden; Outlook Negative." What stood out the most to me was the extensive commentary about the vicious political deadlock in America. Standard and Poor's fears that America's national politicians will be unable to agree on anything substantial or make any progress on the deals needed to resolve long-term fiscal (or economic) problems:
"We lowered our long-term rating on the U.S. because we believe that the prolonged controversy over raising the statutory debt ceiling and the related fiscal policy debate indicate that further near-term progress containing the growth in public spending, especially on entitlements, or on reaching an agreement on raising revenues is less likely than we previously assumed and will remain a contentious and fitful process…

…The political brinksmanship of recent months highlights what we see as America's governance and policymaking becoming less stable, less effective, and less predictable than what we previously believed. The statutory debt ceiling and the threat of default have become political bargaining chips in the debate over fiscal policy. Despite this year's wide-ranging debate, in our view, the differences between political parties have proven to be extraordinarily difficult to bridge…

…In our view, the difficulty in framing a consensus on fiscal policy weakens the government's ability to manage public finances and diverts attention from the debate over how to achieve more balanced and dynamic economic growth in an era of fiscal stringency and private-sector deleveraging…"
Given this assessment of the political environment, S&P even felt compelled to assume that the Bush tax cuts will not expire at the end of 2012 as currently planned. This is a large and important assumption because it further deepens budget deficits going out into future years and worsens the fiscal outlook:
"…Compared with previous projections, our revised base case scenario now assumes that the 2001 and 2003 tax cuts, due to expire by the end of 2012, remain in place. We have changed our assumption on this because the majority of Republicans in Congress continue to resist any measure that would raise revenues, a position we believe Congress reinforced by passing the act…"
I find myself agreeing with S&P on its assessment of how the political environment will translate into a continuation of a dismal fiscal outlook. The common Wall Street adage is that the street loves gridlock. I have never understood it, but it seems this time around gridlock will definitely be no laughing matter. There are plenty of fiscal issues that require national mobilization. Those of us who were not celebrating the likely arrival of the shutdown of national governance in America have been counting down the days to some kind of negative impact. However, I doubt the S&P's downgrade will provide motivation for cooperation since everyone is more focused on how to influence the 2012 elections. The biggest irony is that the outcome of that election is almost certain to further entrench divided and paralyzed governance rather than resolve it.
The end of a relief rally for the dollar will likely bring these longer-term realities back into full view for financial markets.

Disclosure: I am long FXA, GLD, GG, SLV, PAAS, TBT.

Additional disclosure: I am net long the U.S. dollar