MetroPCS Communications, Inc. (PCS) is a $3.37 billion wireless telecommunications carrier which offers wireless broadband mobile services in the United States. Metro recently reported earnings, and the market did not take kindly to the numbers. I believe the word "crushing" comes to mind when I look at the chart. Interestingly, profits were good compared to the same period last year and several of the key metrics appeared better than what may be expected in this tough environment.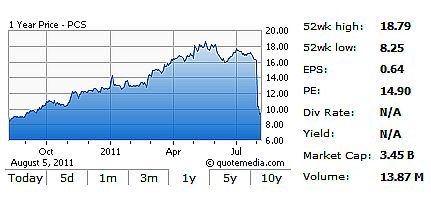 On August 1st, Metro closed at $16.18, and by the time the market closed on August 2nd, investors found that their shares were only worth just above $10 a share at $10.19. To add insult to injury, the price was now well below the 200 day moving average, which takes it off the possible purchase list for many money managers. The following few days were not kind in the least to those who hoped for a quick bounce.
Two more days of selling brought the shares to an intraday low under $9.00 a share. That's when I decided to examine the situation more closely. I read over the conference call transcript and the earnings release documents and I liked what I read. While some of the metrics had disappointed, I believed the combination of a new discount in price, along with the high premium being paid for out of the money $9.00 put options, there was opportunity. Here are the numbers I reviewed, and what brought me to the conclusion that Metro should be added to my account. I will start with the conference call:
Chairman and Chief Executive Officer, Roger Linquist -
...We continue to add subscribers as our total subscriber base grew 19% in the last 12 months...

...Since 2005, we have grown subscribers at well over 20% CAGR.

...We lowered our historical churn rates and have successfully managed our cost of churn. Year-to-date, we have been able to deliver a cost of churn that is within $5 to $6 range, a level that is comparable or better than traditional contract wireless services. In December of 2010, we introduced our first Android smartphone and demand has been strong. In the first quarter, approximately 30% of all handset sales were Androids. In the second quarter, nearly 40% of all handset sales were Androids. While Android is bringing in new customers, it is also attractive to existing customers. Of our customer base, 13% upgraded this quarter. And of those, nearly 40% upgraded to an Android smartphone...
I have recently written about the increase in popularity of smartphones. You can read the article that includes some of the key numbers here. The ability to compete on a level playing field with the post-pay carriers undoubtedly will be important to the success of pre-pay carriers and Metro, in my opinion, is doing this well. The numbers appear to be inline with the post-pay carriers, and that is impressive considering the demographics of the customer base.
I then focused my attention to the revenue growth. What I like about a company like Metro is that it receives payment upfront. While some fraud is going to happen with any company, the ability to understand the real revenue appears to be easier from an investor point of view to hedge against accounting 'adjustments'.
Annually, revenue is growing at a rate of 16.92% (compared to Verizon (NYSE:VZ) at about 3%). Despite this monster growth, the forward PE ratio is less than 20 AND the company is making money. That important fact caught my attention, so I looked further.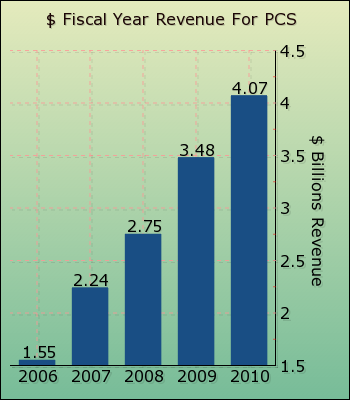 The Quick Ratio is 1.79. A number above 1 generally passes muster and we can consider the basic finances to be solid. Metro has a very reasonable price to book ratio (ttm) of 1.77. Metro also has a price to sales ratio of 1.11, which is below the average of 1.29 for the sector (higher than for the industry, but expected for the level of comparable growth).
I won't say that the margins are impressive when put against the industry, but that should be expected as Metro is a price value provider.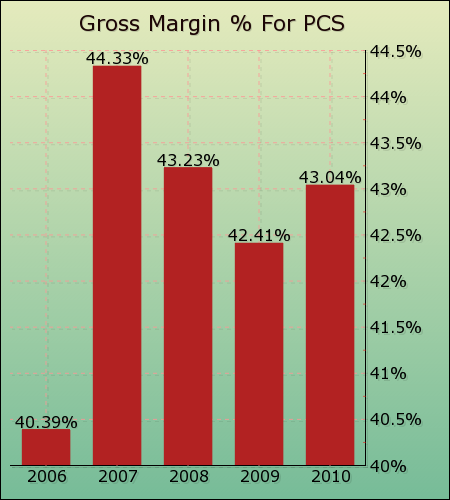 Beyond the aforementioned numbers, PCS has rising earnings year-over-year (yoy) of $193.42 for 2010 vs. $176.84 for 2009, and rising EBIT year-over-year (yoy) of $718.90 for 2010 vs. $535.29 for 2009. Rising revenue along with rising earnings is a very good sign and something we want to see with our investments. The last quarter earnings release supports my belief that the market has more than fully priced in the disappointment. I believe the downside is now far outweighed by the potential reward, and the overall market sell-off has aided to create opportunity allowing the taking of shares from investors who are now spooked to the point of willing to sell so cheaply.
At 10.08 million shares traded per day (or more lately), the stock is highly liquid so it is easy to get in and out if a stop loss is triggered. The options have been somewhat liquid, but not without at least a nickel spread. I entered into PCS by shorting the August $9 put options for various accounts Thursday. PCS did trade higher Friday, so I took another look at buying the stock outright. I decided to wait until after the weekend and review the price action to see if I would like to add to the position. I like PCS at the current price, and I believe if you take a hard look, you will too.
I use a proprietary blend of technical analysis, financial crowd behavior, and fundamentals in my short-term trades, and while not totally the same in longer swing trades to investments, the concepts used are similar. Based on my criteria, I have come to the following conclusion: This one is worth the time to investigate further for an ideal entry price to either write put options or buy the stock. Of course that in itself does not mean you should, but you may want to use this article as a starting point for your own research with your financial planner. I use Seeking Alpha, Edgar Online, Google Finance, MSN Money, cnbc.com, Zacks and Yahoo Finance for most of my data.
Disclosure: I am long PCS.

Additional disclosure: I am short put options for a net long position