One of the areas that seems to working well in this topsy turvy market is high dividend payers. Here are three that pay north of 4%, have reasonable valuations and should benefit from investors' flight to safety.
Waste Management (NYSE:WM) - Waste Management, Inc. provides integrated waste management services in North America. The company offers collection, transfer, recycling, disposal, and waste-to-energy services. Its recycling operations include collection and materials processing, plastics materials recycling, and commodities recycling. The company also provides recycling brokerage and electronic recycling services, including the collection, sorting, and disassembling of electronics to reuse or recycle various collected materials
Overview – Waste Management has dropped over 20% in the last three months due to a poor earnings report and general tone of the market. It now appears solidly in bargain territory:
1. After its recent selloff, WM is selling the bottom quarter of its valuation range based on P/B, P/S and P/CF.
2. Waste Management yields a robust 4.5% and the company has raised its dividend payment an average of 9% annually over the past five years.
3. It is a low beta stock (.62), has a semi monopoly position in many markets, and is projected to grow EPS by 9% a year for the next three years (S&P). It five year projected five year PEG of 1.36 is very reasonable given its strong dividend yield.
4. It has strong operational cash flow. WM is selling at less than 7 times cash flow and has a strong stock buyback program. It retired 3% of outstanding shares in 2010.
5. At $30 a share, it is under analysts' estimates. S&P has a price target of $37 on Waste Management and Credit Suisse is at $36.
Kimberly Clark (NYSE:KMB) - Kimberly-Clark Corporation, together with its subsidiaries, engages in the manufacture and marketing of various health care products worldwide. The company operates in four segments: Personal Care, Consumer Tissue, K-C Professional & Other, and Health Care.
Overview – Kimberly Clark has held on relatively well only dropping about 8% since it recent highs. This steady outperformance should continue as KMB has many things to recommend it here:
1. Kimberly Clark is selling in the bottom quarter of its five year valuation based on P/CF, P/S and P/B.
2. Kimberly Clark offers a generous dividend yield of 4.4%. KMB has grown its dividend payout by an average of 7.5% annually over the past half decade.
3. The stock has strong technical support in the $62 area (See Chart, click to enlarge).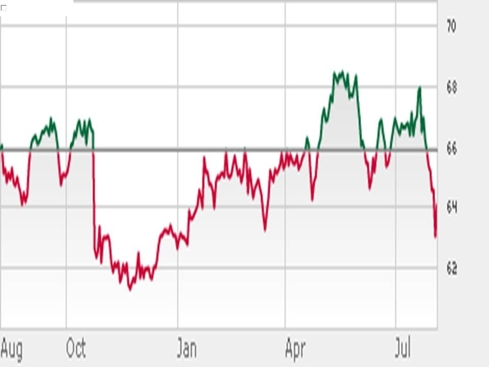 Click to enlarge
4. KMB is a low beta (.43) stock with an A rated balance sheet. It has strong cash flow that has been used to raise its dividend and buy back stock, these trends should continue.
5. Paradoxically, a slowdown in worldwide growth could benefit KMB in two ways. First, its stock should benefit as investors move money to more defensive sectors. Second, slowing growth could slow or reverse the cost input inflation it has experienced recently.
6. At $64 and change, Kimberly Clark is under analysts' estimates. S&P has a price target of $71 on KMB and TheStreet is at $76.
Southern Company (NYSE:SO) - Southern Company, through its subsidiaries, operates as a utility company that provides electric service in the southeastern United States. The company generates, transmits, and distributes electricity through coal, nuclear, oil and gas, and hydro resources. It offers electric service primarily in Alabama, Georgia, Florida, and Mississippi; and serves approximately 4.4 million retail customers with approximately 42,000 megawatts of generating capacity. Southern Company also constructs, acquires, owns, and manages generation assets and sells electricity in the wholesale market.
Overview – Southern has performed much better than the S&P over the last month due to its low beta and high dividend yield. It is a good pick for these volatile markets. Click to enlarge: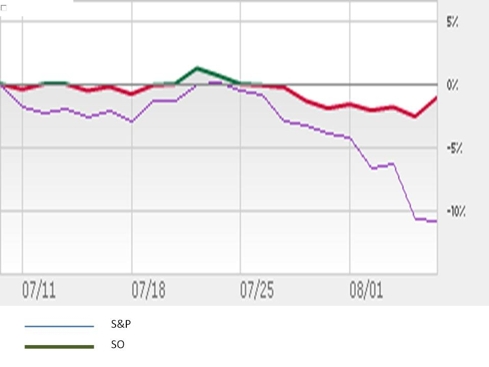 Click to enlarge
1. SO yields a dividend of 4.8% and has raised its dividend an average of 4% annually over the previous five years.
2. Southern is selling at under 16 times this year's expected earnings and less than 15 times consensus EPS for 2012.
3. Its Debt/Equity ratio is lower than its peers (NextEra Energy (NYSE:NEE), FirstEnergy (NYSE:FE), American Electric Power Company (NYSE:AEP)).
4. The Southeast region it serves has been growing faster than the nation overall for the past twenty years and should continue to do so.
5. SO is selling at under $40 a share. Credit Suisse has a price target of $45 on Southern Company.
Disclosure: I have no positions in any stocks mentioned, but may initiate a long position in WM over the next 72 hours.