Frontier (NYSE:
FTR
) announced a deal with Verizon Communications (
VZ
) in May 2009. Frontier acquired approximately 4.8 million access lines from Verizon, tripling the size of the company. The all-stock transaction was valued at approximately $8.6 billion and closed July 1, 2010.

All

synergies

will

not

be

realized

until

2013.

Read
this article
for more details.

FTR
released
its second quarter results on Thursday, August 3, 2011. The following table displays updated guidance by management along with 2011 year to date results.


Q2 results were lower than we expected. Reasons were discussed in the
conference call
:

CEO: In Q2, we had many areas with unacceptable levels of network congestion, which negatively impacted our growth in net high-speed additions. We believe all of the major congestion issues will be fixed by the end of Q3, and that will enable us to drive higher growth and net broadband activation in the new properties.

CFO: we incurred certain nonrecurring items, which negatively impacted our Q2 EPS by $0.03. Acquisition integration charges and severance charges of $31.3 million pretax reduced EPS by $0.02. Also, a one-time noncash tax write-off related to new tax legislation in the state of Michigan reduced EPS by $0.01.

We think FCF will come in at the low end of guidance. Current guidance indicates quarterly FCF should trend as shown below.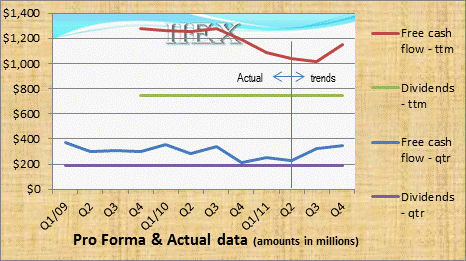 The trailing twelve month (ttm) FCF should bottom next quarter, then trend up as quarterly FCF continues to improve. The quarterly and ttm FCF remain above the dividend payout line, but there is not a large margin of safety at the end of Q2. This must improve to match company guidance.


So why the optimism on a forthcoming improvement for FCF? First the issues noted by the CFO (see above) are one-time events while the issue discussed by the CEO will still be a drag on FCF in Q3. However, based on guidance capital expenditures will be approximately 10% less in the second half of 2011 vs. the first half. In addition, synergies were revised up and some major cost reductions where noted in the conference call (emphasis mine):

CEO: We are raising our annual synergy target range to a $475 million to $500 million run rate by the end of this year, and now expect to exit 2012 at a $600 million run rate. … In Q2 2011, the largest new contributor to synergies was the migration of traffic to our own national data backbone. We completed this project at the end of Q2, which will improve service delivery and substantially reduce our costs. You will see further positive cost reduction impact in Q3 from this one initiative.

We would be remiss if we didn't monitor the pension plan liabilities and how it could affect the dividend. First a review of the 2011 pension expectations from the 10-K filing:

...Our actual return on plan assets in 2010 was 12.1%. For 2011, we will continue to assume a rate of return of 8.0%. Our pension plan assets are valued at fair value as of the measurement date. We expect that our pension and other postretirement benefit expenses for 2011 will be approximately $70 million to $80 million before amounts capitalized into the cost of capital expenditures (they were $68.4 million in 2010 before amounts capitalized into the cost of capital expenditures, including the plan expenses of the Acquired Business for the second half of 2010), and that we will make a cash contribution to our pension plan of approximately $50 million in 2011.


There was very little said about the pension's status this quarter. Two important points from the 10-K filing with dividend implications that have not changed are:

We will continue to assume a rate of return of 8.0%.

We will make a cash contribution to our pension plan of approximately $50 million in 2011.
Any event requiring larger cash payments could put the safety of the dividend in doubt. We checked to see if there were any surprises by reviewing the recent 10-Q filed for the second quarter. Here is what we found:


The Company's pension plan assets have increased from $1,290.3 million at December 31, 2010 to $1,301.4 million at June 30, 2011, an increase of $11.1 million, or 0.9%. This increase is a result of $56.8 million of positive investment returns and cash contributions of $10.6 million, less ongoing benefit payments of $56.3 million, during the first six months of 2011. We expect that we will make contributions to our pension plan of approximately $50 million in 2011 in cash or other assets, including cash payments of $10.6 million made through June 2011.

We take away the following:
The plan assets increased, which is good news.

First half FY2011 return of 4.4%; which is tracking ahead of management's yearly assumption of 8%.

Cash contribution of $10.6 million, far below the $50 million budgeted, however the company still expects to contribute the full $50 million in FY2011.
There are no negative pension surprises that would lead us to believe the dividend is at risk but we are only half through fiscal 2011. The rate of return has slowed from 3.3% in Q1 to 1.1% in Q2. The recent turmoil in the markets due to the anxiety in both Europe and the U.S. concerning debt and the difficult road back to fiscal austerity could make it difficult to realize 8% returns.

The bottom line: Integration appears to be on track to reach the low end of 2011 FCF expectations, although operations must perform better in the second half vs. the first, as management has indicated through guidance and comments quoted in this article.
No problems have appeared to date, in relation to pension funding that would have an adverse effect on the dividend. However if the market turmoil continues to worsen, it would be cause for concern.


FCF data from past FTR filings reflected in this article in Excel format can be downloaded
here.
Frontier's second quarter slide show presentation is
here.

Disclosure: I am long FTR.