In my previous article, I wrote how mortgage insurance companies have another 25-35% to decline before reaching the bottom. We're over halfway there already, although it has happened a lot sooner than I expected. In fact, one can say one factor that affected the Dow's 500 point decline on Thursday was the horrible earnings report from PMI and the selloff of the mortgage insurers (MI).

Although it's close, and you wouldn't be wrong to start nibbling here, I would still wait. To reach the 25-35% decline that I predicted, you'd have to wait another 15-20% before jumping in. If you are looking to invest in this sector, look to invest in Old Republic (NYSE:ORI), Radian Group (NYSE:RDN), and MGIC Investment (NYSE:MTG), which are still in OK shape. They will also be the ones to gobble up market share from the losers. Although PMI has been severly beat up, it looks like it could go to bankrupt, so only invest in that one if you feel like gambling.

Things are still looking very bad for the MI providers. Just listening to MTG's CEO, Curt Culver, you can hear the despair in his voice.

In MTG's Q2 conference call, a caller asked why management believes the stock is a good investment. Mr. Culver basically said there are two reasons: 1. This too shall pass (all the trouble that the company is going through), and 2. There's a "tremendous opportunity" to regain market share from the government.

Mr. Culver's response is anything but reassuring to me. Notice in reason #1, he doesn't say that the trouble has passed, but that it shall pass, meaning there are still problems to come.

Reason #2 is a little Pollyanna-ish.The rule of thumb is that you shouldn't rely on the government to solve your problems.

Don't believe what Tim Geithner said about the government ending its mortgage insurance business in the near future. In my opinion, the government will continue to compete aggressively with private mortgage insurance companies for at least the next two years. Right now the government is in deep financial trouble. It has pressure to not only help out the economy with more spending and stimulus, but also to cut the deficit. It's in an impossible position. With the recent downgrade from AAA status by the S&P, they need to grab every piece of revenue they can get away with that doesn't require raising taxes. Mortgage loans sold now are very safe compared to the years 2005-2007 and the income is now a certain, low risk opportunity.

The managers of the FHA loan department are going to resist downsizing as that will force them to start laying people off as well as decreasing their own salaries. Their bosses that they report to in higher government are very happy to receive the revenues that are pouring in from the latest mortgage loans. Does anyone actually believe the government is in a generous mood and is going to downsize its profitable businesses to help out several struggling mortgage insurance providers?

As of the end of last quarter, MTG's risk-to-capital ratio was: 21-to-1. This could get much worse in just one quarter. PMI's ratio went from 24-to-1 in the quarter ended March 31, 2011, to 58-to-1 at the end of June 30th, 2011. With this ratio, the numerator (the risk) doesn't change very much quarter to quarter. The problem is in the denomerator, the capital. As these mortgage insurers have cash flow losses every quarter, their capital diminishes. PMI's capital shrunk by over 50% qoq.

PMI, currently the third largest mortgage insurer behind MTG and RDN, is going to be banned from doing business in more states. It was already banned in six states in the previous quarter. How many more states will cut off their business is too soon to tell. PMI has recently reported that it may have to shut down operations entirely.

"(The ratio) 58:1 is glaringly high! Its far higher than any of its peers. Triad Guaranty Insurance Corporation had a risk to capital ratio of 42.7-1 before they were ultimately shut down," Susquehanna analyst Jack Micenko said.

In the long run, PMI having to contract its business will help the other MI companies. RDN and MTG especially will be able to increase market share. However, in the short run, both of these companies are at risk of eventually needing to raise more capital if they keep sustaining losses. That will require a share dilution and will put more downward pressure on the stock.

Although the next quarter will continue to be bad for these companies, I expect things to start getting better in Q4 2011, with considerable rebounds in Q1 2012. This is because real estate will be so cheap at that point, that bargain hunters will step in and lift the market. Once real estate reaches a trough and starts rebounding, numbers for the MIs and the stock prices will increase.

Below are some tables where I make predictions on MTG's numbers in the next couple quarters. My predictions are for Q3 and Q4 2011, and are in bold. The known numbers are from MTG's Investment Corporation Second Quarter 2011 Results here.

One thing you may not know about is "claims paid": they are paid once the title is transferred from the lender to the buyer. So the mortgage insurer must pay the claim in all of the situations where the banks are donating houses to the government, or bulldozing houses and selling the land. These kinds of actions are happening a lot lately, which is new. Before the banks would either sit on the properties or try and sell them. Now they've given up in a lot of the areas of the U.S. where houses are just about worthless. The upkeep and tax payments are not worth it for the banks to hold on to empty properties.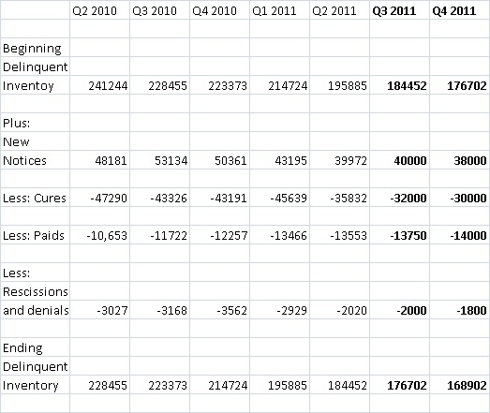 Click to enlarge

Click to enlargeAbove I predict the new delinquent notices are about the same in Q3, but improve in Q4. This is because although MI companies claim that new notices will decline, they probably didn't expect the very negative sentiment on real estate and the economy in general in the current quarter. Therefore, there's going to be a high rate of delinquencies and much less cures. Homeowners don't want to pay for a house if they think it's going to keep going down in value. However, the following quarter will get a little better.

Right now, negative sentiment towards real estate is hitting the lenders too. They want to get the houses off their books ASAP, so they are getting rid of them quicker, without trying to salvage them as much. Although this gets us through the negative real estate downturn quicker, it makes things especially nasty right now for lenders and insurers. It also increases the loss of capital and risks a risk-to-capital ratio of over 25-to-1.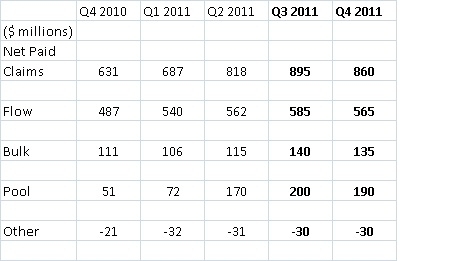 The table above shows the claims paid in the quarter. My prediction is this quarter is going to be the worst it's going to get. From there, paid claims will decline. Lenders are trying to hurry up and get rid of their real estate before it gets worse. They realize that it's going to get worse before it gets better. They are in no mood to hold onto their empty properties to wait for real estate to make a comeback.

Most mortgage insurers have a cap on how much of a lender's losses it will pay. Lately, the banks have been taking a bigger hit than the mortgage insurer when a property goes into foreclosure. The cap is usually around 25% of the original loan.



Click to enlarge
I believe new insurance written will decline somewhat because of negative sentiment towards real estate. Again, numbers will improve after Q4 2011 because real estate prices will have gone so low that a rebound is inevitable.


Disclosure: I have no positions in any stocks mentioned, and no plans to initiate any positions within the next 72 hours.

Additional disclosure: Short MTG calls.