Kraft Foods (KFT) reported solid second-quarter results Thursday and indicated that it would split its high-growth global snacks business and its mature, high-margin North American grocery business. The firm also bumped up its 2011 organic net revenue growth and operating earnings per share outlook, to at least 5% (was 4%) and $2.25 (was $2.20), respectively.
We were impressed with the firm's second-quarter performance and think its move to create two independent public companies will create value for shareholders over the long haul. Our fair value for the firm is just shy of $50 per share--we apply a rigorous DCF process in valuing companies in our coverage universe--and we have pasted the first page of our company report on Kraft below to accompany our assessment of the firm's second-quarter results and outlook, which follows.
[Click to enlarge]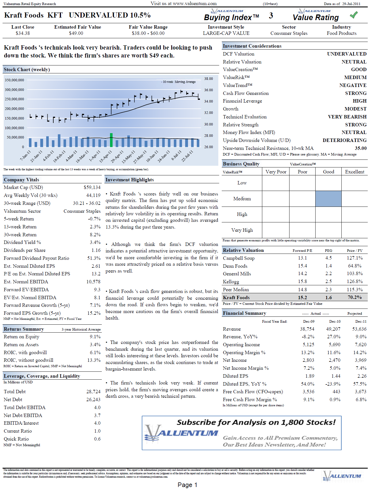 Kraft's second-quarter net revenues advanced over 13% (7.1% organic), thanks to strong pricing expansion, which accounted for 5.5 percentage points of growth, while operating income jumped 6% as pricing effectively offset higher raw material costs. Though its underlying operating income margin still declined 120 basis points, the firm seems better positioned to deal with rising input costs via pricing than what we've seen out of other consumer names, such as Clorox (NYSE:CLX) and Kimberly-Clark (NYSE:KMB).
We were quite impressed with the performance of Kraft Foods Europe, which experienced net revenue growth of over 26% (organic 6.4%), while segment operating income grew by almost 24%, even after including a negative impact from integration–related costs. Kraft Foods Emerging Markets also experienced strong top- and bottom-line growth (both 20%-plus).
We think the firm's decision to split its global snacks business (which will include its Oreo and Cadbury brands) and its North American grocery business (which will include Kraft's cheese, Maxwell House and Jell-O) makes sense, and we liken it to Altria's (NYSE:MO) decision to split its faster-growing international business, Phillip Morris Intl (NYSE:PM), from the parent. Phillip Morris Intl has performed quite well following the spinoff to Altria shareholders, and it continues to force the market to assign a fair value that no longer considers the holding company discount. In Kraft's case, we don't think the existing holding company structure adds operational value, and we think that separating the companies will enable each new entity to be more aggressive with cutting costs and new product launches.
The high-growth global snacks business will have estimated revenue of about $32 billion, while the high-margin North American grocery business will have revenue in the area of $16 billion and likely sport a higher dividend yield (upon the spinoff). Kraft hopes to complete the split by the end of 2012. We've added Kraft to our watch list (a component of our Best Ideas newsletter) and may join Warren Buffett and billionaire Nelson Pelz (Trian Fund) as holders of the firm should an entry point present itself.
Disclosure: I have no positions in any stocks mentioned, and no plans to initiate any positions within the next 72 hours. Altria is included in our Best Ideas portfolio.