The current bull market (Primary Uptrend) began back on March 5, 2009 when the Dow Jones Industrial Average reached a frightening low of 6,594 and the S & P 500 hit the number "666" on that same fateful day, conjuring up end of the world type talk.

The market has been good to most of us since then however, as the Dow recently hit a high of 12,876 and the S&P 500 touched 1370.58 back on May 2nd of this year for gains of 95.3% and 105.7% respectively off of those 2008 lows.

I have been fortunate enough to have the accounts that I manage fully invested during this 30 month long bull. Over the last year, I have been heavily invested in and continue to be invested in leading stocks like Autozone (NYSE:AZO), Apple Computer (NASDAQ:AAPL), Green Mountain Coffee (NASDAQ:GMCR), Carbo Ceramics (NYSE:CRR), Priceline.com (NASDAQ:PCLN), Netflix (NASDAQ:NFLX), First Cash Financial (NASDAQ:FCFS), Dollar Tree (NASDAQ:DLTR), Tractor Supply (NASDAQ:TSCO), Ross Stores (NASDAQ:ROST), Golar (NASDAQ:GLNG), and other stocks that are flourishing in this current weak economic environment.

All along the way, I stuck with stocks that are "A" rated in my proprietary grading system. To be "A" rated, a stock has to have superior short term, intermediate term, and long term performance (where possible), valuations that still warrant 100% or more upside potential over the next five years, and decent relative safety numbers.

At any given point in time, approximately 8% or so of the 4,500 stocks and exchange traded funds that I track are "A" rated. These stocks can be "A" rated for weeks, months and even years. This leaves out duds like General Electric (NYSE:GE), Microsoft (NASDAQ:MSFT), Cisco (NASDAQ:CSCO), Intel (NASDAQ:INTC), Bank of America (NYSE:BAC), Pfizer (NYSE:PFE), etc.

I am sure this last statement will produce some angry comments, as many of these stocks are widely held, but one only needs to look at the absolutely dismal performance of these stocks over the last 1, 3, 5, and 10 years. I want some "performance" with my value.

However, no bull market lasts forever and all good things must eventually come to an end. Recent reports on the economy have been quite disheartening and discouraging. Weekly jobless claims remain in the 400,000 area, GDP just came in at a very tepid 1.3%, and it is still subject to being revised downwards in coming months. In addition to this, the ISM manufacturing index came in last Friday at an anemic 50.9, which is just barely in the green.

On top of our problems at home, Europe continues to move from one crisis to another as now the focus moves to Italy. Greece has already needed an EU bailout and Spain and Portugal are not looking all that great either. Poor Germany has become the banker to Europe by default.

Now we have the once "rock-solid" United States of America having its debt downgraded for the first time in its history by ratings agency Standard & Poor's. The venerable old company currently rates 126 countries around the world and has been doing it for about the last 100 years.

We will find out on Monday, and in coming days and weeks, as to just how the market will react to this surprising, but not unexpected news. Fortunately, recent earnings reports from leading companies have been pretty good. Apple, Green Mountain Coffee, and Priceline.com, etc. have had blowout earnings that have sent their shares soaring. Unfortunately, earnings reports are now winding down and we will mostly have economic reports driving the market in coming weeks.

This obviously begs the question: Is the bull market dead or dying, and if so, what can investors do about it?

Let's first look at a 3 year chart of the Dow Jones Industrial Average: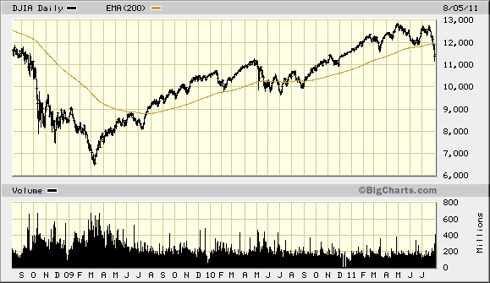 The chart currently shows the most severe break in its 30 month primary uptrend so far.
We had something similar to this last August and came out of it, but this looks worse to me. Last August we had the sovereign debt crisis roiling the markets. The crisis seemingly went way, but it is now back in full force.

In addition, this August we have our own crisis to worry about at home. If the economy were to slip back into recession, I think it would be safe to say that you can stick a fork in the current bull.

Now let's look at a 3 year chart of the Nasdaq: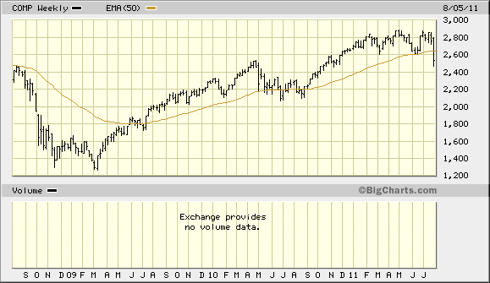 You can see that the Nasdaq is also making the worst violation of its trendline since the bull began back in March of 2009.

Right now, we are either coming to the end of a violent and swift correction, or we are at the beginning of the end of the current bull. Either way, to sit back and do nothing is not the way to go right now. I was around in 2001-2002 and 2008 and have the battle scars to show for it.

This is my eighteenth year as a professional money manager, securities analyst, and financial talk show host. I believe that I have some experience that may be of help to others at this time. I had a record number of downloads of my Best Stocks Now app on the day the market was down 500 points this past week. I also had a record number of visits to my website and a record number of requests for my newsletter Best Stocks Now this past week.

This tells me that investors need much more help during volatile times in the market than when everything is going smoothly. Drawing on my eighteen years of experience and my being completely immersed in the market on a daily basis, here is my current advice:

1. Amateurs go to cash. Indiscriminate selling of everything is an emotional knee-jerk reaction to turmoil that can be very costly in the long run. Now, if you own a bunch of sub-par stocks, exchange traded funds, or mutual funds, I am all for it.

2. Sitting tight and doing nothing is the second worst thing that you can do. I have seen my share of buy and hold brokers and advisors in my industry over the years. These guys are either lazy, uninformed, or both. In today's day and age with all of the tools that are at our fingertips, there is no excuse for sitting on your hands and watching your portfolio be destroyed, if this indeed is the beginning of a new bear market.

3. Just like a garden, it is time to trim, prune, weed, and hedge.

4. Get rid of stocks, exchange traded funds, or mutual funds, that are beginning to seriously break down or have not performed well during the current run-up in the market. I recently locked in sizable profits in Fossil (NASDAQ:FOSL) and Golar (GLNG) as both have been big holdings at my firm and have more than doubled since purchase. I also do not like the action at all in my Caterpillar (NYSE:CAT), CSX Corp. (NYSE:CSX), and Cummins (NYSE:CMI), and a few others, so I got rid of them. They can always be bought back later.

5. Keep stocks, exchange traded funds, mutual funds that are still flowering and producing fruit (they are becoming fewer and fewer). I still own my Apple, Green Mountain, Priceline, Alexion, Autozone, First Cash Financial, Central Fund of Canada, etc., as they are still holding up fine, at least for now.

6. Consider hedging your portfolio with some inverse ETF's that go up when their underlying indexes or sectors go down. I currently have positions in SEF (Financials), EFZ (Europe), and EUM (Emerging Markets), which I feel are some of the weakest areas in the market right now.

See the charts below of how these inverse ETF's are beginning to breakout to the upside: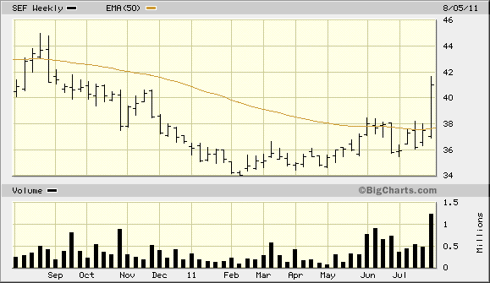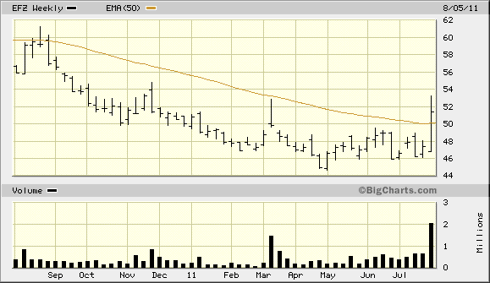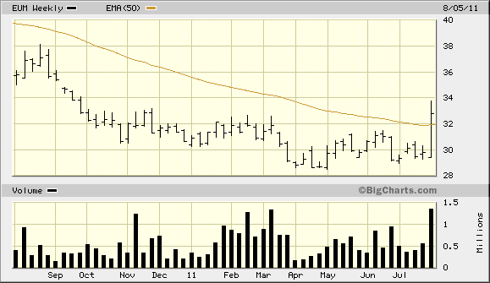 As you can see, these inverse ETF's are breaking above their 50 day moving averages on big volume, while the markets and many stocks have long since broken their 50 day moving averages

It used to be very difficult to hedge a portfolio. You had to short individual stocks or purchase options. You also needed a margin agreement or options agreement. In addition to this, many custodians would not let you short stocks in an IRA account.

Now with the advent of inverse ETFs (I like Profunds) it is very easy to hedge or un-hedge a portfolio. I do not like double inverse ETFs, however. I like the one to one inverse relationships. The double models are just too volatile for the average person.

Evaluate your positions one at a time. Do not try to convince yourself that everything will be fine if the chart of your position is breaking down. Do something if necessary. If you own "A" rated stocks, and the charts are holding firm, do nothing.

I think it is too early to stick a fork in the bull, but I don't like what I see right now. If we wait to do something when the economy is back in recession, then it will be way too late to do anything. If we can maintain 1.5%-3% GDP growth, then we may be able to avert a recession or a new bear, but the chances of that appear to be getting slimmer and slimmer.

It is not too late to put in a strategic and methodical plan to deal with the current situation in the market. Selling everything indiscriminately or doing nothing are both the wrong things to do.

Disclosure: I am long AAPL, GMCR, FCFS, PCLN.