Is it really that bad? On Friday, Imperial Sugar Company (NASDAQ:IPSU) released seemingly calamitous Q3 losses, dropping 59.29% from $23.19 on Thursday's close to $9.44 at Friday's close. Since these results are the result of highs in the sugar market and hedge accounting, the company's results are worth a closer investigation.
Is IPSU an effective way to play sugar prices? This relationship was investigated by plotting quarterly changes in gross margins vs. the Dow Jones-UBS Sugar Subindex quarterly average prices (click on image to enlarge):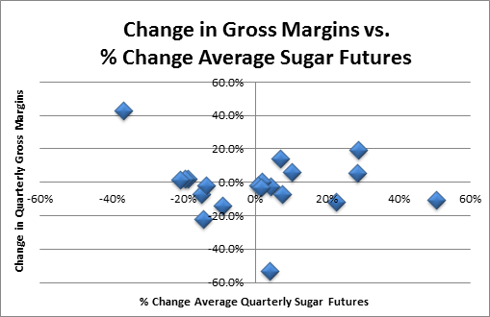 This plot looks like dog vomit. Rather than try to find patterns in this data, reading the quarterly and annual reports of the company reveal many different factors that make IPSU more complicated than a play on sugar prices:
I grouped different issues listed in IPSU's 3Q 10-Q as either internal to the company or external macro forces:
Macro Forces
US raw sugar prices are rising to 30-year highs

Raw sugar prices are rising internationally

Raw sugar imports were restricted by the 2008 Farm Bill

The US sugar beet crop planted for the fall has only increased by 6%
Forces Specific to ISPU
Starting with the first quarter of 2011, IPSU applies hedge accounting to qualifying sugar derivatives.
Gains and losses on derivatives that match operations in future quarters are not recognized in the income statement under hedge accounting.

Gains and losses on derivatives are recognized in the balance sheet under "Accumulated other Comprehensive Loss"

$4.9 million of gains on cash flow hedges are expected to hit the income statement in the next year.
IPSU has hedged roughly the equivalent of one fiscal quarter of raw sugar purchases with futures purchases.
At June 30, 2011

3,167,360 cwt* of sugar were hedged with futures contracts. As a comparison, 3,199,000 cwt of sugar were used in the third quarter.

Third quarter sales volumes are down 39.1% primarily because the company's Gramercy refinery was shut down for construction. The plant is expected to continue production by the end of the summer as part of the Louisiana Sugar Refining, LLC, a joint venture of IPSU.
A tragic explosion in 2008 at the Port Wentworth refinery has resulted in employee lawsuits, a reduction in daily production, and insurance claims for the company.
The firm recognized recovery of insurance in 2009

IPSU expects workers compensation and insurance will substantially cover employee claims.

Port Wentworth refinery restarted in 2009.
Distress and Value
IPSU shares currently trade at $9.44, giving IPSU a $115.58 million market capitalization. The book value of the firm is $205.1 million, giving the firm a price to book ratio of 0.56. Using IPSU's 1.93 Altman Z-score to classify the firm's risk, it falls in the "grey zone" between distressed and safe classifications. Over the past 5 years, the firm has paid $6.43 in dividends to shareholders while increasing book value by a geometric average of 5.4% per year.
Unfortunately, IPSU's free cash flows seem virtually impossible to predict, preventing a present value calculation. Buying IPSU would be a bet on the new plant coming online, the spread of refined sugar prices over raw sugar and natural gas prices increasing, or the value outside investors would place on the firm's net assets.
*The unit "cwt" is a 100 lb unit of mass. If you are interested in commodities, get used to looking up archaic units that date back to medieval times.