The ugly budget fight and the fallout from the lack of a meaningful debt reduction plan once again took a heavy toll on the markets last week. The iShares Dow Jones U.S. Consumer Index Fund ($IYC) was down 7.8% last week, on the back of a 3.4% drop the prior week. Of the approximately 500 stocks in the consumer sector, 46 stocks trading above $1 at closing on Friday, August 5, went down more than 15% during the week and another four went up more than 15% during the week. The fall in the consumer index mirrored the overall weakness in the broader markets as the indices plunged 7-8% last week on the back of a 4% dive the prior week.
As an investor, it is imperative to keep a cool head, especially in such turbulent times, and keep scouting for new opportunities while keeping an eye on both the price movements and news flow. Our daily and weekly coverage analyzing the top movers for top buy and sell ideas is aimed at enabling you in that effort. You can access the rest of our daily, weekly and quarterly mover series from our author page. This article covers our analysis of the top movers in the consumer goods and services sector last week. Of the 50 stocks that moved more than 15% up or down last week, we analyzed them to determine if they would continue in the same direction, or if they would reverse their moves going forward. The following are the best buy and sell ideas based on that analysis.
GOL Linhas Aereas Inteligentes (NYSE:GOL) operates as a low-cost and low-fare passenger airline service to 60 destinations in Brazil, South America and select Caribbean destinations. GOL fell 18.7% last week, after a crippling 22.3% loss the prior Friday just over one week ago. We analyzed GOL earlier in our coverage of weekly movers in the consumer sector on August 1, concluding that while GOL may be in for hard landings due to near-term uncertainties, long-term it is poised to take off strongly in advance of the 2014 World Cup. We stand by that earlier assessment and believe that with the fall last week, GOL is now an attractive buy, and we would be looking to buy it in stages so as to take advantage of any further weakness in the company's shares.
Southwest Airlines Co. (NYSE:LUV) provides predominantly short-haul, high-frequency, point-to-point, low-fare domestic airline service to 69 cities in 35 states. It has the lowest operating cost structure among domestic airlines. Its shares were down 15.0% during the week, and are down 34.7% YTD. Shares tumbled last week after the company reported that in its June quarter, it missed earnings at 15c versus analyst estimates of 20c due to higher fuel costs, and revenue came in at $4.14 billion versus the estimate of $4.13 billion. The company also reined in capacity expansion plans due to rising fuel prices and the pessimistic domestic economic outlook.
Although LUV appears attractively priced based on historic low valuations at a forward 8-9 P/E, we believed that the near-term outlook was murky for the entire airline industry, and we would stay on the sidelines for now. Further, there are near-term execution issues specific to LUV; for example, with the successful integration of AirTran and the company's ability to continue to successfully thwart rising competitive threats in the low-fare segment from Delta Air Lines (NYSE:DAL), AMR Corporation (AMR), United Continental Holdings (NYSE:UAL), US Airways Group Inc. (LCC) and Alaska Air Group Inc. (NYSE:ALK). We believe that although the downside may be limited, shares are likely to remain range-bound between $8 and $11 in the near-term, and we would look for better opportunities elsewhere.
Dolby Laboratories Inc. (NYSE:DLB) and DTS Inc. (NASDAQ:DTSI): DLB licenses sound technologies to consumer electronics manufacturers, and manufactures professional sound recording products that make the entertainment experience more realistic and immersive. DLB is a leader in high-quality audio and surround sound in cinema, broadcast, home and car audio systems, DVDs, headphones, TVs and PCs. DLB reported its June quarter report on Thursday after the market-close in which the company beat revenue and earnings estimates, and guided FY 2011 EPS above consensus. However, the sell-off stemmed from an off-hand comment in the Q&A that its sound technology is not currently included in Microsoft Corp.'s (NASDAQ:MSFT) upcoming Windows 8 version scheduled for release in 2013. Shares tumbled 27.1% as a result, and they are down 53.7% YTD.
DLB currently trades at a forward 11 P/E, at the bottom of its historic P/E range. However, revenue and earnings have flattened out after the torrid 36% compounded growth in the prior five years between 2006 and 2010. The announcement with respect to MSFT puts approximately $120 million or 12% of its revenues at risk, and although some of that revenue will get diverted to OEMs like Hewlett-Packard Co. (NYSE:HPQ) and Dell Inc. (NASDAQ:DELL), the company now faces the grim prospect of declining revenues and earnings going forward, and we believe that shares are fairly priced at current levels based on that risk. As a comparison, DLB's peer in the space, DTSI, which also licenses digital surround sound audio technology, trades at forward 15 P/E, but earnings are projected to continue their growth trajectory and increase at a 32% compounded rate from $1.15 in 2010 to $2.00 in 2012, and appears to be a better buy here than DLB.
Melco Crown Entertainment ADS (NASDAQ:MPEL) is an owner and developer of casino gaming and entertainment resort facilities that are focused on the rapidly expanding gaming market in Macau. Its shares traded down 17.1% during the week, and they are up 97.2% YTD. We issued a sell on MPEL earlier on July 13 based on valuation concerns, in our coverage of the second quarter big movers in the consumer sector. We stand by that even after last week's steep drop, and believe that in the near term the bias continues to be flat to down, and that any rally will most likely be capped in the $14-15 resistance zone.
Magna International Inc. (NYSE:MGA) manufactures automotive systems, assemblies, modules, components and complete vehicles for North Americana and European automotive OEMs. Its shares plunged 19.2%, dropping as much as 24% intra-day, on a weak June quarter where it missed earnings by 22c, reporting $1.15 versus the $1.37 estimate, and beat revenues at $7.34 billion versus the $7.04 billion estimate. Furthermore, it guided FY 2011 revenues at $27.5-28.5 billion versus the $27.95 billion estimate, and guided operating margin at 5%. This calculates to $3.90s in annual earnings for 2011, at the 21% tax rate projected by MGA for 2011, versus the analyst estimate of $5.08. We believe that at Friday's closing price of $39.42, the stock is fairly priced at a forward 10 P/E, and we would look for opportunities elsewhere.
MGM Resorts International (NYSE:MGM) and Boyd Gaming Corp. (NYSE:BYD): MGM owns and operates casino resorts in the U.S., and offers gaming, hotel, dining entertainment, retail and other resort amenities at its casinos. It has 20 casinos that have almost 35,000 slot machines, 2,000 table games in 2.1 million sq. feet of casino space, and a total of over 50,000 rooms. BYD operates 15 casinos with over 21,000 slot machines, over 400 table games and over 7,500 hotel rooms. There was no specific news for MGM or BYD as shares slid 16.2% and 20.4% respectively during the week; rather, the entire gaming sector was down last week due to macro-economic concerns. MGM is scheduled to report its earnings on Monday after market-close.
Goodyear Tire & Rubber (NYSE:GT) and Titan International Inc. (NYSE:TWI): GT is one of the world's largest tire companies and a very well-known worldwide brand as its tires are marketed in almost every country. It manufactures tires, engineered rubber products and rubber-related chemicals for transportation and industrial markets. TWI manufactures off-highway wheels, tires and assembly products for agriculture, earth-moving, construction and consumer markets. GT shares were down 16.2%, and TWI shares were down 19.5% during the week. Both GT and TWI were down on no company-specific news, but rather were down on macro-economic issues and their impact on tire sales going forward.
Star Scientific Inc. (CIGX) is engaged in the development of tobacco curing technology that prevents the formation of carcinogenic toxins present in tobacco and tobacco smoke, primarily the tobacco-specific nitrosamines (TSNA). It is also engaged in the development of very low-TSNA smokeless tobacco products. CIGX shares were down 25.4% on no company-specific news last week, but its shares had recently risen by over 200% in March on news that the company received two notices and letters from the Patent and Trademark Office confirming the validity of each of the claims involved in a reexamination of their '649 and '401 patents. Its shares have traded between $3 and $5 since the 200% rise in March, and last week's fall brings it to the bottom of that range due to macro-economic and market weakness.
[Click to enlarge]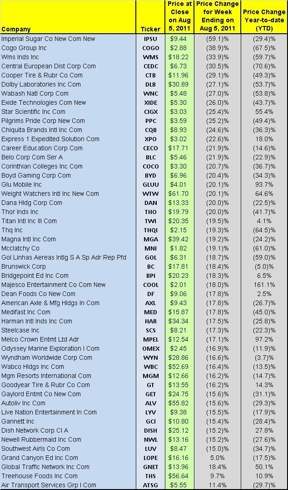 Credit: Historical fundamentals including operating metrics and stock ownership information were derived using SEC filings data, I-Metrix® by Edgar Online®, Zacks Investment Research, Thomson Reuters and Briefing.com. The information and data is believed to be accurate, but no guarantees or representations are made.
Disclosure: I have no positions in any stocks mentioned, and no plans to initiate any positions within the next 72 hours.
Disclaimer: Material presented here is for informational purposes only. Nothing in this article should be taken as a solicitation to purchase or sell securities. Before buying or selling any stock you should do your own research and reach your own conclusion. Further, these are our 'opinions' and we may be wrong. We may have positions in securities mentioned in this article. You should take this into consideration before acting on any advice given in this article. If this makes you uncomfortable, then do not listen to our thoughts and opinions. The contents of this article do not take into consideration your individual investment objectives so consult with your own financial adviser before making an investment decision. Investing includes certain risks including loss of principal.