Dendreon's (NASDAQ:DNDN) recent meltdown sent shockwaves throughout the entire biotech arena, but one segment that could suffer the most is cancer vaccine companies. Dendreon's Provenge, the first and only cancer vaccine approved by the FDA, made cancer immunotherapy very popular in the eyes of investors, who were looking for the next Dendreon among the tens of clinical stage cancer vaccine companies.
Celldex (NASDAQ:CLDX), which is about to initiate a pivotal trial for rindopepimut (CDX-110), its vaccine for brain cancer, closed the week near a 52-week low. Ironically, the same week saw the publication of a scientific article which, for the first time, unequivocally shows CDX-110 has an effect on tumors in patients.
The main drawback with cancer vaccines is that they typically cannot show clear activity in early stage clinical trials, as they rarely lead to tumor shrinkage. To make things even worse, the clinical setting chosen by Celldex makes it particularly challenging to conclude anything from the data. The vaccine is given to patients who undergo surgery and get their tumors removed; therefore, by definition it is impossible to see a direct anti-tumor effect. Then, the vaccine is given in combination with radiation and chemotherapy, making it hard to distinguish between potential benefit of the vaccine and that of standard of care. In Celldex's defense, treatment of patients with low tumor burden as part of an early stage treatment is considered more suitable for cancer vaccines.
In order to get efficacy signals with cancer vaccines, companies usually look for indirect evidence of activity, primarily markers of immune response and their correlation with clinical metrics such as survival. These analyses are usually exploratory by nature, making them unreliable. Until recently, Celldex was no different, with positive data from small single arm trials. This changed following a scientific report published in a recent Journal of Clinical Oncology.
Unequivocal signs of activity
In a reply to a colleague, researchers who had previously participated in clinical trials with CDX-110 looked at a historical database of patients whose tumors expressed the vaccine's target, a protein called EGFRvIII. Of 45 EGFRvIII-positive patients, 16 received the vaccine plus standard treatment and the rest received standard treatment only. When patients had a disease recurrence, all the patients who got the vaccine became EGFRvIII-negative. Within the group who did not receive the vaccine and could be assessed for EGFRvIII expression at recurrence, all patients remained EGFRvIII-positive.
Although there is more than one way to interpret these findings, which still need to be corroborated in large randomized trials, this is unequivocal proof that the vaccine is doing something to tumors that express its target. Investigators postulate that tumors become EGFRvIII-negative as a result of the vaccine's anti-tumor activity, but it is still unclear whether the vaccine actually kills the cancer cells or "forces" them to down regulate EGFRvIII. In both cases, this might stall tumor growth and translate into a clinical benefit.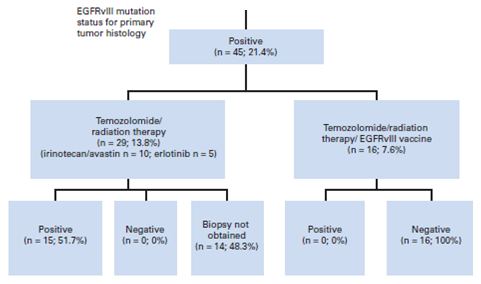 Adapted from JCO August 1, 2011 vol. 29 no. 22 3105-3106
These findings certainly strengthen Celldex's case but they do not prove the vaccine improves survival, which is the ultimate goal in these patients. If CDX-110 is actually capable of selectively wiping out EGFRvIII cancer cells, it could explain some of the remarkable results it had in single arm trials.
Celldex expects to start a pivotal trial for CDX-110 in the coming months. This will be a large randomized study which will hopefully provide a reliable answer as to the vaccine's real effect. The vaccine must prolong survival in order to get approved, regardless of its ability to convert EGFRvIII-positive to EGFRvIII-negative tumors. This observation is risk mitigating as a surrogate that shows CDX-110 has a biologic effect on tumors. Investors still have to wait to phase III results in 2014 to see if the vaccine actually works, but the new data might help Celldex get a better licensing deal before data readout.
Portfolio updates
We are adding another position in Celldex, which appears to be extremely oversold. The company has a market cap of ~$120M and has $71M in cash. It has a cancer vaccine that is expected to enter phase III imminently as well a phase II antibody-drug conjugate in breast cancer (discussed here). The two main future catalysts are initiation of the phase III for CDX-110 and randomized data in breast cancer for the ADC program next year.
Since inception almost three years ago, the biotech portfolio managed by Ran Nussbaum and me has generated a return of 75%. The table below compares it to general and life-sciences related benchmarks.
Portfolio holdings as of Aug. 7
[Click all to enlarge]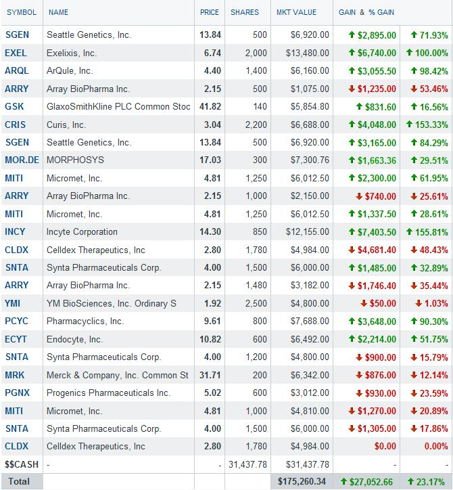 Click to enlarge


Click to enlarge
Disclosure: I am long CLDX.