Over 6% of the market declined in excess of 20% last week, creating some potential buy opportunities. Looking at the Russell 3000, I found that 187 names were hammered by more than 20%. In Part 1, I identified 24 names that appear to still be in bull trends. Today, I want to identify potential Value opportunities. With that in mind, I ran the following screen:
Price to Tangible Book < 2X
Net Debt to Capital < 40%
EBITDA Margin > 0%
Trailing EPS > $0.00
EV/EBITDA < 12X
Here are the 23 names that make the cut:
click to enlarge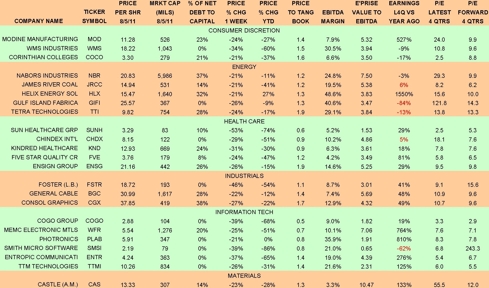 Click to enlarge

The list is sorted on economic sector, with 6 of the 10 represented. P/TB is the next sort-metric, with many of the names trading near or below. Investors should be careful with that metric, as sometimes assets are worth less than they might appear. For instance, a deferred tax asset can get knocked off the balance sheet if a company is generating losses. Another example is that inventory proves to be obsolete. Perhaps receivables might not get paid. Still, it's a good starting point.
I also included some other metrics, including earnings growth rates (which are in red if revenues fell over the past year) and trailing and forward PE ratios. Approaching this list, I would be somewhat cautious about companies that haven't been able to grow in the past year, as a worsening economy might just bury them. I included companies with debt, but the safer choices are those with little or no debt.
I don't own in of these in my models at Invest By Model, and I don't follow any closely. So, what follows is just my preliminary view about what looks interesting to me.
Starting at the top, I think it's possible that Modine (NYSE:MOD) has been hurt by the auto slowdown due to Japan. If that is the case, and recovery is likely, it sure looks cheap. On WMS Industries (NYSE:WMS-OLD), I have looked at this gambling equipment supplier before. I am surprised to see this stock this cheap and note that it now stands out to its peers. Corinthian (NASDAQ:COCO) is in a terrible industry and has had substantial management turnover - not sure I would start with that one.
The Energy sector offers Nabors (NYSE:NBR), the largest name on the list, and it sure has been hammered but appears to be in an uptrend nonetheless.
The Healthcare companies are primarily service providers spooked by recent Medicare reimbursement changes. Chindex (NASDAQ:CHDX) is the exception, as it is a distributor of healthcare equipment to China and Hong Kong as well as a service provider. It has never traded at these types of valuations, but investors are concerned in general about accounting standards there, though this company is based in Bethesda. Insiders own an impressive 9% of shares, including 5.1% by founders Roberta Lipson and Elyse Silverberg. This one looks interesting!
I don't have any preliminary thoughts on the Industrials. As far as the Tech names, Photronics (NASDAQ:PLAB) looks to be in an uptrend. The maker of masks for semiconductor processing has traded a lot cheaper in the past, but it appears to be worth investigating. Smith Micro Software's (NASDAQ:SMSI) decline has been stunning. It appears that investors have written this company off.
Finally, I have looked at Castle (NYSE:CAS) before - it is a distributor of primarily metals and also plastics to primarily aerospace/defense, oil and gas, power generation and other industries. The EBITDA margin may appear very low, but it's the nature of the industry. In great times, it gets into the high single digits, while in challenging times it goes slightly negative. The aerospace cycle is so powerful, in my view, that this one should probably fare well even in a slightly worse economic environment.
So, in this article, we have looked at a screen designed to capture the stocks that plunged last week that may offer value. As with any screen, remember that this is just a starting process. With the economic outlook changing, it's important to understand sensitivity to the economy as well as the strength of the capital structure. Hopefully, there are a few ideas here worth investigating further.
Disclosure: I have no positions in any stocks mentioned, and no plans to initiate any positions within the next 72 hours.