What's a better ETF investment than an ETF? Perhaps a company in the ETF business.
In this week's edition of Barron's, Murray Stahl, Chief Investment Officer of Horizon Kinetics says he's a "big investor" in WisdomTree Investments (NASDAQ:WETF).
It's better to invest in an ETF company than in exchange-traded funds themselves. WisdomTree is exploring interesting new opportunities …. When I bought it, the company traded for roughly 3% of its assets under management. It now trades at 7%.
I like WisdomTree's ETFs. I think many of their funds offer a more earnings and income-driven approach to balancing holdings that in many cases seems to work better than market cap weighting.
Some of their more popular ETFs include the India Earnings Fund (NYSEARCA:EPI) and the Emerging Markets Equity Income Fund (NYSEARCA:DEM). They also have a number of currency ETFs based on the Brazilian real (NYSEARCA:BZF), Chinese yuan (NYSEARCA:CYB), and a diversified emerging currencies fund (NYSEARCA:CEW).
But what about the company behind these funds?
Growing assets under management
As of Friday, WisdomTree closed at $7.01 Murray thinks the company may be acquired for perhaps twice that.
The company is now at $13.3 billion in assets, versus less than $4 billion a year ago. If the average fee is 55 basis points, that's $70 million of operating income on an existing platform. You are paying $800 million for $70 million if income with very high growth rates. An informed buyer might pay $14 or $15 a share.
Let's take a closer look.
Here's the company's revenues, expenses, and earnings for the past several quarters. Murray pointed out that the company is investing most of its cash flow growing the business.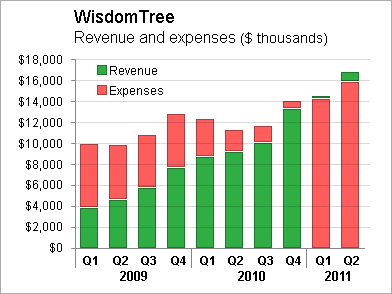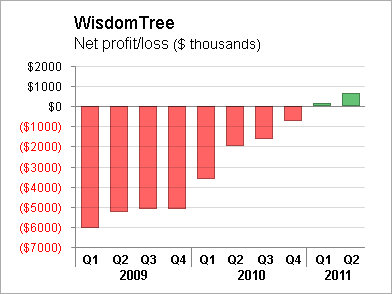 And yes, the business is growing. Here's a look at assets under management over that same timeframe.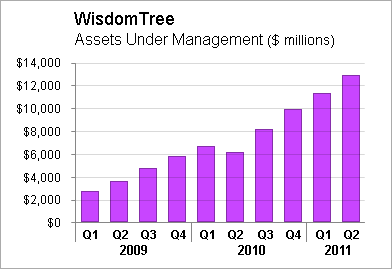 To see how WisdomTree has been priced relative to assets under management, here's a chart of the shares along with that ratio (based on quarterly average assets).
click to enlarge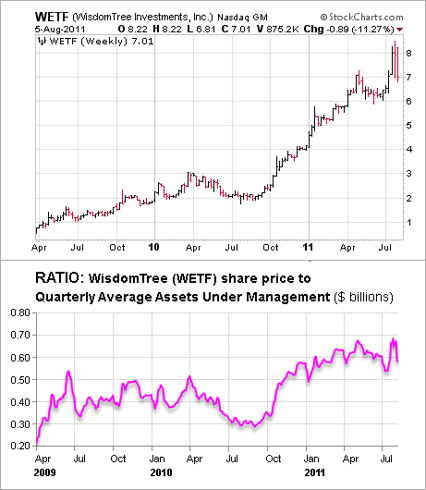 It appears as if the ratio has backed off from nearly 0.70 to around 0.58.
This is an interesting play on the success of ETFs overall and the approach WisdomTree takes to creating its funds.
On the other hand, as I write this on Sunday night, the S&P futures are down 20 points. I have no idea what the impact of the stock's mention in Barron's will have on trading, and I certainly don't want to overpay. I might buy some on Monday, and then wait.
I suspect that in a massive decline, this stock could trade at a lower ratio to its assets under management. If it falls to around 0.50, that might be a place to buy more. That would correspond to a share price of around $6.10.
So while I'm not long the stock right now, I may be by the time you read this.
Disclosure: I have no positions in any stocks mentioned, but may initiate a long position in WETF over the next 72 hours.