The ugly budget fight and the fallout from the lack of a meaningful debt reduction plan once again took a heavy toll on the markets last week. The Technology SPDR (NYSEARCA:XLK) was down 5.7% last week on the back of a 3.4% drop the prior week. Of the approximately 750 stocks in the technology products group, 33 stocks trading above $1 at closing on Friday, August 5 went down more than 15% during the week and another two went up more than 15% during the week. The fall in the technology index mirrored the overall weakness in the broader markets, as the indices plunged 7-8% last week on the back of a 4% dive the prior week.
As an investor, it is imperative to keep a cool head, especially in such turbulent times, and keep scouting for new opportunities while keeping an eye on both the price movements and news flow. Our daily and weekly coverage analyzing the top movers for top buy and sell ideas is aimed at enabling you in that effort. You can access the rest of our daily, weekly and quarterly mover series from our author page. This article covers our analysis of the top movers in the technology products group last week. Of the 35 stocks that moved more than 15% up or down last week, we analyzed them to determine if they would continue in the same direction, or if they would reverse their moves going forward. The following are the best buy and sell ideas based on that analysis.
Broacade Communication System Inc. (NASDAQ:BRCD) offers data center networking hardware and software products and services for use in shared storage environments. Its shares were down 35.8% during the week, most of it on Friday after the company announced disappointing preliminary July quarter results before the market-open. The company guided revenue and earnings at $500-505 million and 8-9c, significantly missing analyst estimates of $540-560 million and 11c. BRCD blamed soft storage end-user demand, soft federal spending, soft IT spending, and inventory corrections at OEMs for the shortfall.
At Friday's closing price of $3.52, the stock trades at a forward 8 P/E, and that P/E may go up as analyst estimates are revised downwards. Meanwhile, earnings are expected to be flat to down going forward, and the weak outlook at BRCD follows similar announcements made by Cisco Systems Inc. (NASDAQ:CSCO), Juniper Networks (NYSE:JNPR), and Riverbed Technology Inc. (NASDAQ:RVBD), indicative of an industry-wide slowdown. Although shares appear cheap at forward 8 P/E after the steep drop on Friday, they still trade well above the historic bottom range forward P/E in the 4-6 range, so we believe that the bias in BRCD shares is to the downside in the near-term.
ON Semiconductor Corp. (ONNN) is a manufacturer of power, analog, digital signal processing, mixed signal, advanced logic and data management ICs, used in numerous advanced devices ranging from high-speed fiber-optic networking equipment to the precise power management functions found in portable electronics. Its products provide clock management and data flow management for precision computing and communications systems, and power management for distributing and monitoring the supply of power to the different elements within virtually every electronic device. Its shares fell 16.8% last week, mostly in the latter part of the week after the company reported its June quarter results on Wednesday after the market-close.
ONNN reported earnings at 25c, a penny shy of expectations, and it beat revenue at $905.8 million versus the estimate of $879.7 million. Furthermore, it guided revenues for the September quarter in-line at $895-925 million versus the $914.7 million estimate. At Friday's closing price of $7.23, ONNN trades at a forward 5-6 P/E, while earnings are projected to increase at 19% compounded growth rate from 89c in 2010 to $1.26 in 2012. We believe that shares are close to a bottom here, but with the shares currently in freefall and the negative overhang on the markets, we would be cautious buyers here, buying in stages so as to take advantage of any further weakness in the price.
MEMC Electronic Materials Inc. (WFR) is engaged in the development, manufacture and sale of silicon wafers for the semiconductor and solar industry worldwide. Its shares plunged 25.3% last week, and are down 50.8% YTD. The shares fell last week, mostly after the company announced disappointing June quarter results after the market-close on Wednesday, in which non-GAAP earnings came in at 1c versus the 7c estimate, and it guided down to 45-65c in non-GAAP earnings for FY 2011 versus the estimate of $1.00-1.30. With wafer prices on the decline due to massive over-capacity in the industry and the stock in a free fall and at eight-year lows, WFR even at a forward 10 P/E appears to be too risky to buy here. We would wait on the sidelines for now.
Atmel Corp. (NASDAQ:ATML) is a manufacturer of micro-controllers, application specific ICs, non-volatile memory and RF components. Its shares fell 18.7% last week after the company reported its June quarter results after market-close on Wednesday, in which revenues were in-line, and it beat earnings by 4c, at a reported 26c versus the estimate of 22c. Also, it recorded a record 51.8% in gross margins during the June quarter, up from 51.0% in the March quarter and up from 40.6% in the prior June quarter. However, the guidance was soft due to weakness in the industrial market for its micro-controllers, and it projects revenue and earnings to flatten-out going forward. At Friday's closing price of $9.84, we believe that ATML is fairly priced at a forward 10 P/E, and we expect it to trade flat to down in the short-term.
Ciena Corp. (NASDAQ:CIEN) is a designer of Ethernet transport and switching systems used in network infrastructure by telecom and cable service providers. Its shares were down 17.5% last week, on top of a 12.5% drop the prior week. There was no company-specific news triggering the selloff; however, the entire networking sector has been weak due to the prospects of weak enterprise and government spending going forward, and it has dropped at a faster rate than the sell-off in the broader averages in the last two weeks. Even with the steep sell-off, we believe it is too early to dip into CIEN at these levels.
OCZ Technology Group (NASDAQ:OCZ) provides solid state drives (SSDs) used in high-performance storage and server systems. In addition, OCZ provides other high performance components for computing devices and systems, including thermal management solutions, AC/DC switching PSUs and computer gaming solutions. Its shares were down 21.3% during the week, on top of a 20.0% drop the prior week. There was no company-specific news triggering the sell-off; however, the drop seems to be in sympathy to the plunge in a fellow manufacturer of SSDs, STEC Inc. (NASDAQ:STEC), and the weakness in the broader markets. At its closing price of $5.91 on Friday, OCZ trades at a forward 10 P/E at a discount to its projected growth rate; earnings are projected to rise from 24c loss in 2010 to 20c profit in 2011 and then rise another 142% year-over-year to 58c in 2012. We view the current weakness as an opportunity to buy into this growth story, but with the stock in free-fall, we would buy in stages to take advantage of any further weakness in price.
NXP Semiconductors NV (NASDAQ:NXPI) is a Netherlands-based global designer and manufacturer of high-performance mixed-signal semiconductor solutions. Its shares plunged 24.6% last week on no company-specific news. At Friday's closing price of $14.92, it trades at a very attractive 5-6 forward P/E, a tremendous discount to its growth as earnings are projected to surge at 50% compounded growth from $1.17 in 2010 to $2.63 in 2012. Furthermore, NXPI is approaching long-term support in the $14 range that should hold, so there is limited risk to the downside while the upside opportunity is high based on the valuation, the projected growth trajectory, and the opportunity in near field communications chips. We would be aggressive buyers here, particularly on dips below $15.
[Click to enlarge]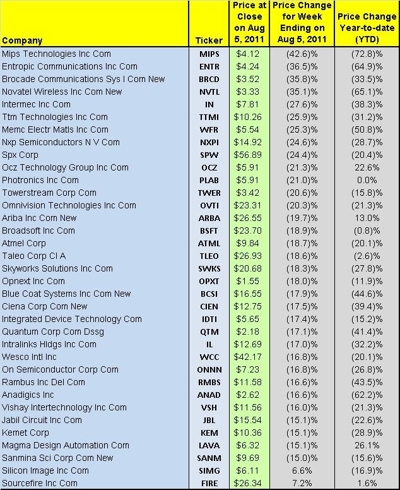 Credit: Historical fundamentals including operating metrics and stock ownership information were derived using SEC filings data, I-Metrix® by Edgar Online®, Zacks Investment Research, Thomson Reuters and Briefing.com. The information and data is believed to be accurate, but no guarantees or representations are made.
Disclosure: I have no positions in any stocks mentioned, and no plans to initiate any positions within the next 72 hours.
Disclaimer: Material presented here is for informational purposes only. Nothing in this article should be taken as a solicitation to purchase or sell securities. Before buying or selling any stock you should do your own research and reach your own conclusion. Further, these are our 'opinions' and we may be wrong. We may have positions in securities mentioned in this article. You should take this into consideration before acting on any advice given in this article. If this makes you uncomfortable, then do not listen to our thoughts and opinions. The contents of this article do not take into consideration your individual investment objectives so consult with your own financial adviser before making an investment decision. Investing includes certain risks including loss of principal.