China Internet stocks rose 4.6% on average in July (Table 1), outperforming the monthly returns of NASDAQ (NASDAQ:QQQ) Composite (-0.62%), the BNY Mellon China ADR Index (+0.61%), and the Halter USX China Index (+0.89%). Such performance came after the group plunged 11.6% in May and 9.3% in June. Below are the three key themes for China Internet stocks' performance in July.
Industry incumbents Sohu (+24.7%), Baidu (+12.1%), and Sina (+3.8%) were the major newsmakers and trendsetters for the month
Sohu (NASDAQ:SOHU) shares surged on the back of strong operating metrics of DMD, an online game developed by Sohu's gaming subsidiary Changyou.com (NASDAQ:CYOU). The game was an instant hit, surpassing 300K Peak Concurrent Users (PCU) and 100 server groups shortly after entering open beta on July 22. DMD's success demonstrated to the whole industry that it's worthwhile to take the time to develop a high-quality game. Baidu (NASDAQ:BIDU) reported stellar 2Q11 earnings on July 25, and introduced its "Landing Page Strategy" during the earnings call. This move indicated that Baidu is making a big push into the downstream of the search engine value chain through strategic partnerships and investments. In July, Sina (NASDAQ:SINA) launched its social game platform and virtual currency Weibi to accelerate the monetization of its Twitter-like service Weibo.com. It also launched Tumblr-like service Qing Weibo to defend and expand Weibo's existing user base. Investors should closely monitor the progress of these two new products because they are important early indicators of Weibo's potential for monetization. In my view, Sina shares will remain very volatile until Weibo contributes significant revenue.
Recent IPOs were the main driver behind the industry's monthly gain. Among the 11 China Internet stocks rising more than 15% in July, six were recent IPOs (Table 1): Taomee (NYSE:TAOM) went public on June 9, NetQin Mobile (NYSE:NQ) on May 5, Jiayuan.com (NASDAQ:DATE) on May 11, Renren (NYSE:RENN) on May 4, Qihoo 360 (NYSE:QIHU) on March 30, and Phoenix New Media (NYSE:FENG) on May 12. New IPOs are an important source of investment ideas because they provide investors with the opportunity to pick long-term homerun stocks in the early stage of the runs. Among these recent IPOs, I think Taomee, NetQin, and Jiayuan.com have the most potential because they are all leaders in promising sub-industries and they do not face significant competitive pressure from major incumbents.
China Internet stocks' rebound in July was broad-based. In addition to major incumbents and recent IPOs, many other China Internet stocks performed well in July: The advance/decline ratio for the whole group improved to 30/19 in July from 7/40 in June and 6/37 in May. Seven of the eight major China Internet sub-industries had positive performance: Online security stocks gained the most in July (+25.2%), followed by social media (+16.5%), online advertising (+7.8%), online video (+7.6%), online games (+7.2%), online travel booking (+4.8%), B2B e-Commerce (+1.0%), and B2C e-Commerce (-8.6%) segments.
Table 1: China Internet Stocks' Performance in July 2011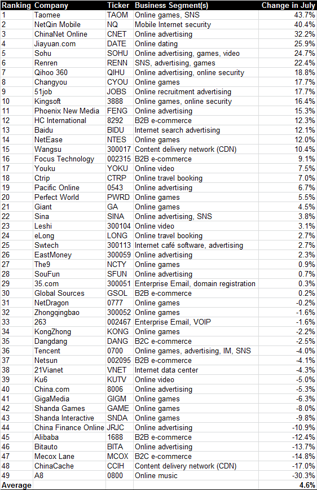 Disclosure: My virtual investment portfolio has a long position in GA, NCTY and NTES and a short position in DANG, MCOX and YOKU.