Certainly Standard & Poor's downgrade of the U.S. credit rating added to the uneasiness that investors were already feeling, but it is the ramification of the unspoken word that is adding fuel to the fire.
The outrage is mostly being voiced by politicians and those with exposure to U.S. treasuries, while everyone was quiet when other countries endured the same fate. However, the dollar is up and so are treasuries, and the 10-Year yield is at 2.4% as of this writing. If there was an abandonment of U.S. assets the opposite would be true. And that was a non-classic "buy the rumor and buy the news" because the yield has been falling since February of this year.
As I watch the news and a list of countries with AAA ratings is being constantly flashed on the screens – Canada, Germany, France and Norway among others – reality dictates that the assumed safety is no longer taken for granted. Take for Instance France, an euro member with increasing deficits – 7% of GDP and counting - and heavy exposure to the latest casualty of economic war: Italy.
Click to enlarge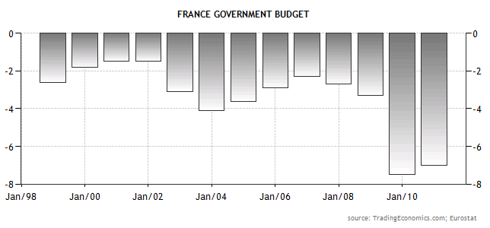 Click to enlarge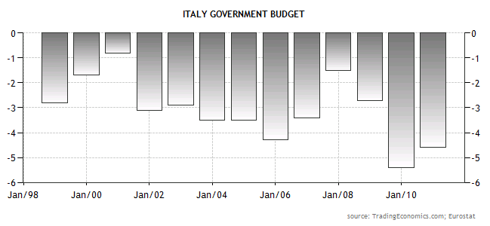 Click to enlarge
Italy's deficit is 4.6% but government debt to GDP is 119%. By contrast, France's debt to GDP is only 81%, but the accelerating deficits over the last two years, coupled with the unknown underlying exposure to European members and whatever else may still be uncovered, provides enough ammunition for investors to become extremely nervous. And France cannot print euros.
Thus, in the end and despite a lower rating, safety remains true to its old form - the dollar - and will be so for a long time to come, only because there's no economically viable alternative.
One last point has to do with the common wisdom that a low dollar equates with a higher equity market and vice-versa. I am aware that the dynamics have changed, and that's why capital flows must be examined in context.
As an example, between 1995 and 2000 the dollar index appreciated roughly 27% while the S&P 500 increased 200%. Then between 2000 and 2002 the dollar was range bound in the 115-120 area, and the S&P 500 sank almost 50%. During the 2003-2007 period the S&P 500 doubled and the dollar dropped 27%.
Although we can see an inverse correlation as of today, that may not be necessarily true going forward, and only global capital flows dictate how the game is won.
Disclosure: I have no positions in any stocks mentioned, and no plans to initiate any positions within the next 72 hours.