My action plan was described in yesterday's article Here's My Trading Strategy Mindset for Monday. My goal is simply to preserve capital and earn dividends for living expenses.
Many thoughts ran through my mind: the U.S. debt downgrade, the euro crisis, the low interest rate environment, the Wyoming Summit with the Fed Chairman on Tuesday. I tried to incorporate various positive and negative scenarios into a simple playbook.
At the end of the day, my conclusions remained the same:
The U.S. government stated S&P's downgrade was not warranted despite temporary fiscal imbalances.
The euro debt crisis is not going away. I recall vivid images of Germany when their prior currency "lost value." I can not imagine Germany wanting in any shape or form to revisit their currency woes of years past.
My goal is derive dividend income while retaining capital. I do not want a picture, similar to the one below, of myself in a 2011 Apple iPhone 4 derived jpeg-image for the world to see.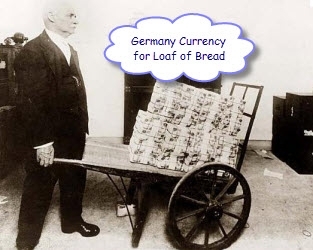 Dividend Stock Purchases
I added to my Gabelli Global Gold, Natural Resources & Income Trust (NYSEMKT:GGN) position. Although GGN does not hold 100% gold stocks, it holds a significant percentage in gold equities. The closed end fund (CEF) sells covered calls against the stock holdings to derive income. The CEF is trading close to net asset value. The yield is an annual 10.5%. The monthly dividends are 14-cents. In this case I receive income and ownership in a currency hedge, gold equities.
My second purchase was adding to Royal Gold (NASDAQ:RGLD). There are many different legal terms on the types of gold royalty holdings. The company owns the right for receipt of a% of a gold company's production. In return, RGLD provides capital or compensation to the company. Royal Gold is in the enviable position of not being exposed to gold prices, capital expenditures, personnel issues, or mining accidents. RGLD simply owns a royalty contract amongst many producers. The royalty agreements are established to benefit both parties. The dividend has been a minuscule 11-cents per quarter or less than 1% in annual yield. Researching RGLD's SEC filings, their royalty assets continue to grow in value and monetization. I do anticipate the yield growing significantly in coming years.
My third purchase was additional shares of Collectors Universe (NASDAQ:CLCT). The stock traded as if the world's worries were absent from CLCT's universe, and was up for the day. CLCT goes ex-dividend on August 10th. The dividend is 32.5-cents per share. The company has zero debt on its balance sheet. For those individuals who purchase gold coins, CLCT provides valuables services. Gold owners want to authenticate their $1700 1-ounce gold coins. CLCT provides this service for a set fee amongst many other revenue producing services.
I tried to purchase American Capital Agency Corp. (NASDAQ:AGNC) on a hoped-for signficant dip. My price was not met, so I was not fortunate enough to pick up any shares on the cheap. The stock should go ex-dividend approximately September 23rd, and there will likely be the dividend pile on leading up to that date.
In regards to AGNC and the other agency-mREITs, I did closely monitor iShares Barclays MBS Bond (NYSEARCA:MBB). I need to research further the implications of S&P downgrading the Government Sponsored Entities (GSE) today. If you recall from yesterday's article, MBB is a proxy for a non-levered mREIT. MBB did not act unusual all day in price.
I placed bid offers at the $28 range for Linn Energy, LLC (LINE). My goal was to obtain the MLP at a discount with a great yield. Oil was down for the day, and some investors may not realize that LINE hedges a good portion of its production. Michael Linn, executive chairman, has been a first class manager and has provided solid leadership during the past few rocky years. My low prices were not met. I shall find another day to add to this name.
Hedges
I purchased additional ProShares Short S&P500 (NYSEARCA:SH) as a hedge. SH acts as a portfolio hedge by providing an inverse return of the SP500. If the SP500 is up 2% for the day, then SH will be down 2% for the day. If one's portfolio has characteristics similar to the SP500, then this can be a one-stop hedge.
I own ProShares Short MSCI EAFE (NYSEARCA:EFZ) which is an inverse fund. This provides an inverse return to the returns of the overseas markets, which have a few currency issues to resolve.