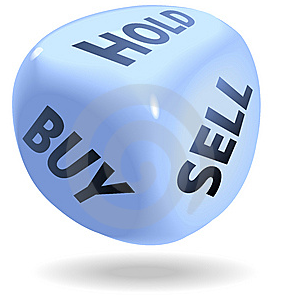 Its very tough out there in the market right now for traders, investors, financial strategists, and the likes. A lot of very poor, poor performances in stocks has left us gasping for breath and trying to figure out our next move. Most of us just want to know is there anything that we can buy or is there anything we can still sell in this market?
Market movement is definitely going to continue to rule most stocks, but it is a good idea to have some stocks in mind for a set-up into the next day...

So, what would we want to buy if we finally get a rally?
Well anything will probably work, but we have had such violent swings and moves that have left our jaws on the ground that we actually want to take a conservative approach with any rallying until it is sustained for two days. Two stocks that we have noticed that have really been holding up quite well in this market and have great upward price channels are Accenture (NYSE:ACN) and Rosetta Resources (NASDAQ:ROSE). Other great companies like McDonalds (NYSE:MCD), IBM (NYSE:IBM), and Apple (NASDAQ:AAPL) have all been unreasonably moved down, and they are great buys in general for a long-term addition to your portfolio.
Accenture
ACN finally broke down today on yet another huge hit to the market, but the stock is still outperforming the market over the past two weeks. What we like about Accenture is that the stock holds the $54 line very well. They have dropped below it today, but they have only dropped below it once since March - where they immediately snapped back above $54. The $54 line is key because they have held that line since their Q1 report in March. ACN, further, had great earnings in June that propelled the stock. This move down has been nothing fundamental about the company. Despite their European base, they have a lot of business in Asia and U.S. that is really their driving point. The company is a tremendously well-run firm, and we would look for them to retake the $54 line. They are a steal at this price right now. They pay a solid dividend at 1.6% and have a P/E ratio now below 17.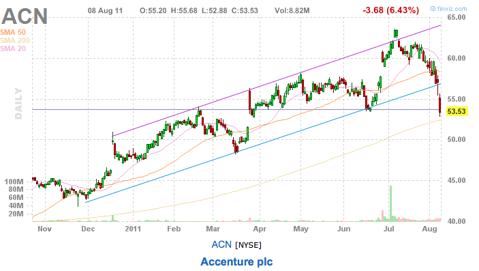 Rosetta Resources
ROSE looks like a great buy right now. This is a company that is growing tremendously right now, and they just reported a great quarter today that is being completely muted by the action in the market. ROSE reported EPS of 0.48 vs. 0.46 consensus and $111M in revenue vs. expectations for $106M. The company is holding its 200-day MA and support line at 42.50 very well, and as long as it can hold that into the close, this stock may be ready to pop. Rosetta was upgraded also this morning and has really had no upward impact. The company, though, does operate in the oil and gas sector. They have held up well given the amazing drop in oil. We would love to play ROSE if we saw a combination of relief rally in oil coupled with relief rally in the markets. The stock actually broke into the green intraday when the market was rallying slightly, and that means the stock has buyers interested. The stock needs to hold $42 though.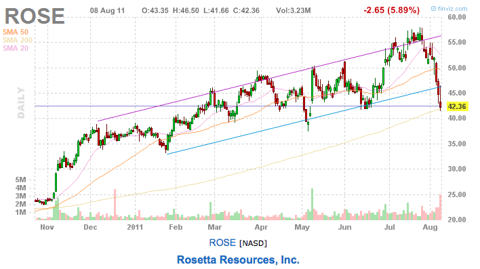 What could still have more downside?
Most of your very speculative tech companies are where we would look for more downside. Some of our favorites are Salesforce.com (NYSE:CRM), LinkedIn (NYSE:LNKD), Qihoo 360 (NYSE:QIHU), and Yandex (NASDAQ:YNDX). These companies all have forward P/E of over 50 with a pretty good float of stocks out there. They are all going to be moving downwards on more weakness in the market as they have been pretty much broken and their upward momentum has now shifted to vehicles for volatile shorting. Any pops though in the market can hurt you with these, but if you are confident we are headed down further... check them out: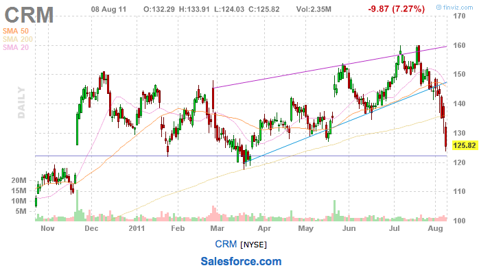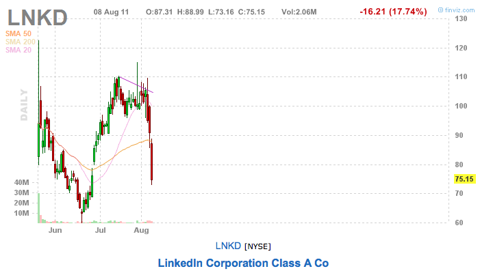 Good Investing,
The Oxen Group
Disclosure: I have no positions in any stocks mentioned, but may initiate a long position in ROSE, ACN over the next 72 hours.