It's clear that not all U.S. economic sectors are recovering equally, so it's time to focus on doing more with less. Perhaps sector performance will be even more lopsided now with the recent downgrade of US debt. So what sector isn't in shambles right now? Technology, specifically U.S. software. While there are a couple of big names such as IBM (NYSE:IBM), Microsoft (NYSE:MSFT), and Oracle (NASDAQ:ORCL), we think one deserves special attention today. The name we like right now is Oracle. In our view, Oracle is primed to move higher even though the U.S. economy remains weak according to many indicators.
With names such as LinkedIn (NASDAQ:LNKD), Zillow (NASDAQ:Z), and Pandora (NASDAQ:P) doing much better than many expected after going public, it's easy to see that investors don't mind paying a premium for growth. Today, though, Oracle isn't the newest kid on the block and in some ways we think it's been overlooked relative to its growth potential. Where is all this opportunity? For starters, Oracle is a much bigger player in enterprise software. What really makes us rate Oracle a buy is that the firm operates an impressive acquisition growth strategy, is expanding successfully into new industry sectors that offer strong growth potential, and offers a lower growth premium compared with other high-profile names.

Pushing Open the Doors of Opportunity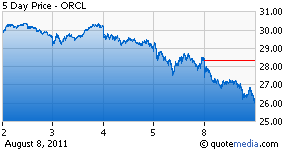 Oracle is known for developing opportunities out of thin air – opportunities that most think are not available. Now Oracle is gaining a foothold in enterprise software solutions. We know it isn't as sexy as anything "social" related, but the firm has aggressively leveraged its leading position in database software. We hope to see this become an even bigger growth driver as it continues to compete with SAP (NYSE:SAP).

It might not seem that U.S. companies are spending money or hiring, but that thought is misguided. Firms are spending money on IT and software. Unquestionably, after the last recession, most U.S. firms remain leery of substantially increasing headcount when they can increase software investments to increase overall productivity. Oracle is taking advantage of the opportunity to make hay while the sun shines. The fact that it can leverage its leadership in database software makes us believe its latest push into this space will be very successful.

Oracle is trying to pivot into becoming a more vertically integrated firm by expanding into enterprise software solutions and offering more comprehensive IT solutions (with Sun Systems now in-house). For the first time, the firm could really have the opportunity to give IBM a bigger run for its money. After all, IBM's ability to consistently enter new spaces while remaining vertically integrated and not shedding older assets allows the firm to remain current and relevant. Moving ahead, we see Oracle offering plenty of growth potential to investors with less absolute risk.

A Sticky Moat

It's worth noting that Oracle is successfully creating a wider moat and stickier client platform as it expands into new spaces. One key reason is that changing enterprise software providers or databases is extremely disruptive. There are installation expenses, new software charges, and opportunity costs that result. This means that, as time passes and Oracle becomes more entrenched within a client's operations, competitive churn becomes less likely. The strategic value of this cannot be underestimated, since the competitive landscape will continue to heat up in a weak economy.

Paying An Arm and Leg For Growth

Anyone watching highly speculative Internet stocks after their IPOs knows that investors pay a premium for companies that offer decent growth potential. Still, we feel that investors don't truly see how much they're paying for that growth. Oracle could be a great growth story alternative.
| | | | |
| --- | --- | --- | --- |
| Valuation Chart: | Oracle | LinkedIn | Zilllow |
| Forward P/E | 10.6 | NA | NA |
| P/B | 3.6 | 64.1 | 40.5 |
| P/S | 4.1 | 28.8 | 17.1 |
| P/CF | 13.0 | 125.0 | 94.3 |
Growing By Eating the Smaller Fish In the Pond

Some investors frown on growth generated by acquisitions. We can't say they're completely unjustified, since there is always a possibility that an acquirer overpays. Still, in the case of Oracle, we feel they shouldn't be penalized as heavily over this fear. The firm has a lengthy and consistent history of accretive acquisitions. The firm also has a quick ratio of 2.5 and current ratio of 2.76.

In our view growth is growth and at least the firm is using it to generate further shareholder value, compared with, say, Cisco Systems (NASDAQ:CSCO). The result here is solid and diversified growth potential that isn't riding on one single X-factor catalyst, which is more than we can say for other companies.

Conclusion

Oracle has room to go higher once investors get tired of paying through the nose for growth with high-profile names and calm down about the recent US Debt downgrade. The firm offers a great opportunity because its growth potential comes in a more diversified fashion, which translates into lower overall risk. Anyone looking to acquire growth at a more reasonable price should review this name especially after the haircut it has taken in the last month.

Disclosure: I have no positions in any stocks mentioned, and no plans to initiate any positions within the next 72 hours.