The recent sell-off in the Nasdaq has created a lot of potential opportunity for long term investors looking to get exposure in the technology sector. Corning (NYSE:GLW) is one tech stock that has caught my eye the past few weeks as the share price has dipped from $23 in March to $14 today.
Corning Incorporated manufactures and processes specialty glass and ceramics products worldwide. It operates in five segments: Display Technologies, Telecommunications, Environmental Technologies, Specialty Materials and Life Sciences.
Valuation
Corning does appear undervalued at current market prices. The company is trading at a current PE of 6.8 and a forward PE of 6.6. Shares are currently priced at 1.1 times tangible book value which is near the level they reached at the height of the financial crisis in 2009. Price to cash flow is also at a historically low value. In addition, Corning has a fortress balance sheet with $6.35 billion in cash (28% of the market cap) and $4.1 billion cash net of debt (18% of the market cap).
The Outlook
Based on the current historically low valuation, one can only assume the market is pricing in large declines in earnings for Corning. However, looking at Q2 results and commentary, the outlook is at worst is a mixed bag. Q2 revenue was up 17% year over year and up 4% from Q1. Additionally, four out of five major segments came in with revenue increases year over year (see chart). However, Corning did slightly lower volume guidance on LCD glass for the year. EPS was up $0.01 from Q1, but down $0.10 from last year due to higher effective tax rates and margin/volume weakness in the Display Technologies segment.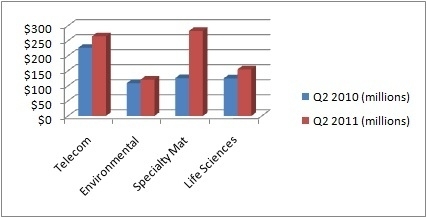 Headlining the revenue growth is the specialty materials division which saw an increase of 125% due to the higher demand for its Gorilla Glass product that is increasingly being used in tablets and smart phones. Management stated it expects nearly 10% growth in this segment for next quarter, but did take down revenue guidance of Gorilla Glass to $800 million in 2011 from $1 billion due to slow implementation in high end TVs.
Additionally, Corning commented on the possibility of returning some of its excess cash to shareholders and reiterated its guidance for $10 billion in revenue by 2014 (up from $6.6 billion in 2010). CEO James Flaws stated, "We have begun conversations with the board about the cash and what we should do with it. So it is definitely on the board's agenda now." With the current weakness in shares, a stock buyback is probably the most likely scenario. Investors should note that 50% of Corning's cash is held overseas and would have to be repatriated before being used to buy back stock or pay out a dividend.
Reasons for Caution
Although currently trading at historically low valuations, one should be cautious when building a large position in Corning. Despite its healthy revenue mix from the five business segments (none contributing more than 50% to the top line), the company gets a whopping 85% of its net income from its display technologies segment.
The display technologies segment manufactures glass substrates for active matrix liquid crystal displays (LCDs) that are used primarily in notebook computers, flat panel desktop monitors and LCD televisions. The business for LCD glass is certainly robust now, but it is difficult to tell where technology will take optical displays in the years to come. Glass may not always be the material of choice as display technology advances. A switch away from glass displays would be devastating to Corning's bottom line.
Conclusion
There is no doubt that Corning is a great value at current levels. If the company had a better diversification of earnings from its business segments, I would have no problem making them one of the biggest positions in my portfolio. As it stands right now, I will keep them as a core medium sized holding. At these valuations investors should bet on Corning, just don't bet the farm.
Disclosure: I am long GLW.