In March I put together a list of stocks that you could buy despite the fact that they were trading around 52-week highs. The article, found here, was premised on the notion that these high prices should not scare you off of buying in. Some value investors are stuck on the idea of buy low, sell high, which works out great in certain circumstances, but buying high and selling higher can work just as well if not better when the market is performing.
That was the case five months ago. Things were good and the world wasn't coming to an end. Unfortunately, these are the times we're in and we cannot do anything to fix the economy ourselves. However, this recent selloff presents a huge buying opportunity and value investors should be smiling.
With that being said, I'm sticking with three of the four stocks I pushed in March. I dropped PPG Industries (NYSE:PPG) from the list because I personally feel that it will be more difficult for them to rebound out of this than the other companies. I replaced PPG with McDonald's (NYSE:MCD) because if you're going to be buying right now, you should be buying the best companies in their given industry.
Apple Inc. (NASDAQ:AAPL) – Investors should not forget the earnings season we had before the debt ceiling nonsense began. I wrote this article going into Apple's earnings, looking at some technical support and acknowledging that the price generally jumps roughly 3% on earnings. As you know, they killed it on earnings. No one was predicting the numbers they hit and it shot the price up over $400. Now they are trading back to pre-earnings prices, but still with strong technical support (above their simple moving averages and still within a trend channel). Apple is an absolute steal right now.
click on images to enlarge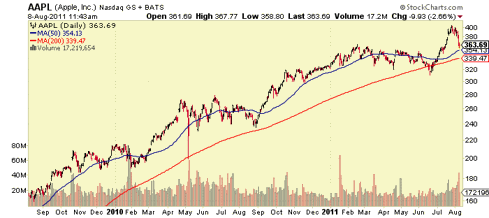 Chipotle Mexican Grill (NYSE:CMG) – Chipotle is still a stock that everyone loves to hate. There have been several articles over the last year purporting Chipotle as the stock to short. In March they were trading at $240. They reached a high of $336 last month, so the shorts probably didn't work out. Now the economy has led them into a 10% dip. This, of course, is completely unwarranted since the company itself is performing well. And as you can see in the graph, they are still well within an upward swing. There is still plenty of room to growth for Chipotle, especially as their overseas expansion picks up and this should payoff big for long buyers.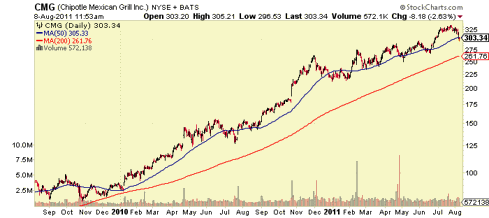 Salesfore.com (NYSE:CRM) – Salesforce has not had the gains that the other two stocks have had since March, but I still believe in their ability to perform. They did reach a high of $160, a gain of 23% since March, but the technology sector has not taken a liking to the economic panic. Their earnings are on August 18, and this will definitely be a price mover one way or the other. There's a good chance the price will drop a bit before then and it could create an awesome buying op.
McDonald's (MCD) – McDonald's is one of those stocks that everyone should really have a piece in. They are a constant performer with an annually increasing dividend that has been paying for decades. There is nothing that can be said against them. Their recent earnings had pushed them to all-time highs and you can get them here a nice discount. McDonald's is not a sexy buy, but you can count on it 20 years from now. Think of it like an Accord; there's very little maintenance required.
And thus completes my list of 4 stocks you should be thinking about right now. There are certainly many others out there as well. You should remember that we are living in unprecedented times and panic selling is generally not advised. Panic buying offers much better gains.