In a previous article we talked about how panic and fear can create buying opportunities. As fear spreads many investors will abandon their plans showing a complete disregard for any long-term investing plan based on fundamentals. It looks like we are flirting with this territory and Intel (NASDAQ:INTC) could be worth a look.
When we last published an article about Intel we calculated a fair value of $25. The stock was trading at a 21% discount at the time. Intel reported their fifth consecutive quarter of record revenue on July 20, 2011. Is the stock cheap today?
First, we'll look at Intel's P/E vs. earnings over the years.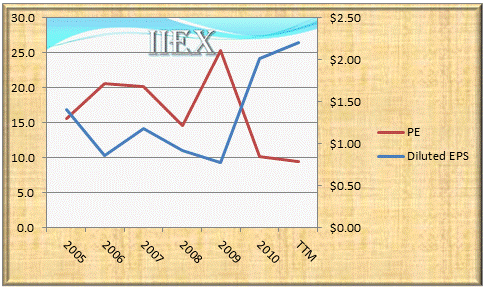 Given the erratic EPS performance and lack of growth from 2005 through 2009, it's easy to see why the company's PE has been erratic over the years. But the pendulum appears to have swung too far in the opposite direction with a PE around 10. This appears cheap; however, we'll look at a few metrics before coming to any conclusions.
Pressure on gross margins or revenues could foretell a downward EPS trend going forward.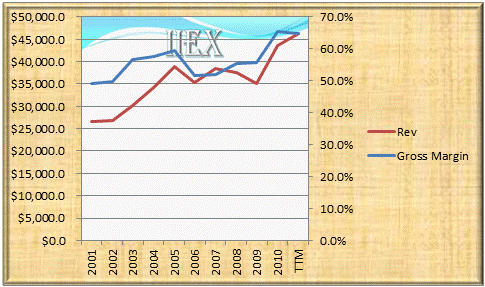 Based on the above, historical data margins and revenues have recovered nicely in 2010 (exceeding previous records). The trailing twelve month (ttm) margin dipped slightly but is still close to the historical high since 2001. Going forward, Intel had this to say concerning revenue and margin at the July conference call:
As we look forward to the third quarter of 2011, we are forecasting the midpoint of the revenue range at $14 billion, up 7% for the second quarter and in line with historical seasonality. We are forecasting the midpoint of the gross margin range to be up from the second quarter at 64%.
Both 2011 metrics (revenue and gross margin) are positive, and margins have returned to the highs of the decade. The data and management's comments point to continued growth. The question is what longer term growth rates are reasonable to calculate fair value?
Here is one fair value analysis based on the numbers. Fair values are based, in part, on the following: discounted cash flow, a modified Graham's intrinsic value formula and a P/E analysis. The valuation model consists of two parts.
The discounted cash flow and the modified Graham's intrinsic value are blended to arrive at a fair value.

A P/E analysis based on historical adjusted values.
Fair value used is the minimum value of the two parts.
Part 1: Discounted cash flow and the modified Graham's intrinsic value.
Longer term earnings growth estimate: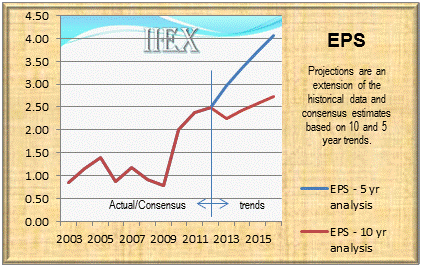 Projections are arrived at by calculating the statistics for a trend line using the "least squares" method. This determines the line that best fits the historical data. Projected earnings growth through 2016 averages about 7.12% based on a combination of the 10 and 5 year trends.
Analysts are even more optimistic, with five-year growth rates of 10.2%, as shown below. (Source: nasdaq.com)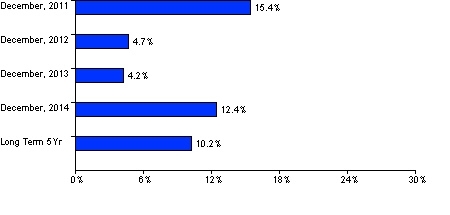 Longer term cash flow growth:
Projected free cash flow growth is 8.5% from 2011 to 2014. Even though operating cash remains strong we expect a dip in free cash flow for 2011, then a return to growth in 2012 based on an increase in capital spending to $10.5 billion, as noted in the conference call:
The cash generation of our business remains strong, with cash flow from operations of $4 billion in the second quarter. On top of investing in our business, we are increasing the amount of free cash flow allocated to the dividend and actively repurchasing shares. Consistent with the philosophy we outlined in May. This was apparent in the second quarter, as we purchased $2.5 billion in capital and are forecasting CapEx of $10.5 billion for the year, completed a $2 billion buyback, and announced a 16% increase to our dividend.
Stacy Smith – CFO noted why CapEx is above the norm:
… if you look at the CapEx that we're doing this year, we said at the investor meeting more of that, much more of that is being driven by building factories than what is normal for us.
Estimated long term EPS and cash flow rates going forward are 7.1% and 8.5%, respectively. Running these projections through our pricing model produces a fair value of $32. Needless to say, the result is sensitive to changes in these growth rates as illustrated below.
| | |
| --- | --- |
| INTC | |
| EPS & Cash Growth rates | FV |
| EPS-9.12%; Cash-10.50% | $36.00 |
| EPS-8.12%; Cash-9.50% | $34.00 |
| EPS-7.12%; Cash-8.50% | $32.00 |
| EPS-6.12%; Cash-7.50% | $31.00 |
| EPS-5.12%; Cash-6.50% | $29.00 |
| EPS-4.12%; Cash-5.50% | $27.00 |
Part 2: P/E Analysis
The pricing model produces a PE of 12 yielding a fair value of $28. We consider Intel more of a value vs. growth stock so the PE seems reasonable given our single digit EPS growth rates.
Final fair value is the minimum of the two methods or $28. This would also support a lower EPS and cash growth rates as shown in the above table. The stock is trading at a 26.1% discount at the time of this writing.
Is Intel a Bargain?
This would depend on the investors risk tolerance, margin of safety and other personal considerations.
Intel has a history of dividend increases adding to its attraction. On July 27, 2011 Intel declared 21 cents per share (84 cents per share on an annual basis) quarterly dividend on the company's common stock, reflecting the previously announced 16 percent increase from May 11. This represents a yield over 4% at the time of this writing.
I calculate an attractive entry price below $21.70 based on the fair value and dividend yield. Fear and panic may drive the stock below $20 but this is speculation. What is not speculation is fundamentals will eventually return as the driver of pricing. In the meantime earning 4% plus until fear is replaced by fundamentals could make the wait easier to handle.
The economic uncertainty poses the biggest risk not only for Intel but all stocks. Then again the economic uncertainty provides buying opportunities for companies with a history of solid cash flows, increasing dividends and earnings. Intel falls into this category.
A detailed summary of all financial data used in the analysis is here.
Disclosure: I am long INTC.