Brookfield Infrastructure Partners (NYSE:BIP) is a unique, publicly traded partnership with a diverse collection of global assets that has been expertly managed since its inception. I provided a full analysis of Brookfield Infrastructure two months ago which can be found here.

In summary of the business, Brookfield Infrastructure is a publicly traded partnership that was spun off of Brookfield Asset Management (NYSE:BAM). Over the past couple of years, Brookfield Infrastructure has acquired all of the assets of Prime Infrastructure, a separate business. At first, Brookfield Infrastructure acquired partial interest. More recently, it purchased the remaining interest in Prime, and these assets are now some of Brookfield Infrastructure's most attractive assets. The partnership currently owns assets as diverse as Chilean electric transmission lines, an enormous Australian coal export terminal, European shipping ports, and North American timberlands.

Prime Acquisition Resulting in Strong Growth and Increased Distributions
Earlier this month, Brookfield Infrastructure reported second quarter results which were extremely solid. Funds from Operations (FFO) doubled for the three month and six month periods between 2010 and 2011, and on a per-unit basis, FFO increased 33% over the three month period compared to last year, and 41% over the six month period compared to last year. Per-unit FFO is currently $0.65 per quarter.

Much of the increase was due to Brookfield Infrastructure's acquisition of Prime Infrastructure, and the partnership also experienced growth in its timber and utilities segments.

Brookfield Infrastructure has a distribution policy where it expects to pay out 60-70% of FFO per year in distributions, and have long-since estimated that the distribution will grow 3-7% per year over the long term (which is fairly good, considering the distribution yield is 4.5-6.5% depending on what period we consider).

Between 2009 and 2010, Brookfield Infrastructure indeed increased the distribution within the expected range, by about 3.8%. For 2011, however, Brookfield Infrastructure was able to increase the distribution by 13% over 2010 levels based on its closing of the acquisition of the remainder of Prime's assets. This acquisition also led Brookfield Infrastructure management to state that the distribution growth should be on the high end of its originally projected target over the next several years.

However, Brookfield Infrastructure's recent success has driven the FFO payout ratio down to 48%, based on a quarterly distribution of $0.31 and quarterly FFO of $0.65. So, for the third distribution of 2011, Brookfield Infrastructure is increasing the distribution to $0.35; another 13% increase. Even at this level, the FFO payout ratio is only 54%, and BIP has mentioned that it will review its distribution payout in the first quarter of 2012.

If Brookfield Infrastructure can maintain the current three and six month results, which I believe it can, a 60% FFO payout would imply a $0.39 quarterly distribution, and a 70% FFO payout would imply a $0.455 quarterly distribution. Brookfield Infrastructure, however, has a backlog of growth opportunities worth billions of dollars, including the opportunity to potentially sink billions in capital in its Australian coal terminal, Australian railroad, and other assets on other continents. In addition to organic growth opportunities, Brookfield Infrastructure is vigilant for acquisition opportunities in North America, South America, Europe, and Australia/Asia, such as ports, gas transmission assets, toll roads, railroads, electric transmission lines, distressed companies, and so forth.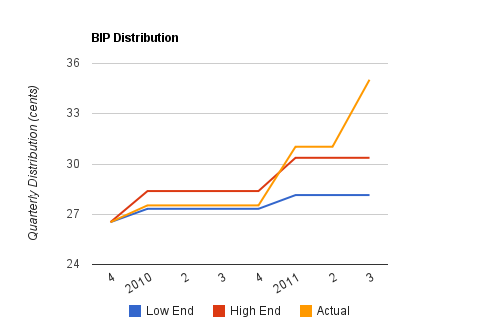 The above chart shows Brookfield Infrastructure's actual quarterly distribution payout compared to its low-end (3% growth) and high-end (7% growth) estimates for what the distribution growth would be.

Incentive Distribution Rights
One particularly attractive aspect of Brookfield Infrastructure is the rather low level of incentive distribution rights (IDRs) distributions to the general partner. Many publicly traded partnerships have agreements where once certain target distribution levels are paid to limited partners, the general partner is entitled to up to 15%, 25%, and eventually 50% of total cash. Often, 50% is the highest target level (although mathematically, they never actually reach 50%; they just approach it as they grow the distribution). As the general partner is entitled to a percentage of cash approaching 50%, it increases the cost of capital for the partnership, because any new projects or acquisitions need to provide a large enough return to grow distributions to limited partners-- despite paying a substantial percentage of the returns to the general partner.

Brookfield Infrastructure, on the other hand, has a maximum IDR distribution agreement for 25%. So the distribution situation will approach 25% of available cash going to the general partner, and 75% going to the limited partners (plus cash from the limited partner units they hold). This keeps cost of capital low indefinitely.

Valuation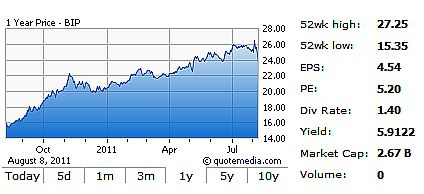 As of the market close of August 8th, Brookfield Infrastructure is currently trading for about 9 times expected FFO, with a distribution yield of 5.9%. In my article two months ago, I suggested that Brookfield Infrastructure was richly and fairly valued, without much margin of safety, as the market is paying a good price for a good business. Based on continued distribution growth of above 7% and these strong recent FFO results, as well as the market sell-off, I think Brookfield Infrastructure is now priced at an appealing level. I believe it's worth buying on dips. Brookfield Infrastructure has a large backlog of growth opportunities, a worldwide asset footprint, and highly skilled management.

On August 3, when Brookfield Infrastructure announced its results, the unit price jumped 6% in a day, but these gains were completely erased and reversed in the following worldwide market drop. This may be a good time to buy a stake in these assets, and if there are continued market declines due to worry of a global economic slowdown, or impact from the U.S. Treasury downgrade, this may represent a continued buying opportunity.

One of the best times to buy Brookfield Infrastructure was during 2009 when economic-sensitive subsets of Brookfield Infrastructure were unprofitable, and pessimism was persistent. If a serious worldwide economic slowdown occurs, Brookfield Infrastructure's timberlands and European ports should be the most heavily affected, while its regulated utilities should remain strong, and its Australian assets should remain at least decently profitable due to its emerging market customers. Perhaps more importantly, it would likely increase the chances of Brookfield Infrastructure finding other value opportunities in acquiring distressed businesses like Prime.

Although there are risks, I think Brookfield Infrastructure units at the current price will be a solid long-term investment regardless of what the market does over the next several weeks and months.

Disclosure: I am long BIP.