I continue to read many comments on Sirius XM (SIRI) articles that appear on Seeking Alpha pointing out that SiriusXM is a monopoly. To the extent that it is the only company that has FCC licenses to the requisite spectrum and is the only company that provides satellite transmissions to your car radio in the United States, that would be true. But is Sirius XM the type of monopoly that Teddy Roosevelt, the Trust Buster, would be looking to dismantle?

Investopedia defines a monopoly as:
A situation in which a single company or group owns all or nearly all of the market for a given type of product or service. By definition, monopoly is characterized by an absence of competition, which often results in high prices and inferior products.
I don't think there are many that would argue that Sirius with its exclusive content, crystal clear reception and commercial free music is providing an inferior product. And although there are some that complain about the pricing or won't pay the subscription fees, the FCC apparently feels that its prices are not excessive.

In its decision not to extend the price freeze, the FCC wrote that
Indeed, it appears that since the Merger Order new audio services have emerged as viable consumer alternatives, including smartphone Internet streaming applications that can be used in mobile environments such as automobiles equipped with user-friendly interfaces. For example, Pandora Media Inc. ("Pandora (P)"), which provides audio services via Internet streaming and smartphone apps, has demonstrated remarkable growth in popularity in the years since the merger. Other examples of apps that have emerged as alternatives since the Merger Order include Rhapsody, Slacker, Last.fm, and iheartradio. Ford, Toyota, MINI, GM, Mercedes-Benz, and Hyundai are introducing Internet-based streaming services in their vehicles. In addition, data suggest that HD radio has increased since the merger.
From an investment standpoint, monopolies that have high barriers to entry as well as pricing power should perform well. Sirius has the licenses, the satellites, some exclusive content and a major share of the dashboards of new cars. But, as Sirius and the FCC note, there are listening alternatives. Sirius is not free to charge any price it chooses because there are other options for the listener.

We know that the SiriusXM service is not something that everyone has to have. It is not like the monopolies of your local utility that provide water, gas or electric services. Less than half the new car buyers that get a chance to try the service for free are willing to pay for the service, as is evidenced by the fact that only about 45% convert from their trial and become to self-pay subscribers. And even those that choose to become self-pay subscribers subsequently cancel in very large numbers - about 20-25% per year based on the self-pay monthly churn rates of the past several years. We also know that Sirius gives retention discounts to 14% of its self-pay subscribers to keep the from canceling. This is not the type of behavior typically exhibited by monopolies.

So even though Sirius has a dominant position in the car dashboards, it would also seem as though Sirius fails as a monopoly on several other measurements:
It offers a superior, rather than an inferior product

It faces competitive alternatives

It appears to have limited pricing power
So, if you are investing in Sirius because you feel it has the power of a monopoly, you might want to reconsider. On the other hand, if you are looking for a long term investment that continues to grow subscribers, revenue, income and free cash flow, you might want to look at it further. Especially now that it has dropped by one third from its recent high of $2.44 at the end of May.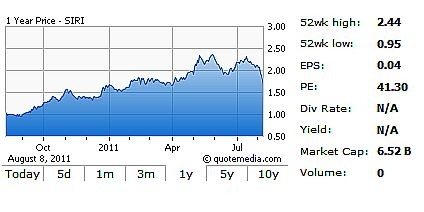 Disclosure: I am long SIRI.

Additional disclosure: I have $3 January 2012 covered calls against most of my Sirius position. I may add to my long position of SIRI at any time and might close or open covered call positions at any time.