There seems to be a lot of talk of creating a national infrastructure bank again to finance roads, bridges and other public construction. This initiative, if passed, would probably be as effective as the Federal stimulus plan, cash for clunkers and the $1T PPIP that never got off the ground due to how the GM (NYSE:GM) and Chrysler (FIATY.PK) bankruptcies were handled. However, the effort might have an outside shot of coming into being as it has some bipartisan support and politicians on both sides of the aisle are struggling to "do something" about anemic job growth. Jacobs Engineering (NYSE:JEC) is an example of a stock that would benefit by an infrastructure bank. It already has a low valuation, good growth prospects and could move upward on any serious discussion about this plan.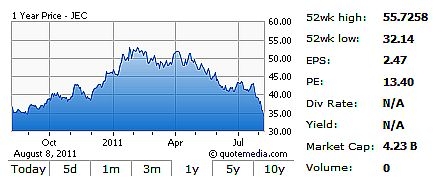 Jacobs Engineering Group Inc. provides professional, technical, and construction services. Its principal services comprise various aspects of engineering and construction, operations, and maintenance, as well as scientific and specialty consulting services. The company serves a range of companies and organizations, including industrial, commercial, and government clients across multiple markets and geographies. Its primary service markets include aerospace and defense, automotive and industrial, buildings, chemicals and polymers, consumer and forest products, energy, environmental programs, infrastructure, oil and gas, refining, technology, and pharmaceuticals and biotechnology.
Here are five reasons to own Jacobs Engineering Group at $34 a share:
It is at the bottom of its five year valuation range based on P/E, P/B, P/S and P/CF.

After pulling back approximately 35% over the last few months, Jacobs is at its long term technical support (Click on chart to enlarge).

Click to enlarge

Jacobs already has a good backlog ($14B) of projects, but any initiative that provides infrastructure funding to government projects (23% of revenues) would certainly help the growth in its backlog and earnings.

Jacobs is projected to grow earnings by 15% annually over the next three years by S&P, has a strong balance sheet, and a five year projected PEG of around 1.

Jacobs is significantly under analysts' estimates. S&P has a price target of $50 on ADP and Credit Suisse is at $56.
Disclosure: I have no positions in any stocks mentioned, but may initiate a long position in JEC over the next 72 hours.