Last week, 21Vianet Group, Inc. (NASDAQ:VNET), the largest carrier-neutral Internet data center services provider in China, announced its unaudited financial results for Q2 2011.
Here are some of the highlights:
Net revenues increased to RMB230.4 million (US$35.6 million) from RMB112.6 million in the prior year (+104.6%) and RMB210.6 million in Q1 2011 (+9,4%);

Adjusted EBITDA increased to RMB47.2 million (US$7.3 million) from RMB16.0 million in Q2 2010 (+195.0%) and from RMB43.0 million (+9,8%) last quarter;

Adjusted EBITDA margin increased to 20.5% from 14.2% in the prior year comparative period and 20.4% in Q1 2011;

Adjusted net profit increased to RMB34.0 million (US$5.3 million).
Although the company presented all its numbers compared to last year's Q2 corresponding period, we believe that it is more interesting to run an organic Q/Q comparison. The acquisition of CYSD and ZBXT at the end of 2010 obviously impacted Y/Y growth. The comparison is showing three digit numbers mainly as a result of that event.
A look at this chart underlines that 21Vianet posted a very strong quarter, one of its best performances yet as to Q/Q growth: (Click to enlarge)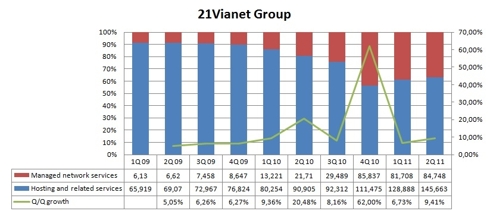 These numbers also show that following the acquisition of the managed network services entities in Q4 2010, the company is now almost back to its Q4 2010 revenues as far as this segment. The segment saw a decline in Q1, probably due to integration problems.
21Vianet has dramatically changed its revenue mix in the last few quarters, as shown in these charts: (Click to enlarge)

Hosting now represents over 60% of revenues, and has been growing at a steady two digit Q/Q rate in the last three quarters: (Click to enlarge)



Here is how management described the quarter in its press release:
The growth in this quarter outperformed our expectations, driven by a surge in demand from all industry verticals, including e-commerce, online video and online gaming. In order to meet this increase in customer demand, we accelerated our expansion plans by opening several additional partnered data centers, while the rollout of our self-build data centers continues to be on track.
If we examine how 21Vianet coped with growth in its hosting segment over the last two quarters, we will discover that the company mainly added cabinets in its company-owned data centers in Q1 (+14%), while cabinets in partner centers remained mostly stable. In Q2, the situation changed as 21Vianet increased occupancy of about 9% both in its own data centers and in partner sites: (Click to enlarge)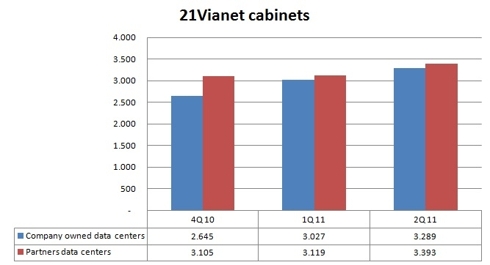 Those readers who want to see the glass half full will enjoy the fact that the company was able to achieve strong Q/Q growth, while still keeping good margins (comparable to Q1). This in spite of adding half of its cabinets in lower margin partner data centers. Those of you who want to see the glass half empty will turn your attention to the fact that the company, absent inventory in its own data centers, is mostly relying on risky outsourcing contracts (normally with one year renewals terms) to be able to cope with market demand.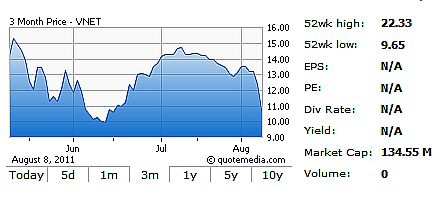 Disclosure: I have no positions in any stocks mentioned, but may initiate a long position in VNET over the next 72 hours.