By Bryan McCormick
The ProShares Short High Yield ETF (NYSEARCA:SJB) exploded higher yesterday, corresponding inversely to the sharp down move in the S&P 500.
As we have noted in the past, this junk-bond fund is a good indicator of potential risk appetite or aversion. When paired with a broader index such as the SPX, it has been very effective at spotting moments of stress or their abatement.
The chart below illustrates the Short High Yield (SJB) in red and the SPDR S&P 500 fund (NYSEARCA:SPY) in green. The chart is plotted on a five-minute time frame in the last 10 sessions on a percentage basis.
On July 26 the SJB crossed above the center line of the graph, at zero, and the SPY crossed below. This was an indication of risk aversion beginning to present itself, as we can see the inverse correlation of those moves in the SPY below.
The downgrade of U.S. credit was fully expected to increase yields in some debt instruments, and junk bonds were the most likely to be sensitive to those changes. When traders shed junk bonds, it is a sign of growing risk aversion, and so far that is actually increasingly today as the session wears on.
Monitoring the relationship between these two funds can help us find when turns may be imminent. For traders to be bullish on the SPY, the SJB would need to come down. Until then its climb will continue to indicate a high level of stress.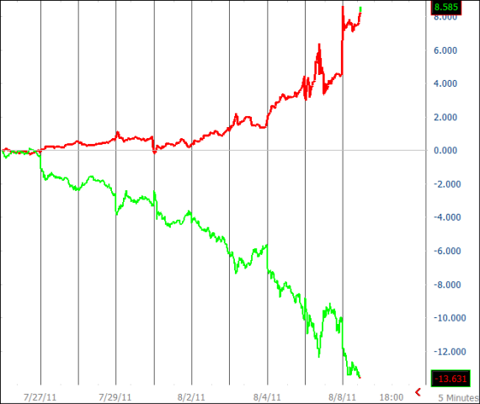 Click to enlarge
(Chart data courtesy of Thomson Reuters)