Last week was a memorable one, as markets which had stayed in a range for months suddenly plunged and volatility measures spiked. Many indexes and stocks gave back months of gains during one week. By way of example, the S&P 500 Index could have been bought at yesterday's closing level already in December 2009.
It is a typical of market commentators to engage in an analysis of reasons for the sudden turn. It sure is useful to understand why markets are moving. My belief is that downward growth revisions are the prime culprit. Economic data has been weakening for at least 3 months and had been, to my great surprise, ignored until last week. The weak ISM print in the U.S. on Monday suddenly caused the markets to focus on the growth outlook.
Several cyclical and growth-sensitive market variables have moved abruptly - materials/utilities, AUD, emerging markets equities or gold/copper. This suggests that markets are indeed worried about growth now, but also that markets have to a large extent caught up with the weaker economic outlook implied by surveys such as the ISM.
[Click images to enlarge]
Materials/Utilities vs. ISM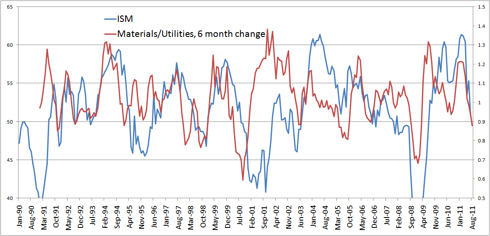 Click to enlarge
Gold/Copper vs. ISM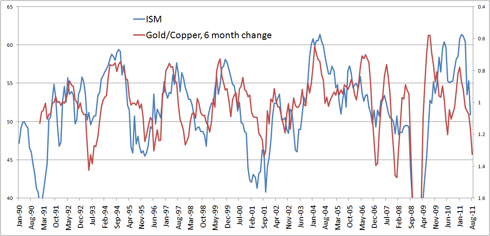 Click to enlarge
Sovereign worries get second place in contributing to the market rout. During the week, Italian and other European bonds fell, while the US budget solution has left many with a bitter feeling and the super power with a bleak fiscal outlook. Finally, the US downgrade increased the "general risk premia" as Mohamed el-Erian aptly put it. Sovereign worries were, however, not the number one driver of the move lower, even if they increased risk premiums. This is an important point, as it is also the incoming economic data, which will give us clues about the next move and a possible bottom.
I have been calling for weaker data in the second half of the year and weaker risk assets for some time. As we had a significant move since, it is worth making two points: Firstly, many of the reasons to worry about growth are still valid (in particular the loss of momentum), but secondly, the steep fall has closed at least some of the gap between expectations and macro data. The key call to make is whether we are going into a recession, or if we will manage to muddle through somehow.
I don't have an answer to this question. But regardless of the final economic outcome, it is time to take profits on shorts here – especially in the option space, where higher volatility on puts has handsomely increased their value. This is different from calling a market bottom or from calling for a structural long position, but risk premiums/volatility are at extremes, and there will be better levels to buy puts if indeed we want to bet on a recession. For an outright long position, I would wait for a turn in data. The intraday reversal in Asia today (on Tuesday morning) supports the idea that a short-term bottom has been eastablished.
Societe Generale's Risk Indicator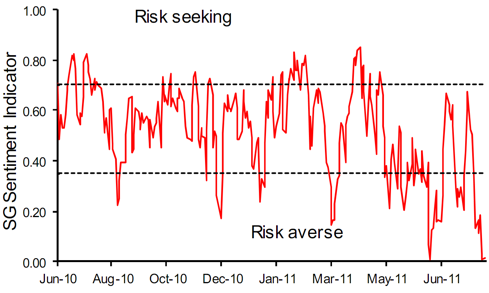 Click to enlarge
US Economic Surprise Index

Click to enlarge
Disclosure: I have no positions in any stocks mentioned, and no plans to initiate any positions within the next 72 hours. I have closed my EEM put and SPY put position last night.